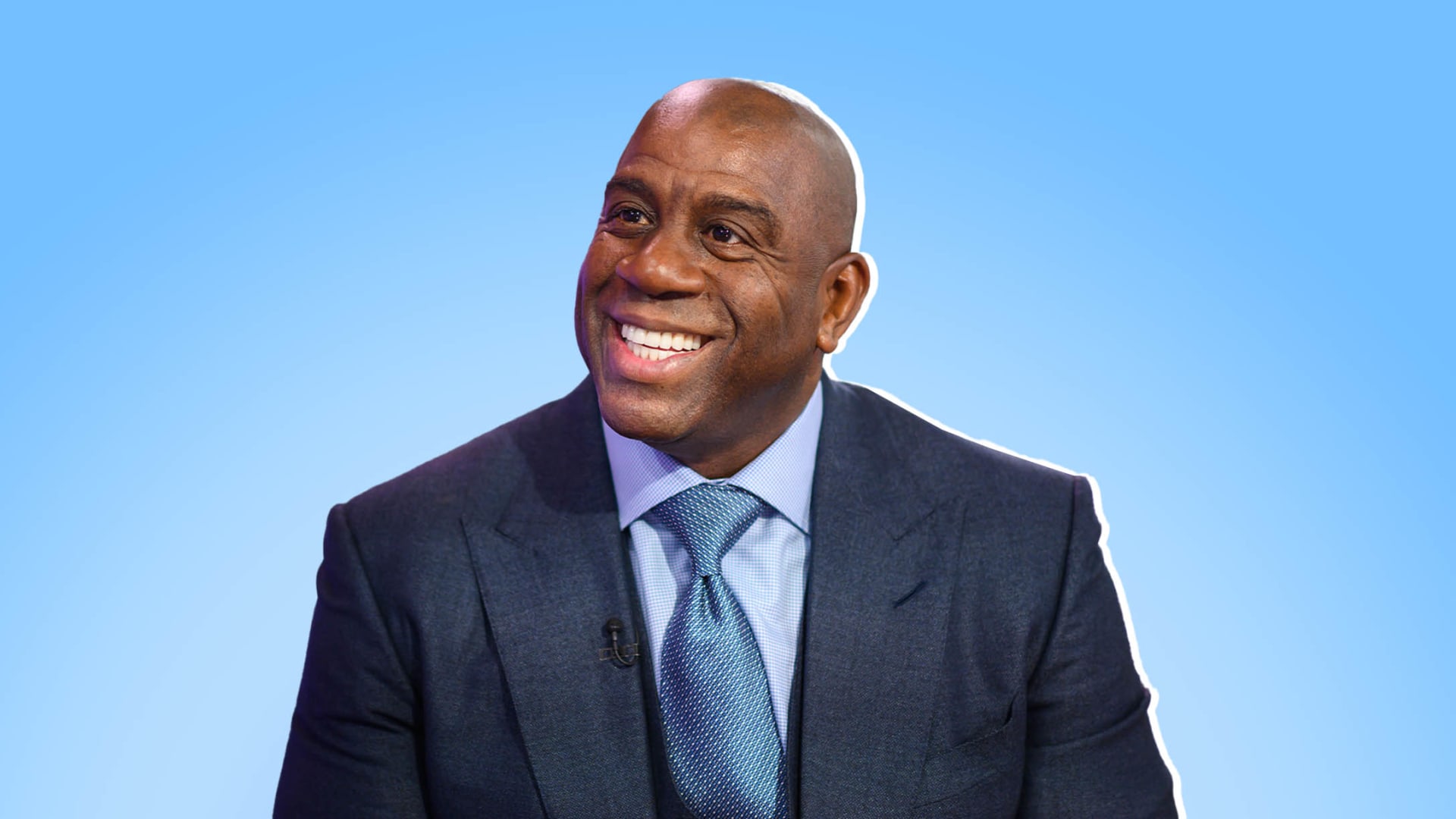 I've talked with hundreds of small-business owners this past year and the consistent characteristics that I've seen are tenacity, resilience, and strength. Small businesses make an indelible difference. Recently, I talked with Earvin "Magic" Johnson, one of the best-known basketball players in the world and an advocate for small businesses. Magic has spent decades investing in underserved communities, and he knows what small businesses need to survive and thrive.
This past year, he helped Black, Latino, and women-owned businesses access $325 million in Paycheck Protection Program funding during the pandemic. Magic is also leading with his own businesses, including his co-ownership of the Los Angeles Dodgers, the L.A. Sparks, and several other sports franchises and technology companies.
Here are three of Magic's insights that every aspiring entrepreneur or seasoned small business owner should know.
There's no guarantee when it comes to loans.
When Magic Johnson retired from basketball and began investing in communities, he had a hard time getting a bank loan. "Most people thought because I was Magic Johnson, I didn't have any challenges," he said. "Well, eight or nine banks turned me down when I first began. They wanted my picture and my autograph, but they did not give me a loan."
This is true for many small businesses. It's especially difficult for companies with fewer than 10 employees to get traditional loans, or, as Magic described, difficult for companies that are just starting out and don't have revenue history. A recent QuickBooks survey found that two of every five funding applications (42 percent) made by small businesses since March 2020 have been to cover immediate financial needs, making any barriers to funding a significant threat to the health of the business. The study also found that Black, Hispanic, and women-owned businesses are more likely than other businesses to have their applications rejected.
Magic recommends asking yourself: Where is your company at this point? Where are you financially? And do you need to go to these credit unions or banks to get a loan? Cities have a lot of money and grants too, so you don't have to go to just banks and credit unions anymore.
My takeaway for small businesses? Take a hard look at your finances and don't be afraid to ask for professional advice from an accountant, bookkeeper, or someone with a vast amount of experience in your industry to see when you think extra cash will make an impact on growing your business. Don't wait until you need it. Have the insight and tools to make a forward-looking plan, and once you identify it, know that there are options out there beyond traditional banks and credit unions today.
Know where you are and don't be afraid of change.
Magic's advice for small businesses that are still managing through the impacts of the pandemic is powerful:
Yes, it's been tough. Yes, it still will be a struggle. But right now you still have your business, right now you can affect your business by making sure you embrace change, making sure you are good on your finances. If you don't know your finances, then get your accountant, get somebody to come in and break that down for you. ... Know how much money you can take out of the business or not take out of the business. Make sure somebody does a deep, deep dive of your business where you are.
It's absolutely true that understanding the current and future state of your business will help you survive and thrive. Are your clients paying on time so you can make payroll? What's your cash flow 90 days in the future? Are there ways you can bring in more revenue by finding new online sales channels?
As Magic said: "Don't be afraid of fresh and new ideas and new approaches to your business. A lot of times, small-business owners or business owners period, they're afraid to change. But during this time, we got to make changes, ... you have got to look at your business and look different."
Many of the pivots small businesses made out of necessity during the pandemic can become permanent parts of everyday operations. When QuickBooks launched a cash flow planner in the middle of the pandemic, we saw record use. It's also important to talk to your customers. Ask them what changes they'd like you to keep permanently. What changes are your competitors keeping and in what ways are they returning to pre-pandemic practices?
The challenge is keeping that growth mindset. There are always going to be ways to change and pivot that benefit your business--a new sales channel, a new way to reach customers, new technology to make running your business easier than ever. Which of those are right for your company?
In tough times, you don't have to have all the answers.
Finally, even though Magic Johnson has accomplished so much, he still knows the reality of humble beginnings and isn't afraid to ask for help:
If I don't know something, I'm calling every employee I got and saying "I don't know this, what do you think?" Or I'm calling my friends, "Can you help me with this? I'm struggling with this." See, I'm not just a proud business owner or this proud former basketball player that I can't ask somebody to help me. If I don't know it, I will ask for help. And then, I'm smiling all the way to the bank. Because I was smart enough to ask for help.
There are also valuable lessons outside of your own domain. Every industry has patterns and lessons based on experience that you can learn from and adapt to work within your own industry. Asking for help brings new perspectives on difficult problems and there is so much inspiration that comes from beyond your own walls. You can learn from people who are in industries completely outside of your own but are doing cutting-edge things. It may feel uncomfortable to embrace innovation and run with new ideas, but invest as much time as you can watching other companies that may be doing things differently.
Accountants are also invaluable, not just for the work that they do, but for their ability to see the larger patterns affecting small businesses. Then take all that knowledge and apply it back to what you're doing. It's a grind and it takes hard work, but it has the power to give you a competitive advantage. Or as Magic says: "I am never going to stop hustling. I always grind. Yes, I'm successful. But I want to keep being successful. And I'm gonna keep on hustling."
The grind, as Magic calls it, is the time you focus on improving your businesses and is invaluable. I've talked to so many talented entrepreneurs who are capable of doing everything but soon realize that is opportunity cost lost. They position their small business for success when they learn the value of their time and leverage technology and automation. They focus their time on their craft and the big picture so they can deliver for their customers in a big way. It's like magic.
May 13, 2021