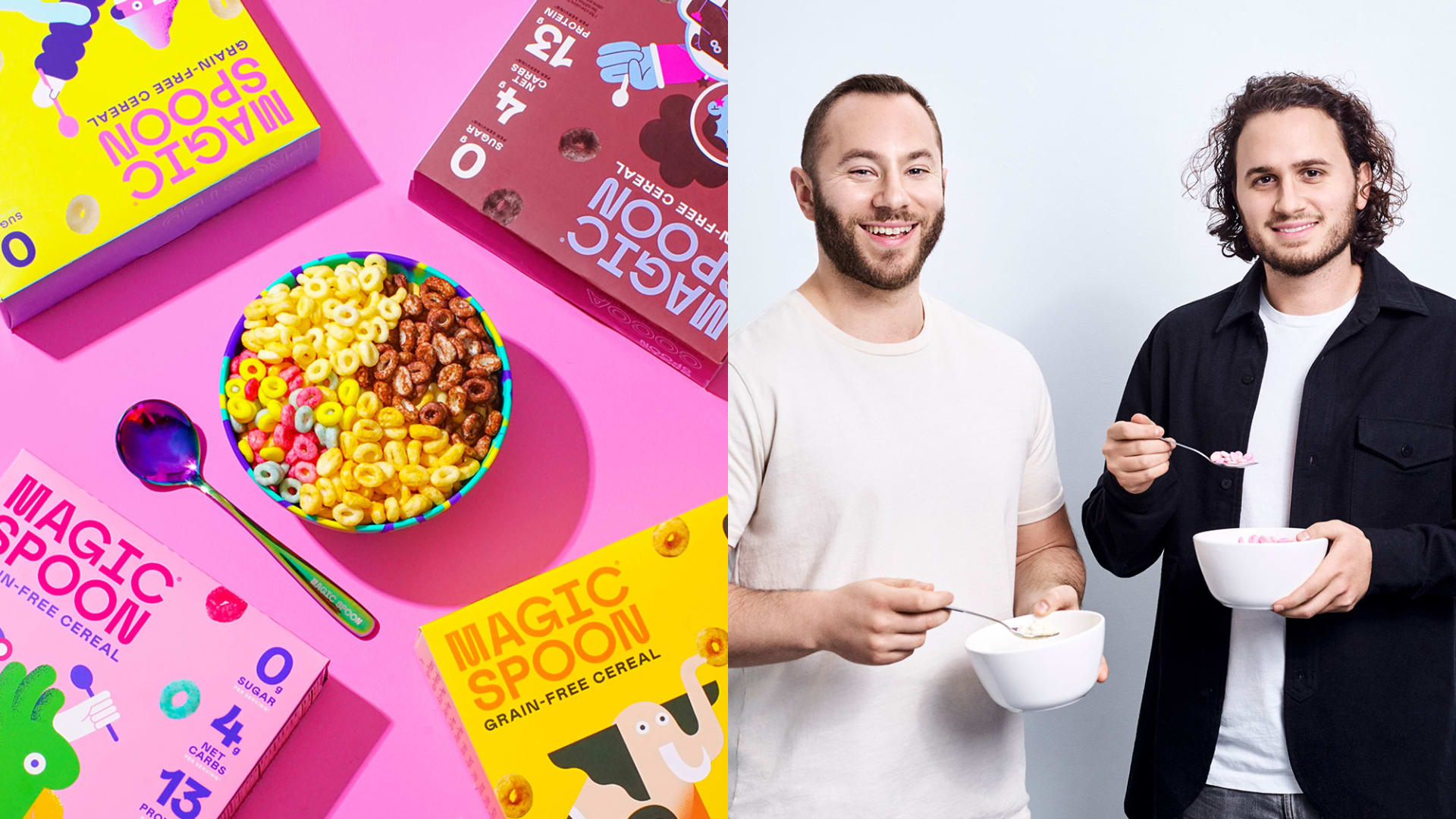 If you've listened to a podcast in the last three years--whether about cooking, true crime, or politics--chances are you've heard an advertisement for Magic Spoon.
The direct-to-consumer cereal brand that's raised $100 million from investors including Amy Schumer, Nas, and the NFL's Odell Beckham Jr. has been a frequent presence on audio airwaves since the company launched in 2019, and the strategy seems to be working. More than 1 million customers have purchased Magic Spoon cereal through its website, according to the company. Earlier this summer, New York-based Magic Spoon's cereal hit shelves for the first time, launching exclusively at Target stores nationwide, and the company plans to expand its brick-and-mortar presence to other retailers in the coming months.
Aimed at Millennials who grew up watching Saturday morning cartoons with a bowl of Cinnamon Toast Crunch or Froot Loops, Magic Spoon comes packaged in sets of four or six bubblegum-colored boxes with a heavy dose of '90s nostalgia. The branding serves up the same playfulness as popular cereals from General Mills and Kellogg's, but without all the sugar, carbohydrates, and artificial ingredients. A four-pack of the gluten-free, grain-free cereal sells online for $39.
Healthy cereal has been an easier sell than the first product co-founders Gabi Lewis and Greg Sewitz launched: crickets. The duo's first startup, Exo Protein, tried to convince Americans to eat insects as a sustainable form of protein. The two Brown University graduates didn't turn crickets into a pantry staple, but they did learn a valuable lesson from their first venture: direct-to-consumer marketing.
"That's what we've become really good at," says Lewis, who serves as Magic Spoon's CEO. While larger companies can afford to invest in marketing as a pure awareness play, he says, nascent or smaller brands are often not able to make it work from a direct-response perspective, he adds.
"For us as a small brand, awareness isn't enough," says Lewis. "Every kind of advertising we're doing in the early stages has to be directly tied to generating sales online. We went into podcasts with that view."
Podcast ads are proving to be an effective strategy for helping drive sales, particularly for businesses targeting Millennial and Gen-Z consumers. More than 40 percent of Americans over the age of 12 have listened to a podcast in the last month, according to Edison Research. That's 116 million potential new customers, who typically listen to eight episodes a week. For 12- to 34-year-olds, the share who count themselves are regular listeners jumps to 86 percent. Two-thirds of listeners surveyed last year said they have purchased an item advertised on a podcast.
Here are three of the Magic Spoon co-founders' tips for harnessing podcast ads to help generate growth.
Find hosts who genuinely like your product.
For business owners looking to expand their marketing budget to include audio, Lewis says don't worry too much about the genre or the number of shows. Early on in their advertising push, he learned that quality always trumped quantity.
"If we just did dozens of random podcasts, the results wouldn't be very good," says Lewis. When the company started targeting hosts who had actually enjoyed the cereal--regardless of whether their show was discussing the Senate filibuster or serial killers--the response rates completely changed.
"Where it was clear to the listener that the podcast host wasn't just getting paid to talk about something random or reading a script, but they were actually consumers of the products," says Lewis, "the results were really incredible on our end."
One of Magic Spoon's earliest partners was Crooked Media's Pod Save America, the brainchild of four former White House staffers under President Obama whose podcast became the liberal answer to conservative talk radio in the era of President Trump. The show regularly ranks among Apple's top podcasts and reportedly reaches 1.5 million listeners on average.
The show has real scale, but more importantly, has "hosts that genuinely love Magic Spoon," says Lewis. The initial response rates from Pod Save America "started to give us real confidence in the strategy."
Don't expect to pop overnight.
An effective podcast strategy requires patience. Entrepreneurs investing in audio advertising should not get discouraged if they don't see immediate results, says Lewis.
"First-time founders always think there's going be a silver bullet," he says. "If only we get this person to talk about our brand, it's going to be a rocket ship."
In reality, runaway success doesn't happen overnight. One of the most important lessons Lewis says he learned from his first company was there's no single moment where everything clicks. Instead, Lewis advises founders to focus on making a series of small wins and building brand momentum over time.
When promoting new products and initiatives, timing is everything.
For years, Lewis turned down offers from large retailers wanting to launch the cereal in stores. Instead, Magic Spoon focused on its small product line and specific marketing strategy.
"We sold boxes of cereal only on the internet for three years," Lewis says. "We've done that to build to this moment." The company has also expanded its e-commerce distribution beyond its own website to include Amazon, where the brand is the No. 1 selling cereal. When Magic Spoon finally began its push into retail stores, the co-founders made sure fans learned the news the same way they first learned about the cereal brand: during a commercial on their favorite podcast.
Aug 19, 2022