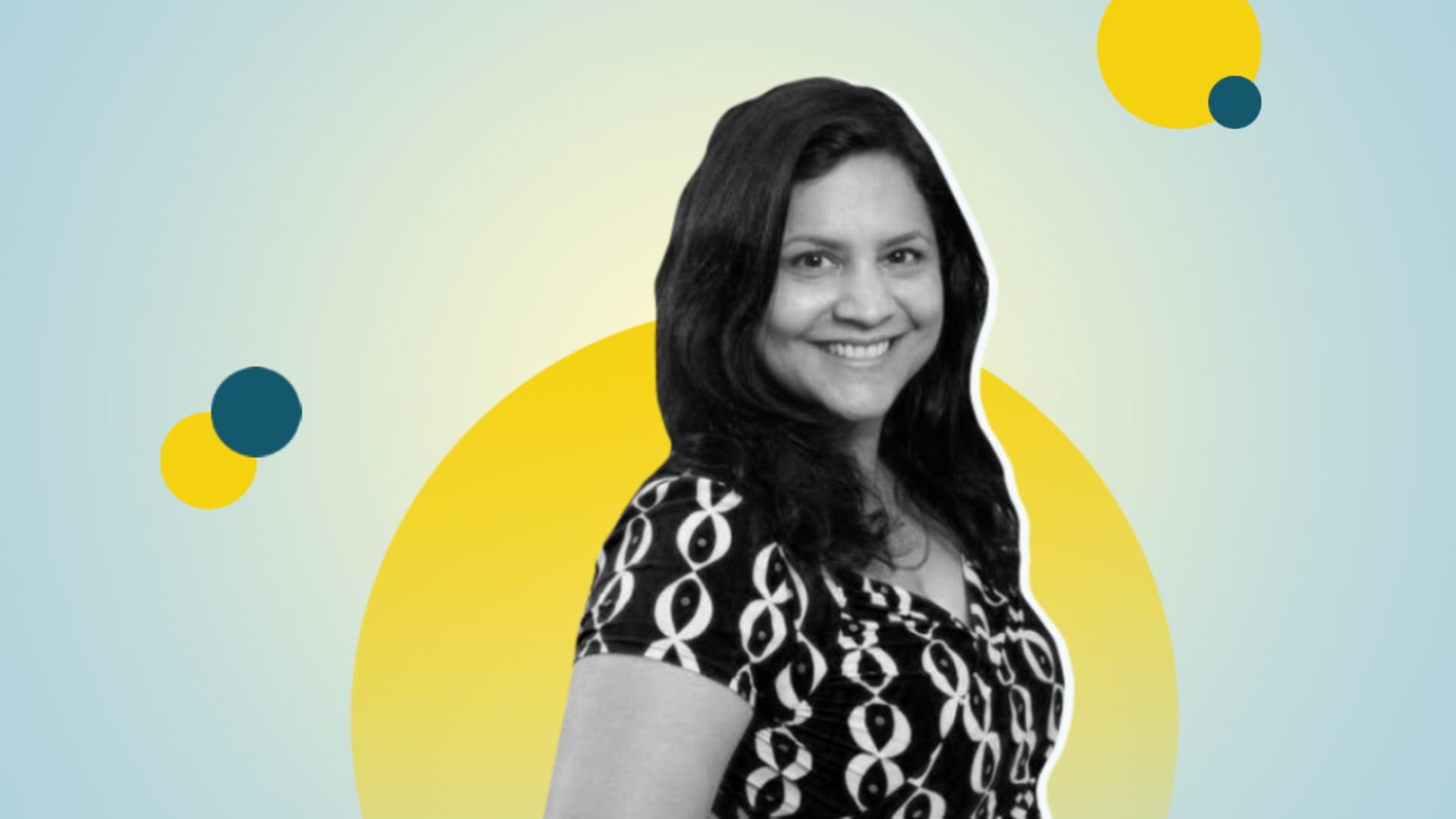 When Jaya Iyer saw an astronaut's drawing of a dinosaur in space, she saw an out-of-this-world business opportunity. Now, thanks to a new Netflix show, she's hoping to see sales skyrocket.
The astronaut and entrepreneur partnered over their shared mission to help promote STEAM -- science, technology, engineering, art, and math -- education and to break down gender stereotypes in clothing.
Nyberg, in addition to being an astronaut and mechanical engineer, is also a textile artist. During a mission on the International Space Station in 2013 she had sewn a stuffed dinosaur toy to connect with her then-3-year-old, dinosaur-obsessed son. Iyer had come across the astronaut's art while perusing Nyberg's website and reached out. The partnership with Iyer was "a perfect fit," says Nyberg. The stuffed animal inspired the "Dinos in Space" print, now on clothing and handbags.
Iyer founded her educational apparel brand Svaha after she was unable to find a girl's style outer-space T-shirt for her 2-year-old daughter who dreamed of being an astronaut. She was an apparel buyer for the novelty retailer ThinkGeek and has a background in fashion merchandising. She built her brand from a $30,000 Kickstarter campaign in 2015 into an online business with about $2.5 million in 2020 revenue and four employees. Most of Svaha's items cost under $70.
In line with its mission, Svaha has steered clear of gender-specified labels, sticking to "adult" and "kid" only.
"I don't think that any clothing should specifically be for someone," says Iyer, "Anyone can wear whatever they want, and be whatever they want to be."
Uniting with like-minded STEAM enthusiasts has been key to Iyer's strategy. Promotions through such nonprofits as the Association for Women in Science, GDI (Girl Develop It), and DIY Girls have been a pillar of the company's marketing.
Partner organizations are given a link to share with their members, and may also sign up as brand affiliates to earn a percentage back from each sale. Members of these groups find Svaha's link in their organization's newsletters and social-media pages, and the partnership is also often marketed at industry conferences. Up to 15 percent of each referred sale is donated to the nonprofits.
"That way, I'm giving back to that organization, and I'm getting exposure," Iyer says. "And I would rather give [money] to them than give it to Facebook." She says she used to spend up to $1,000 a day on Facebook and now spends about $200 a day.
Svaha also offers a loyalty program to individual customers who refer the brand to others. Iyer says Svaha has a customer return rate of 75 percent. Word-of-mouth, too, helps the company expand its reach.
At one point, Iyer had tried hiring a marketing firm to reach the STEAM audience, but it didn't work out. "The customer who is buying this product is different than your regular customer," says Iyer. "It is difficult for a third party to understand this customer base."
Teaming up with Nyberg takes Svaha's partnership strategy to a new level, with a celebrity endorsement and a high-profile product placement. On the Netflix show, Nyberg discusses her collaboration with Svaha.
"It will definitely give credibility to our brand," says Iyer. Sales are already pacing 20 percent ahead of last year, she says.
What's more, Nyberg has been talking about the collaboration in interviews and promoting the Netflix episode to her social-media followers. Svaha will promote clips from the show on its social-media channels and in newsletters. As a small-business owner, Iyer says, "this kind of exposure means a lot."
Jul 20, 2021