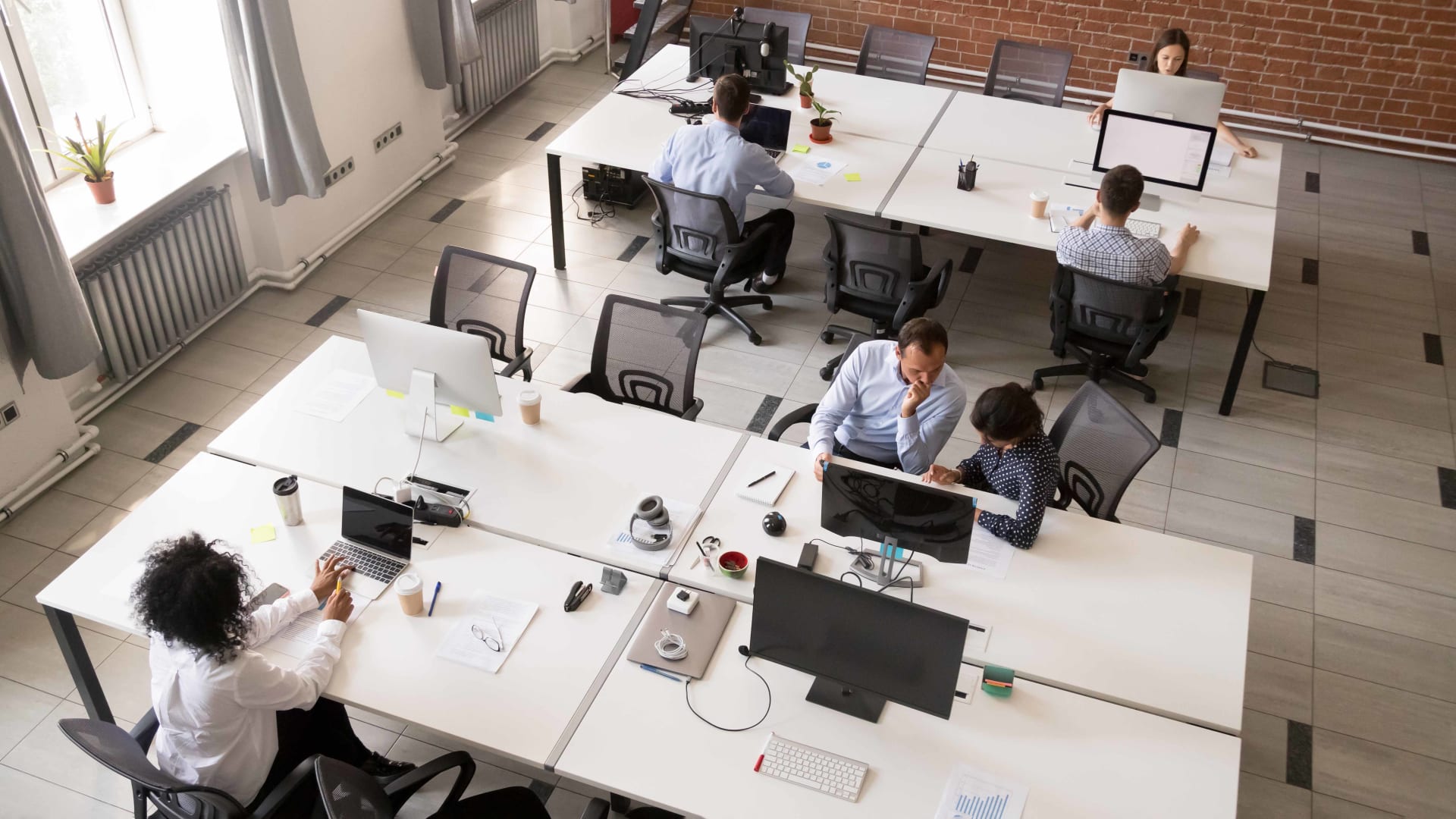 Here's a roundup of answers to five questions from readers.
1. Giving negative feedback in an open office
I work in a large open-plan office. The open-plan model is not entirely bad given the semi-collaborative nature of what we do, but I'm struggling with its implications for giving and receiving feedback. Our manager regularly walks around the office giving people feedback on their work. As we can't use headphones, I've often overheard critical feedback of others work that wasn't my business to know. Recently, I had to let my manager know that I might have made a mistake that I wasn't sure how to fix. As the manager's desk is part of the open-plan set-up, a bunch of people heard this conversation. Some of them asked me about it later, which was awkward.
Do you have any advice on how to deal more discreetly with the manager or other staff when there's negative or sensitive information to be communicated? Email is not an option because management believes it's most efficient to have most of the several dozen-person department share one email account.
Well, the shared email accounts say something pretty significant about your management's thinking around privacy and discretion (it says that they are loons).
Ideally, the way this should work is that people have regular one-on-one meetings with their manager, and those meetings take place in a conference room or another private area. (It's pretty essential that managers have private work space because the nature of the job means having lots of conversations that shouldn't be overheard, but if that's not happening, then they at least should be making regular use of conference rooms.) Giving out feedback by walking around can work when something is minor; it's not a good way to do it for bigger-picture items, more complicated development conversations, or feedback that's critical.
While it doesn't sound like that how your managers operate, it's possible that you could move them more in that direction by asking for a standing weekly or biweekly meeting to check in on projects and get input and feedback, and then suggesting you do those meetings in a private space.
2. Am I scaring off job candidates with these interview time slots?
I am a physician in private practice, and when I need to hire a new employee, I have always scheduled interviews around my clinic time. This means that sometimes I will interview a candidate at 7:00 a.m., sometimes during my lunch break at 12:00 p.m., and sometimes after I have finished seeing patients at 4:30 p.m. I have always done this because seeing patients is the only way in which income is generated for my practice, and I am not going to inconvenience patients by rescheduling their visits to do interviews during regular business times.
Is this unreasonable? Am I scaring off potential employees (nurses/medical assistants)?
You're not going to scare anyone off with the noon or post-4:30 interview times. But 7 a.m., yes, very possibly -- and not just night owls, but also people with child care commitments or other reasons they might not easily be able to interview so early in the morning. At a minimum, I'd say to explain your reasoning (which makes perfect sense, but might not be obvious to people unless you explain it), but ideally you'd make it clear that you can offer a lunch or late-in-the-day slot if they can't make the early-morning one.
3. Performance ratings for someone who's new to the job
I'm a first-time manager and struggling with applying my company's annual performance appraisal rating system, which must be followed at year-end regardless of the length of the employee's tenure. We have a standard five-point system -- unsatisfactory, needs improvement, satisfactory, excellent, outstanding. There are definitions for all, which are great, until you try to apply them to an employee who's been in a complex professional role less than a year.
Compared with the job description, this employee is just about performing the bare minimum requirements satisfactorily and still needs to improve significantly. However, I consider this person an awesome employee -- someone who shows great initiative and work ethic and an ability to build skills much faster than I expected. I feel like I could justify giving this employee just about any rating, depending on how it's framed, which makes the whole thing feel contrived. How would you approach this?
It depends on what you're measuring her against. Are you measuring her against the expectations for her job in general? Or are you measuring her against the expectations for a person who's been there as many months she has? Ideally, she has goals for this time period, goals that are based on a realistic assessment of what a new person could achieve in this amount of time -- and you can assess her progress against those goals, and draw a rating from that.
I wouldn't give an "outstanding" to someone new to the role who is "just about performing the bare minimum requirements satisfactorily and still needs to improve significantly." I suppose if you think she's outperforming the basic expectations for someone new to the role, you could make a case for "excellent." But if you're comparing her with the overall mastery of the job that she must achieve, that's a case for "satisfactory," although I'd make sure that's accompanied by very enthusiastic narrative about her performance -- an explanation that she's clearly working toward an excellent (and possibly outstanding) level of performance, and that the rating is a function of her newness in the role and a commentary of how thrilled you are with her initiative, work ethic, and progress toward mastering the job.
4. Giving bibles as gifts to employees
I have a question about Christmas gifts from the boss to employees. It is inappropriate to gift a Bible to each person in my office? I also wanted to engrave their names on it.
Sooooo inappropriate. You likely have people of different faiths and of no faith on your team -- but even if you didn't, religion is deeply personal, and it doesn't belong at work.
Especially because you're the boss, this is likely to be incredibly uncomfortable for some people because there's a power dynamic involved, and you risk making people feel uneasy at best and downright alienated at worst. Stick with non-religious gifts.
5. Helping a co-worker with Christmas for her kids
My friend works with a very young mother, a low-paid junior colleague in her first job. This colleague has had a terrible year, with legitimately awful things happening. My friend really feels for her colleague, and wants to do something for her for Christmas. She usually gives $50 to charity at Christmas, but this time wants to give it to the colleague, to help her give her kids a nice time (in whatever way is most helpful, even if it's just paying the bills).
I think this is lovely, but my friend is getting caught up worrying that this would be seen as charity, and offend her co-worker. I suggested giving a gift card, but she wants to give the co-worker flexibility on how she uses the money and she doesn't want to make her feel like she has to use it to buy extra presents, if she's struggling to get things like a tree, a nice meal, etc.
Can you come up with any good words that mean "So sorry you had a terrible year -- here's something to go toward your children's Christmas, use it however you like -- no need to thank me" but sound more gentle?
What a lovely act. I might do something like a Visa gift card rather than cash or a check; she can still spend it anywhere she wants but it might feel more gifty. As for what to say, how about this: "I know your family has had a tough year, and I'd love to help give your kids a great Christmas but wasn't sure what would be most helpful. I'm hoping you'll accept this as my gift toward the day for them, and for whatever would be most useful for the family."
Dec 7, 2020