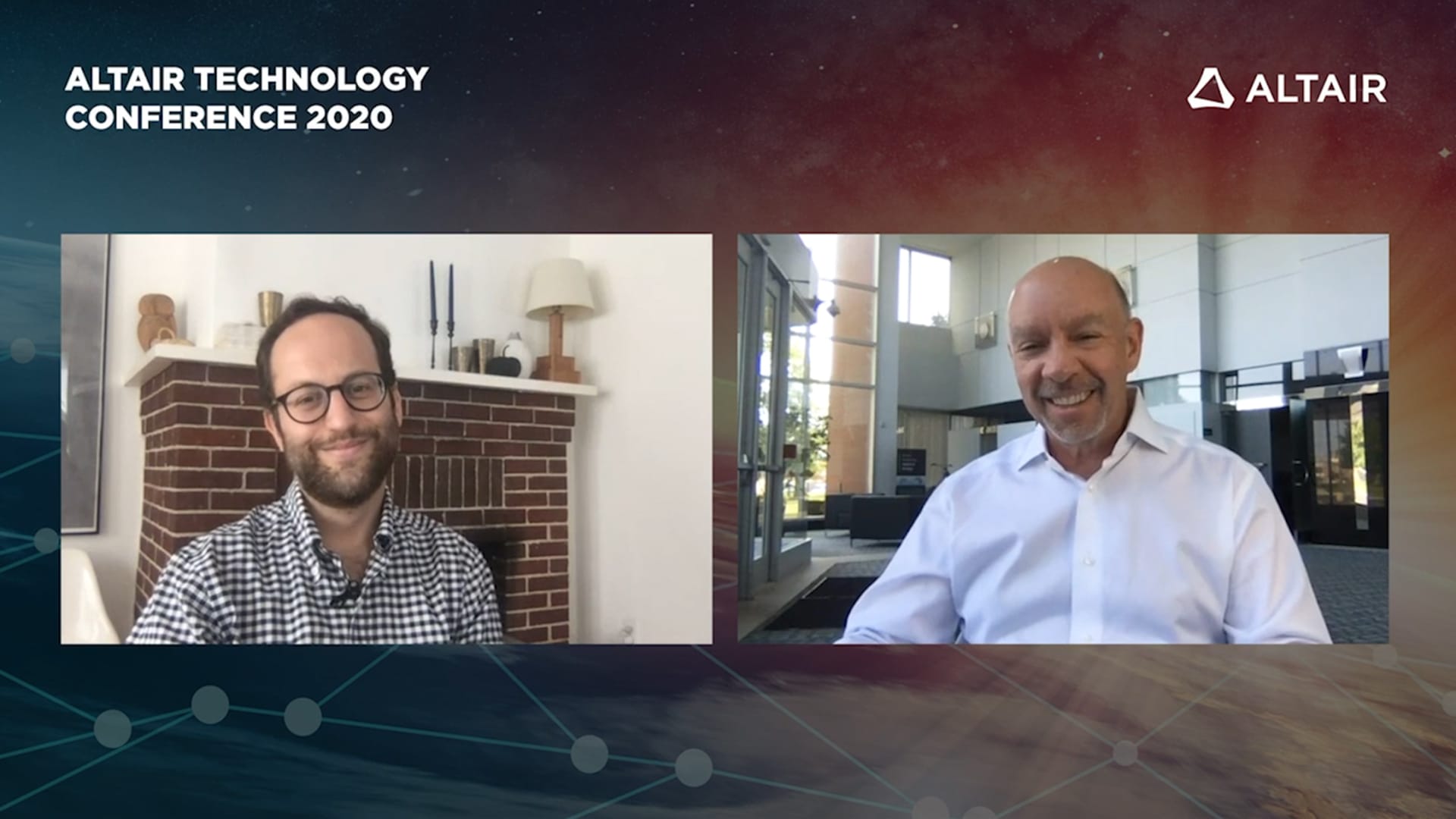 Altair is likely one of the most prolific businesses that you have never heard of. It has its fingers in just about every industry you can imagine, from aerospace and automotive to information technology, consumer goods, weather and climate, and health care. Headquartered in Troy, Michigan, Altair provides software and cloud solutions in data analytics, product development, and high-performance computing to some of the biggest and most well-known private and public entities around. But the fact that you may not have heard of them before is not a surprise to Jim Scapa, founder and CEO of the publicly-traded company (NASDAQ: ALTR).
"We design a lot of products for a lot of really well-known companies," Scapa told Editor-at-Large at Inc. Magazine, Burt Helm, during Altair's annual Global Technology Conference in October. "But a lot of the best projects we've done we can't talk about, which is really frustrating … I mean, they're really these unbelievably sophisticated things."
Altair's technology has been used to design, virtually test, lighten and strengthen, and improve everything from aircraft and spacecraft to washing machines and golf clubs, and at 63, Scapa says he is every bit the "cockeyed optimist," as he looks to the future.
From consultancy to software and high-performance computing (HPC)
Altair began as a consultancy firm started by three friends who met while working at General Motors in the late '70s and early '80s. While getting his MBA from the University of Michigan at night, Scapa says he got involved in structural analysis using computer simulation. In those days, advanced calculations were carried out on shared time on massive Cray supercomputers. Scapa and his partners thought they could innovate and improve the process and were bit by the entrepreneurial bug. They decided to strike out on their own, targeting GM as their first client.
"We were three of the top people, and we thought we would get a contract from GM; but GM came back to us and said, 'Nope,' because they didn't want to promote this very active environment where new companies were forming. I had a new baby--my first child--so it was a risky time," Scapa shared at the global ATC event.
Despite being turned down by GM, Scapa says that he and his cohorts were confident they could make it independently by leveraging the breadth and depth of contacts Scapa had in the space.
Altair's consulting work led the company into the software space, and they developed their first product, called HyperMesh, in 1989. HyperMesh is a system that uses large-memory computers to model things like cars and airplanes and helps engineers identify places where design could be lightened, strengthened, or improved in some way.
Success required more than just a great product, as Scapa learned when he and his team took HyperMesh to market. Despite the enthusiasm for the product, sales weren't easy to lock in. "I know it's a cliché to say this, but it took a lot of persistence and patience and ultimately success," Scapa said.
People and change are at the heart of innovation and success
For Scapa, people and relationships have always been at the center of Altair's continued innovation, even if he manages in a rather unconventional way.
"I spend a lot of time on the people side," Scapa said. "I think one of my strengths is I read people well; I understand what motivates them. I'm always thinking about how their motivations interplay with the ambitions of the company."
"And my team has grown up with this culture, so they understand it. We are very much a meritocracy. It's really powerful."
Scapa says he looks for young people coming right out of school who are "bright-eyed and bushy-tailed" and bring new ideas to the table. He also said that he regularly reorganizes the company, in often unorthodox ways.
"I just absolutely love experimenting and changing," he said. "I reorganize the company very frequently. I start around late August or September thinking about the people, and I think, although it's part of the dynamism of the company, people are frightened by it."
"It's also part of how this organism is changing, and sometimes we get it wrong. But I don't mind changing back and continuing to experiment."
The future is more obvious than you think
According to Scapa, the real key to Altair's success is framing the future differently and listening to customers' questions.
"We have four main values, and one of them is to envision the future, make decisions in the context of that future, and invest in that future," he said. "Mostly, we're trying to envision where the market will go in 10 or 15 years."
Oct 16, 2020