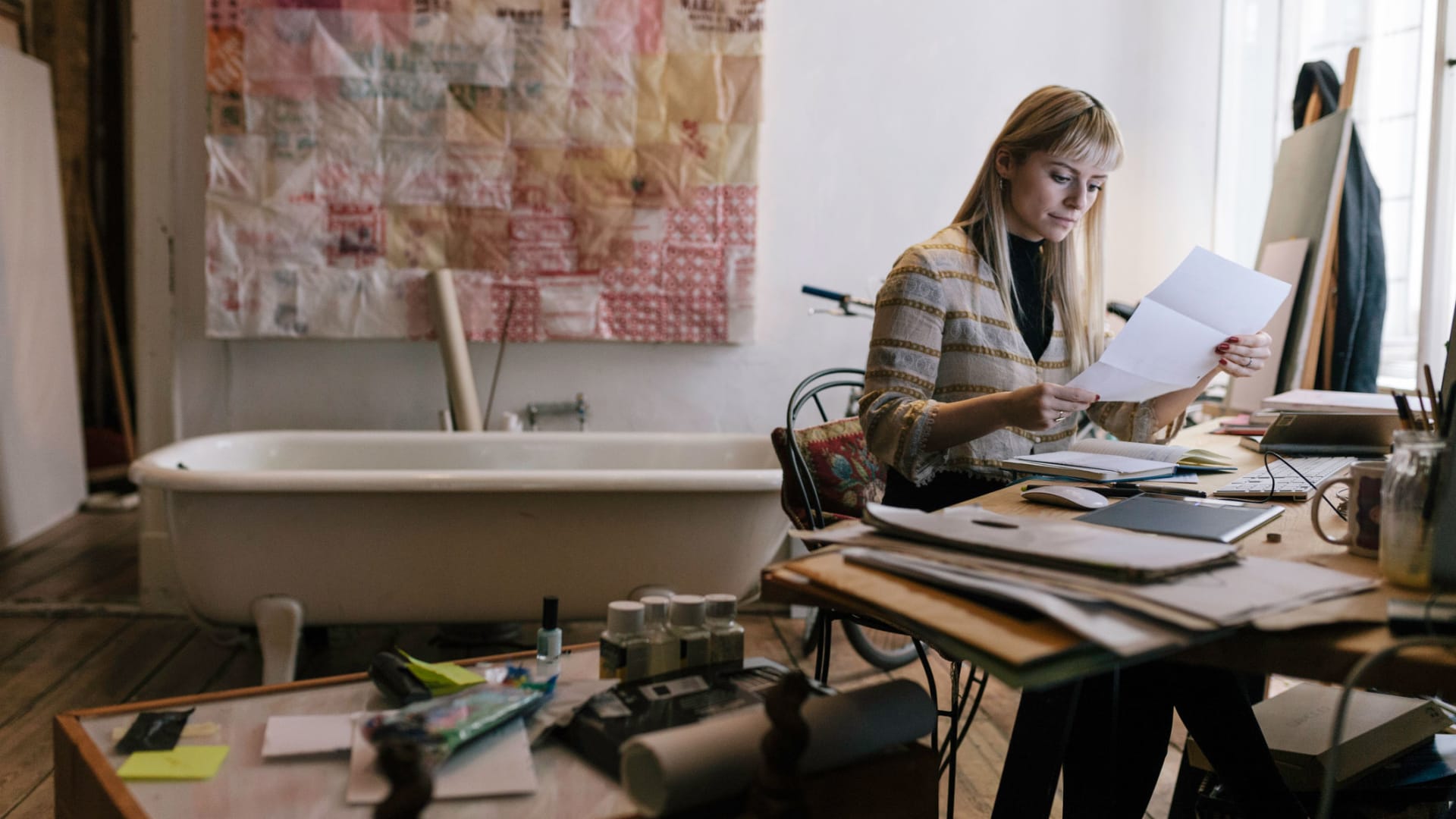 In fact, the company I co-founded, Masthead Media, started out as my own passion project. After growing it at night, on weekends, and during lunch hours with my business partner, Julie, it eventually became my full-time job.
The entrepreneur in me loves hearing stories about other founders--and as I was collaborating with a client of ours, I learned that she's also no stranger to passion projects.
Tiffany Hamilton runs a mission-driven company called Victor Wear with her teenage son, Isaiah. The company is an inspirational activewear brand inspired by Isaiah--who has high-functioning autism, which puts him at risk of high unemployment as an adult.
Together, they created the company to secure his future, create economic opportunities for differently-abled people like him, and inspire triumph over obstacles. The company, which was launched on World Autism Awareness Day, recently received the DC Chamber of Commerce's Young Entrepreneur of the Year Award.
I wondered, given the exciting momentum of her new business, how Hamilton (also a single mom) could pull it off--especially because she has a demanding full-time job at a major cloud-based software company.
As she and I spoke, I learned some of her secrets for balancing work, family, and her business--and reflected on my own.
Find synergy between your 9-to-5 and your passion project
It's not uncommon to think that launching a side business will be at odds with your full-time job--but that doesn't need to be the case.
Often the skills you have gained throughout your career will help you build your business. But even more so, this side hustle can improve how you show up in your 9-to-5 role, too.
"Everything I do to build brand awareness [for Victor Wear] is an application of my marketing skills," said Hamilton. She adds that running her own business has helped her become a stronger marketer, which, in turn, "helps tremendously with marketing my side business."
Dedicate consistent time blocks to working on the business
As my partner and I were getting Masthead Media off the ground, we would wake up early one day a week and devote a few hours to building a business plan. Working within these time constraints kept us focused on the immediate and long-term goals--and made us more productive than we might've been had we all the time in the world.
Hamilton similarly blocks off time to work on Victor Wear. "Often, I can't devote more than a couple of hours--if even that--to the business," she said. "But those small chunks of time add up to big accomplishments."
To get the most value out of your time, Hamilton recommends setting clear priorities. "Have a goal for how you will use your time chunk, such as sending an important email, reaching out to an influencer for a collaboration opportunity, or creating a social post."
Take advantage of free resources
When most of your working hours are dedicated to your 9-to-5, it can be taxing to find the time and energy to learn new skills, grow your network, or even find new business opportunities.
But there are tons of resources out there that can help guide you--and many of them are free!
"Score and SBA have been amazing resources," said Hamilton. "All of their mentoring services are free and the mentors are amazing! I got paired with a mentor who worked for Ralph Lauren, Tommy Bahama, and other major clothing brands and was able to get coaching sessions each Sunday, so it wouldn't conflict with my work schedule."
She added: "There are so many generous people in the business community willing to devote their time to helping entrepreneurs succeed. Take advantage! And definitely take advantage of the many resources for small and minority-owned businesses."
Lean on your community for support
Back when Masthead Media was still my passion project, I leaned heavily on family and friends for support. Our website and business cards were designed by relatives, friends connected us to people in their network who became clients. One of my former publishing industry bosses became my co-founder--and she also helped run the business, kept me motivated, and held me accountable (and still does to this day!).
Hamilton shared a similar sentiment when it comes to the benefits of keeping your network in the loop on everything you're working on.
"Tell them what you are doing with your business: Ask them to follow you, request referrals for services, ask for product reviews, and let them know your needs," said Hamilton. "I let colleagues at my employer know about my business, and they were incredibly supportive. One of the execs ordered T-shirts for our entire team of 15!"
No matter what type of passion project you want to pursue--building a nonprofit, freelancing, starting your own DTC brand--you don't need to let your full-time job stand in the way.
Finding a balance between a passion project and a 9-to-5 is all about leaning into your expertise, engaging with your community (and colleagues!), and consistently dedicating time to your business--even if that time is just an hour a day.
Jun 16, 2022