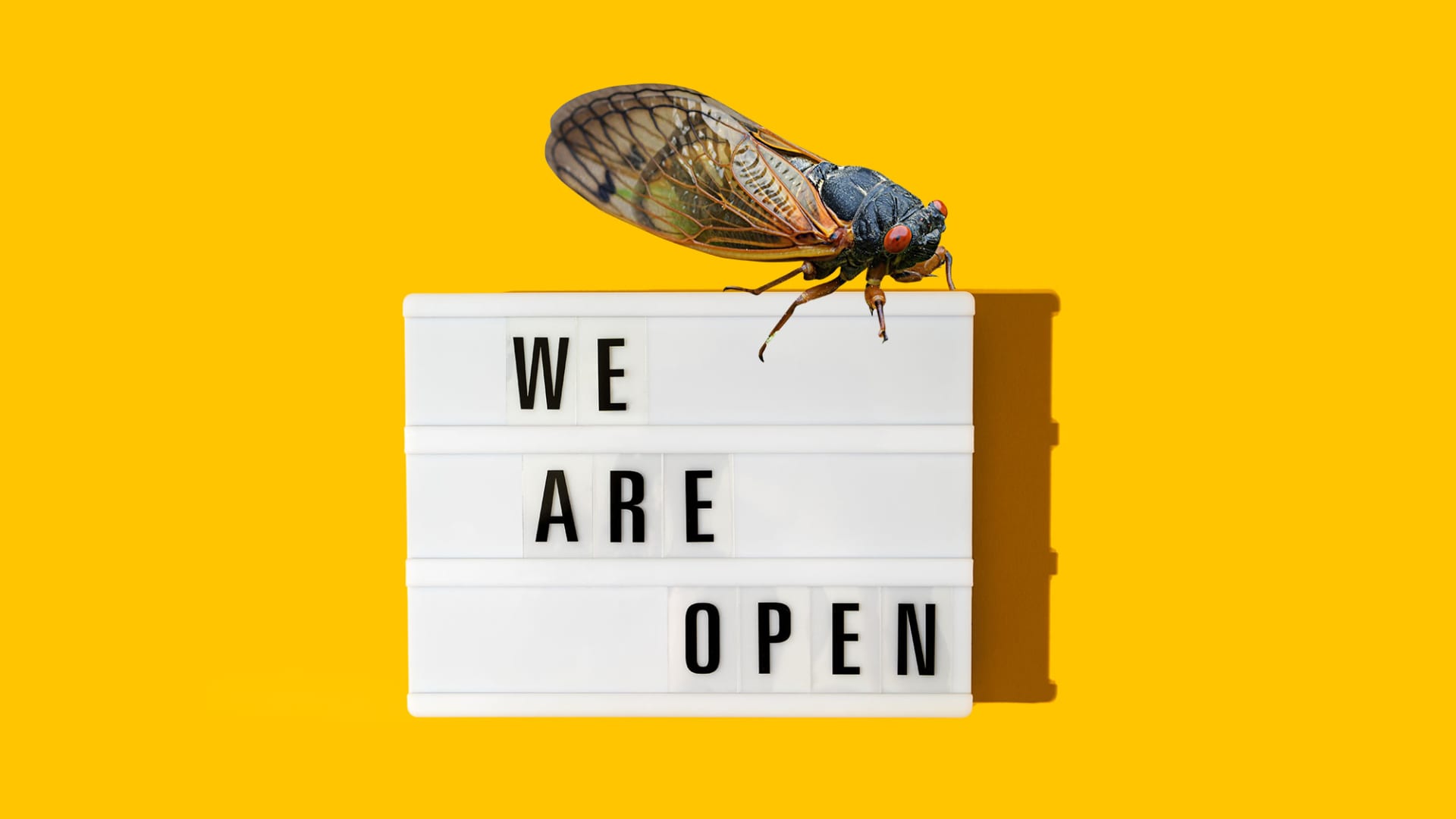 Summer 2021 brings the hope of more vaccinations, fewer lockdown restrictions, and a boost in foot traffic for small businesses around the country. But in a case of unusually bad timing, the summer will also bring Brood X cicadas.
Billions of cicadas will emerge from the ground, from mid-May to mid-June, in 15 states in the eastern and southern United States, and in Washington, D.C. The buzzing insects, which emerge every 17 years, will flood sidewalks, backyards, playgrounds, parks, and other outdoor spaces.
For business owners emerging from the challenges of the past year, the once-every-17-years cicada swarm is generating less enthusiasm. Brigid Horne-Nestor, the master wedding planner at i-do Weddings & Events in Cincinnati, says the pandemic forced a lot of customers to postpone their nuptials in 2020. And this wedding season has brought "cicada fear."
"We had a bride move her wedding date specifically because the groom was terrified by the idea of flying cicadas at his outdoor wedding," Horne-Nestor wrote in an email. "The last time the cicadas emerged, he was 8 years old, and he clearly has bad memories."
Unfortunately for businesses with outdoor operations, not much can be done about the coming invasion. Most pesticides don't appear to kill cicadas, and they appear in such large droves that any effort to trap or get rid of them would prove futile. Setting up drop-down tents can be helpful for outdoor events in the months of May and June--or sticking to urban areas, as the cicadas need vegetation to lay their eggs. The good news is that cicadas are virtually harmless. While they may land on you if you're still enough, the red-eyed insects don't bite or sting.
"For most businesses, not much preparation is needed beyond simple awareness and understanding of the life cycle. And patience with the singing," said Dr. Doug Pfeiffer, an entomology professor at Virginia Tech.
The winged insects, which sing to attract a mate for several hours a day and a total period of three to four weeks, can sound as loud as a lawnmower or dirt bike. The din has been known to interrupt graduations and weddings, throw off professional golfers, and even inspired a song by Bob Dylan.
Beyond the noise, the presence of billions of cicadas can also lure more predators, from copperhead snakes to birds to small mammals, including cats and dogs. Cicadas spend weeks laying eggs on tree branches, which can cause some damage to leaves. And, finally, when the adult cicadas perish, they leave behind their carcasses to be cleaned up by humans or eaten by wildlife.
Horne-Nestor says she tried to prep clients about the potential for cicadas in 2021 when they postponed their 2020 weddings. Fortunately for the business, she hasn't seen any cancellations. Many couples are tired of waiting and just want to get married as quickly as possible, even if it means exchanging vows during Brood X mating season.
For outdoor weddings, she plans to install clear window-like panels to tents to keep the cicadas out. Horne-Nestor says to address Covid safety concerns, the company uses fans inside the tents to promote air circulation. Some clients are waiting to see how bad the emergence will be on their wedding day. One couple may cancel its planned New Orleans-style "line parade," in which guests will walk up a hill from the wedding to the reception, if the swarm is unbearable.
Many cities and businesses are embracing the Brood X emergence. Places like Fairfax, Virginia, and Cincinnati have launched tourism campaigns and events around cicadas with fact sheets, games like cicada bingo, and even a cicada summer camp where kids build condos for the insects, along with cicada-size furniture. Mount St. Joseph University has a Cicada Safari app that lets the public submit photos for scientific research.
In years past, companies from TGI Fridays to Cincinnati-based Graeter's Ice Cream have launched promotions centered around cicadas. One Missouri ice cream shop in 2011 even released a cicada-flavored ice cream, featuring the bugs covered in brown sugar and chocolate.
Some businesses are opting to play an active role in educating the public about the winged insects. Tim Clark, the general manager of Benken Florist Home and Garden Center in Cincinnati, says the business will sell netting for use on smaller plants and trees, and is using its website to promote educational information on cicadas.
"For folks who are simply afraid of big, loud, and flying bugs, nothing may work to put their mind at ease," Clark said. "However, by educating people and letting them know they don't sting or bite, they won't eat your plants or trees, we have found many people to be more accepting of our little friends who show up every 17 years."
Apr 21, 2021