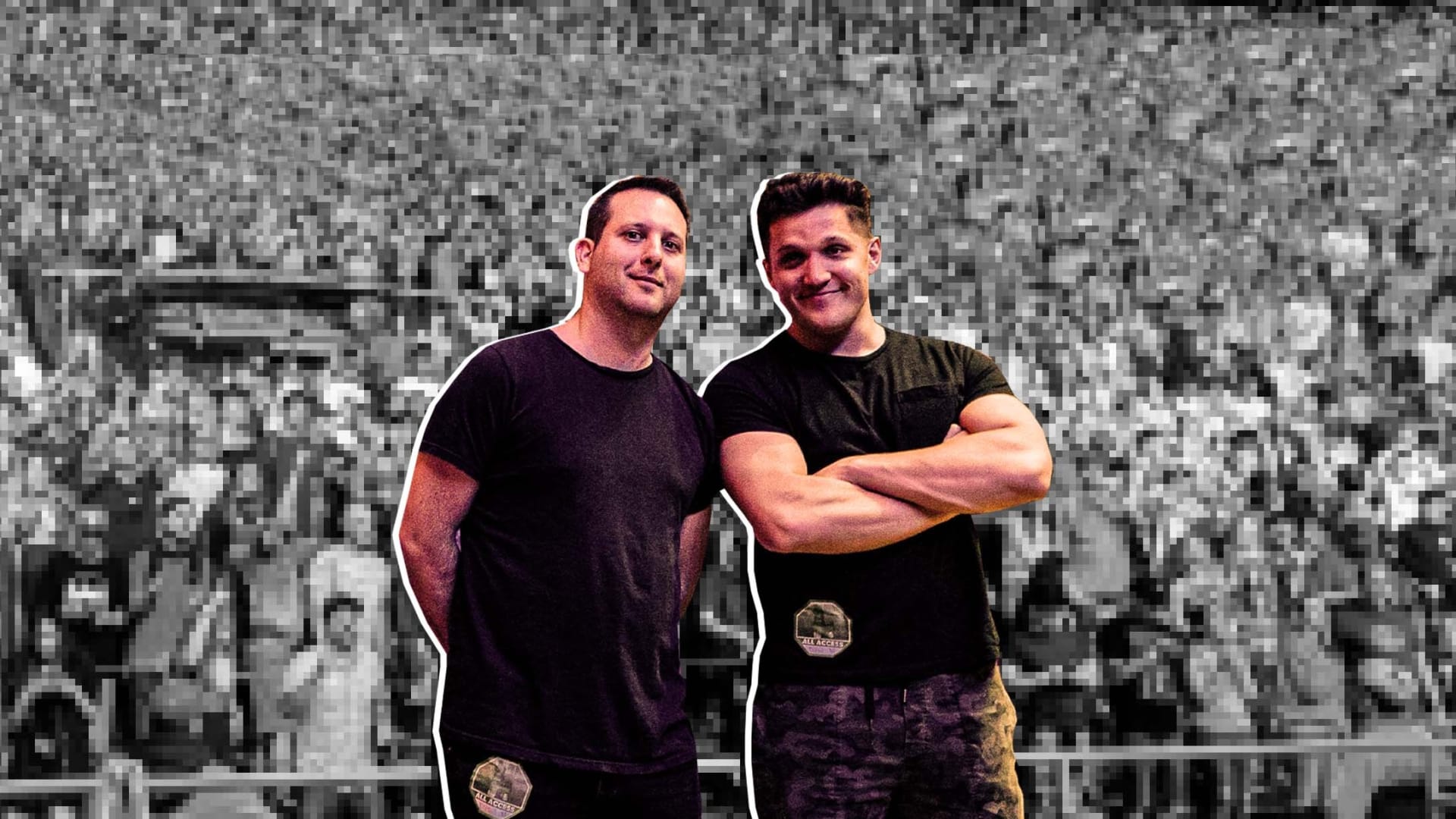 Business owners in the events industry have had to make quite the pivot in 2020. From music festivals to sports games, the coronavirus pandemic effectively halted business for these companies, as their core product became a public health threat. As a result, an estimated 12 million live events workers are unemployed, and some public health experts and owners of large venues warn that we may not ever see a full return to in-person attendance as we knew it before the pandemic.
So what does the future of live entertainment look like? For Joe Silberzweig and Adam Richman, the co-founders of event production company Medium Rare, the pandemic forced them to transition from 3,000-person Super Bowl bashes to live virtual programs. Founded in 2017, the company's client roster includes the likes of former NBA star Shaquille O'Neal and the NFL's Rob Gronkowski as well as trap music artist Carnage.
This past summer, Medium Rare threw a livestreamed concert event, Shaq's Fun House vs Gronk Beach, that featured performances from Diplo, Snoop Dogg, and DJ Steve Aoki. The company streamed the show across more than 20 different platforms, including TikTok, Twitch, YouTube, Facebook, LiveXLive, and Twitter. More than nine million people tuned in live, roughly a third more than the number who watched this year's Emmy Awards. Now, the company is ending the year strong--agreeing to a 20 percent equity investment by ABG, announced December 8, and producing this year's Sports Illustrated Awards on December 19.
For both founders, the past eight months have effectively been an experiment to find out what works and what doesn't in virtual events. Here are three lessons they've learned on what the future of livestream experiences will look like.
1. Avoid the pay-per-view model
Facebook and Twitch both allow performers to charge for online concerts--but without truly exclusive content or premium-level access, charging admission isn't going to work, according to Silberzweig and Richman.
There's simply too much good media on the internet that's available for free. In 2020, studios, social media networks, and streaming services alike have experimented with charging for eyeballs, to mixed reviews. The pandemic breathed new life into OnlyFans, a subscription-based livestream portal that became a haven for out-of-work performers this year. Disney, however, raised eyebrows when it announced it would charge existing subscribers an additional sum of $30 to view Mulan--a decision the company ultimately reversed.
"People are not really going to pay for a livestream," says Richman. "There's just so much content out there, and you can pay $10 a month and get a million things from Netflix. Why are you going to pay $5 or $10 to watch a concert or an individual livestream?"
2. Don't accept low-quality video
Because livestreaming is relatively easy and free, it's beloved by amateurs. But brands and companies should leave the low-quality video streaming to the TikTok stars and invest in TV-quality, professionally produced content. While livestreaming can offer audiences a personal, intimate look at a celebrity's life, the bad lighting and poor video quality don't translate well to a virtual event. Silberzweig and Richman say that an excess of amateurish work in the early months of the pandemic has given streaming a negative reputation.
"Adam and I felt that livestreaming almost became this janky term, and you'd see these low-quality Instagram Lives with bad production," says Silberzweig. "All of a sudden, something freezes and the camera cuts out, and 8,000 people are watching, and no one knows what's going on."
3. Make your event as interactive as possible
One advantage of virtual programming is that it can attract much larger audiences than in-person events--a major draw for prospective sponsors. For example, Medium Rare's Black Entrepreneurs Day, which streamed on Facebook Live, drew seven million viewers, compared with the roughly 10,000 attendees an in-person engagement might have attracted. The event featured Shark Tank co-host Daymond John, Chance the Rapper, actress Gabrielle Union, and NBA star Dwyane Wade. Participants could submit questions about starting a business for a chance to get them answered by John and a cadre of other Black business leaders, including Shaquille O'Neal, Robert Johnson, LL Cool J, Ice-T, Arlan Hamilton, Elicia Azali, and Brian Lamb.
If you don't take advantage of the opportunity that comes with a broader audience, you're likely leaving money on the table. To capitalize on the larger scale of your virtual experiences, create ways for your audience to engage with the content directly, either through likes, comments, or direct interaction. "Shaq vs Gronk had over 500,000 live engagements, compared with a traditional TV show where you get a few tweets about it," says Silberzweig.
Dec 8, 2020