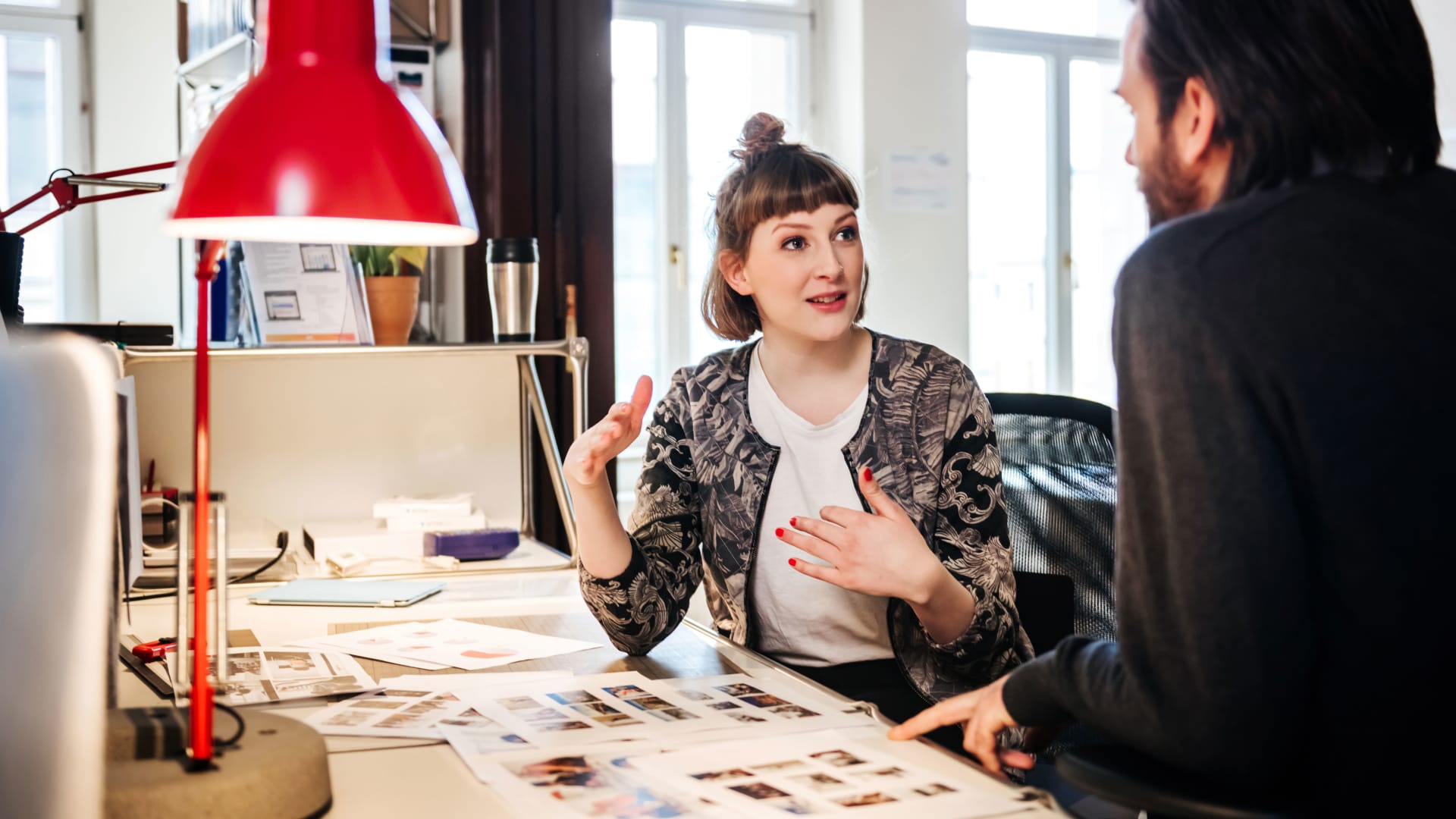 Modern audiences are fueling a demand for visual media like never before. In fact, 91 percent of audiences today prefer visual content as their primary, secondary, and tertiary forms of information delivery when learning about a new product or service. Of course, as I often point out, 94 percent of first impressions are based entirely on the design of that content. So it's no wonder companies of all types are on the hunt for great graphic designers to add to their teams.
The talent pool of graphic designers in the U.S. alone is vast. The most recent BLS data suggests that there were more than 200,000 graphic designers employed by mid-2020, a number that grows an average of 3 percent year-over-year. But these findings don't consider freelance designers, which account for 90 percent of all graphic designers working today. Add it all up, and there are well over a million graphic designers in the marketplace vying for your business. That should mean landing talent would be easy, right? Wrong. Unfortunately, novice graphic designers are a dime a dozen -- finding a great one, on the other hand, is like searching for a needle in an ever-towering haystack.
The industry is riddled with entry-level designers trying to make it in a highly competitive landscape. The BLS suggests that a whopping 40 percent of graphic designers will change careers within the first two years, with another 30 percent leaving the field within five years. So how can you find one of the few designers that will rise above the rest to deliver consistent quality for your brand? The answer rests first in their portfolio.
In my tenure as CEO of Killer Visual Strategies and senior fellow of visual strategy for Material, I've had tens of thousands of portfolios come across my desk. Out of those, I've hired only 30 designers from the mix. While it may seem like an uphill battle to find 30 out of thousands, it's quite easy if you know what to look for in a portfolio. So, without further ado, here are the top four traits to look for in a portfolio that differentiate a junior designer from a great designer.
1. A variety of vector illustration styles
On average, custom illustrations are seven times more likely to convert audiences than content designed with stock images. On top of this, content design that is rooted in visual communication is far more likely to succeed than content that is driven by text. To meet this demand, working with a talented illustrator is a must. Luckily, this is one of the easiest traits to identify in a design portfolio. Be on the lookout for the following:
A variety of character illustration styles should be present. Character illustrations that are proportionately accurate to the human form should be present in the portfolio, but there should also be character illustrations that are more exaggerated and caricature-driven as well. This demonstrates an ability to differentiate styles based on the target audience, as well as the versatility of the designer's own capabilities.
All illustrations in the same piece of content should adhere to the same aesthetic style. In other words, if you see an infographic with a variety of character or icon styles throughout, the designer might not be a good fit in the long run. Mixing illustration styles in a single design suggests that the illustrations are likely stock images rather than custom work created by one designer.
Look for a variety of illustration types. Seeing that the designer can illustrate a diverse array of characters is important, but they should also be able to illustrate icons, technical content, and full scenes, such as cityscapes.
Determine which software the designer is using to create their illustrations. While I always suggest finding a designer proficient in Adobe Illustrator (and therefore avoiding portfolios that are Photoshop driven), every company has different needs. Review their work to ensure they can design in the software your organization prefers, whether that be the Adobe Suite, Figma, or something else.
Illustration skills are hard to find, but this can be a good thing when having to sift through dozens, if not hundreds, of potential applicants. Before looking for any other features of a great design portfolio, narrow the playing field by identifying excellent illustrators first. Once you've done that, move onto the remaining three traits of a great portfolio to further hone your options.
2. A column-based approach to design layout
Great design requires a strong talent for layout -- that is, the method of organizing content to ensure the design feels clean, organized, and (most importantly) uncluttered. Interactive designers, for example, use a column-based approach to every webpage they design. Every row of content is broken into 12 equal columns, and each row of content must align with that 12-column structure.
Also considered a grid system, this methodology doesn't just apply to interactive design. In fact, exceptional designers have been leveraging the grid system for ages. Consider the 13th-century French artist Villard De Honnecourt, who combined the grid method with the golden ratio to devise a system of margins and fixed ratios that still guide print design today. When reviewing the portfolio of any designer, it's important to consider how they lay out their content to ensure they adopt a similar, uniform structure.

Be on the lookout for the following:
Any projects displayed that are designed for print purposes should have no more than a six-column layout. This doesn't mean that sections on the page should all fit six equal columns, it means that the columns should be divisible by six. So, if they have a row with six sections, it might be followed by a row of content where 66 percent is filled with one element and 33 percent is filled with another element. The key is to ensure the design layout fits on a clean grid that is easy to discern for anyone looking for it.
Look for any Web-based projects they produced. Does the content align along a grid that is not divisible by 12? Multiple studies have shown that content designed outside of a 12-column system feels cluttered and overwhelming to viewers. Designers that organize their content with a 12-column layout in mind show a mastery of their craft when compared to those that do not.
3. A clear command of typography
While typography should never be used when visual communication offers a better alternative, it remains a very important factor in modern design. Typography is the art of arranging text to make it both legible and engaging to the viewer. It can be as simple as aligning multiple paragraphs of information along a page. Or it can be as unique as combining different typefaces, styles, and sizes to deliver a creative visual element to the overall design.
Implemented correctly, typography helps to ground layout design. Used incorrectly, typography can hinder the layout and an audience's understanding of the topic at hand. And regardless of proper use, typography sets the tone for your content.
When reviewing a designer's portfolio, keep your eyes peeled for the following:
Be wary of content where more than three font types are used in a single composition. "Font types" in this case means the font family (i.e., Helvetica) and the font treatment (i.e., bold, regular, or italic). A piece might use three different versions of Arial, for example, which would be considered three font types. Alternatively, a piece might use three unique font families, each font with a single treatment. Compositions with more than three font types often show a lack of control over typography, or suggest the designer relies too heavily on fonts to drive the creative vision over more advanced design skills.
Look for content with uniform font choices. For instance, if the headings or key phrases in a design all use different font types, then the designer may not understand the power of visual patterns when connecting with audiences. If, on the other hand, every headline uses the same font treatment and every piece of supporting text follows another treatment, etc., it shows that the designer is considering the end audience and understands how powerful visual communication may be.
Look for content where an illustration, icon, or other form of visualization would relay the information equally or better than typography would. If a designer relies too heavily on typography, they may not understand how to properly leverage visual communication. Nonetheless, consider the fourth trait below before ruling this designer out. Sometimes, clients force the use of typography over better choices for design, so it's important to consider why the designer chose to use typography in their composition if better options were available.
4. A clear understanding of the customer and the audience
The previous three traits of a great portfolio will help you determine if a designer exhibits consistent design quality -- a value-add that only amazing designers can truly deliver. However, keep in mind that while these traits determine whether a designer can master the form of great design, they do not imply a designer's willingness to consider the function of that design. Only this fourth trait of a great portfolio will engender confidence in a designer's willingness to consider both the customer (which might be you or a client of yours) and the end audience the content is meant to engage. Luckily, this final trait is one of the easiest to identify in a portfolio.
As you review the portfolio of any designer, look for the following:
Seek a clear explanation of the need behind the project in the portfolio. For example, was the designer hired to solve a previously identified problem? Did the final product solve that problem or were opportunities missed? More importantly, did the designer explain the project need clearly in their portfolio? Most designers create their own online portfolio. Each project they show provides an opportunity for them to explain why the project was requested. How they showcase this matters, as it exemplifies a designer's willingness to consider the needs of their clients.
Seek a clear explanation of the target audience that the final design is meant to engage. Consider the explanation provided by the designer and review the final content to see if it truly targets the audience at hand. Were illustration styles chosen based on what the audience prefers? What about the color palette or the fonts? Great designers consider the needs of their customer (the client), but prioritize the needs of the audience above all else. Look for portfolios in which the designer had to lead their client to the right solution, even if that was not what the client requested initially. When it comes to content design, delivering outstanding customer experience isn't just saying "yes" to the customer. Instead, great designers consider how the content will function in the world -- how the audience will respond to it -- and cater to the needs of the target audience to ensure success for their clients.
Let These Four Factors Be Your Foundation and Build from There
Depending on the type of designer you are hoping to hire, there are likely other factors to search for in a portfolio. For example, if you are looking for a website designer, you will want to consider the user experience of their portfolio as well as the UX/UI of the projects they've worked on. If you are hiring a package designer, you will want to consider how they marry form and function when designing for various products. Regardless of the type of designer you need, ensuring that they meet at least the four criteria noted in this article will help you narrow your talent pool with confidence and efficiency. From there, you'll have only a handful of options to take through your interview process to ensure you find the right value add for your team.
Apr 6, 2022