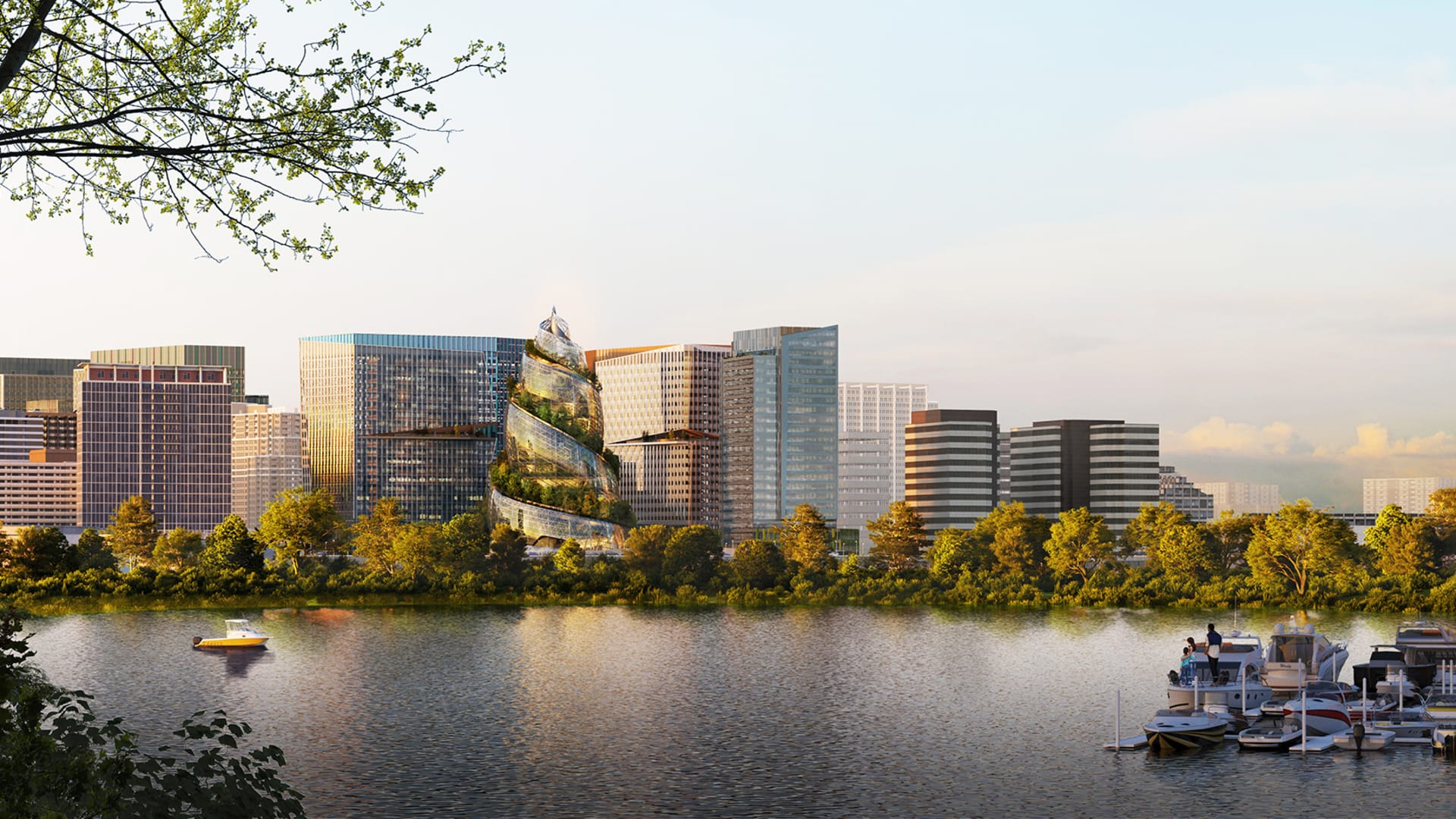 The future of office design is all about collaborative spaces and community. Just ask Amazon. Its new HQ2 designs focus on what you miss most when you're remote: people.
The plan for the $2.5 billion complex in Arlington, Virginia, features a spiral double-helix glass tower with two lushly landscaped pedestrian paths. There are also 2.5 acres of open public space that include a dog run, stores, daycare facilities, and restaurants. The designs can yield a wealth of ideas for businesses rethinking their own workplace for the post-Covid world.
"Design gives us the opportunity to transform and reshape the workplace into a healthier and more purposeful experience," says Robert Mankin, partner of NBBJ, the global architecture firm behind the plan, which was unveiled earlier this month. The complex, known as Amazon's second headquarters, includes three 22-story office buildings.
The goal is to bring people together in a flexible office space to foster the sharing of ideas, says John Schoettler, Amazon's vice president of global real estate and facilities. "Opening buildings and spaces for the entire neighborhood to benefit from and enjoy are a key piece of our inclusive and creative development," he says.
In the post-Covid future, many organizations will adopt a hybrid workforce model: Heads-down work will take place offsite, instead of in the office. More employees will work from home and come into the office for meetings, mentorship, connection, and learning from peers. To help make that happen, companies will want to offer more interactive spaces and social connection points to foster cultural connections, says Mankin.
Gone are the rows of desks and quiet, library-like open-office plans. Instead, the office is designed to foster interaction, focus on nature, and welcome the community. HQ2 is designed with these ideas in mind, says Mankin, whose firm also counts Microsoft, Google, and Samsung as clients. "It could have been an easy direction for Amazon to build an isolated campus, but that's not what we're doing here," he says. "It's actually a campus that allows the public to move freely through."
Given the pandemic's disruption to the workplace, now is a great time to rethink how your company uses its office and to create a plan to make a hybrid workforce work for you.
"This is a moment in time that will probably accelerate many things that we have been either thinking about or wishing for," says Carlos Martínez, principal at San Francisco-based architecture firm Gensler, which has designed for such companies as Etsy, Adidas, and Facebook.
Want to incorporate the future of office design into your own workplace? Consider the following three tips.
1. Encourage gathering.
Collaborative spaces are more than just desks placed together or a meeting room with well-stocked cupboards. An office layout should encourage spontaneous interactions among staff. You don't need a big budget to do so.
Think about putting comfortable seating near your kitchen or coffee station, so you can sit down to chat when you run into a co-worker. Or, create an open space where employees are in view, not cornered off by cubicle walls. Just as Amazon's HQ2 designs include retail space and outdoor-gathering spots, you can try opening up your lobby or a furnished outdoor area to the public, so that your community extends beyond your own employee head count.
2. Incorporate nature.
Maximize natural lighting whenever possible by removing furniture that may obstruct windows. Add plants and greenery, which can reduce stress. Help employees get outside, where creativity is often sparked, by adding paths and bike parking, so employees can walk or ride through the surrounding neighborhood on their way to work.
3. Design for flexibility.
Technology is changing workspaces rapidly, even year by year, so it's important to be flexible. Don't think that you can sign a 10-year lease and design a space that fits your needs for an entire decade.
Find a lease that can offer a shorter time commitment in case your needs change, Martínez says. Then make sure that what you build or purchase is absolutely essential. Whatever you create should support the behavior of your employees and your company's values.
Consider the storied tech companies starting in the founder's garage. "A garage as a psychology of space is one of the most adaptable spaces that exist," Martínez says. "Garages are blank boxes that allow you to modify things very quickly. You should create a space that gives you some of those elements."
In other words, let your office be your story, a collaborative space to project your culture and your aspirations. Everything else? That can get done at home.
Correction: An earlier version misstated NBBJ's headquarters. The firm doesn't consider one city as its headquarters and its partners are located globally.
Feb 25, 2021