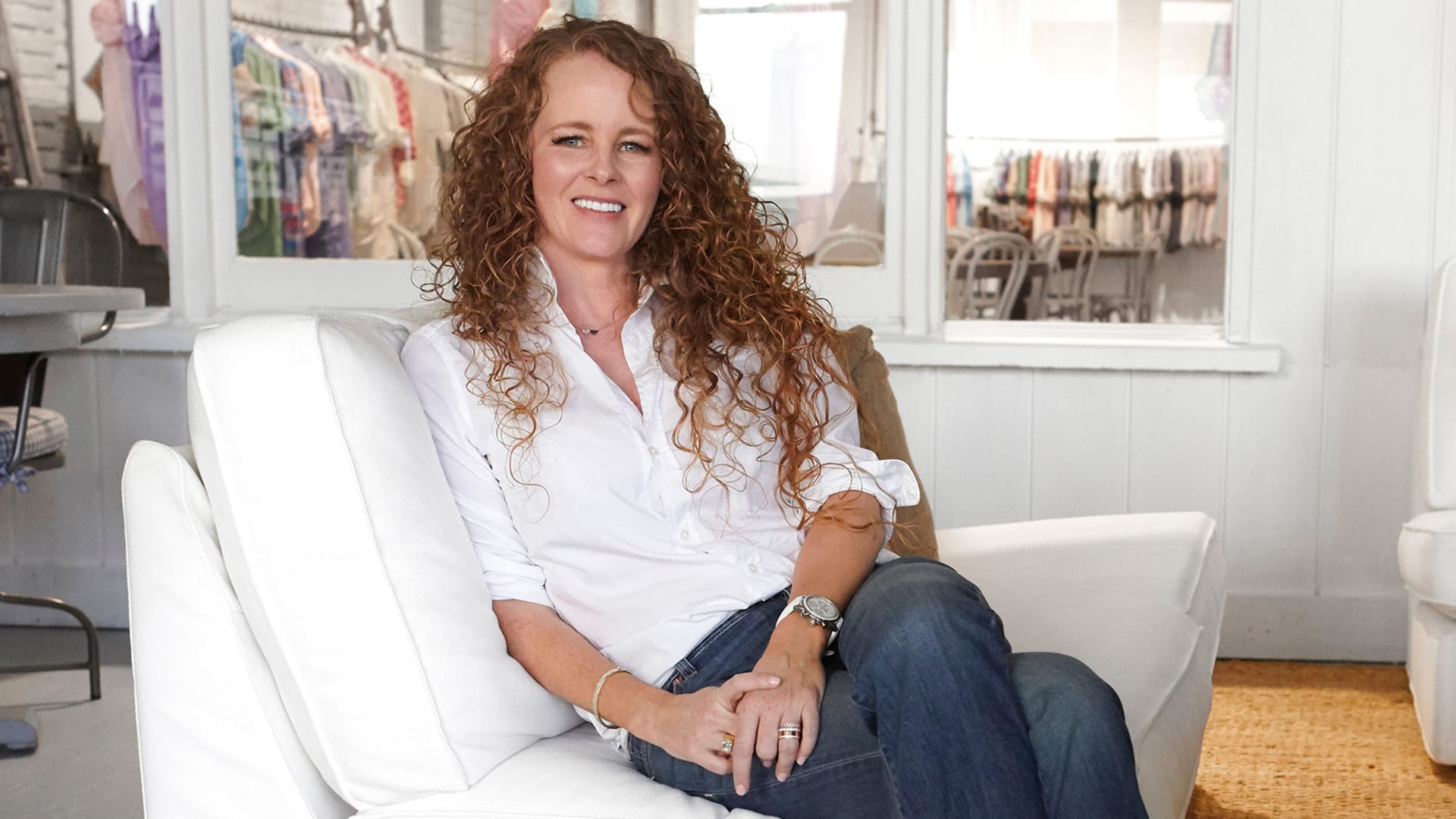 Audrey McLoghlin knows how to respond to a crisis.
The founder of Los Angeles-based apparel company Frank & Eileen, McLoghlin started her business in 2009 after declaring personal bankruptcy during the Great Recession, when she couldn't afford the rent on four clothing retail stores. The adversity helped prepare her for similar challenges in 2020, when the coronavirus pandemic led to $11 million in canceled orders.
"We watched an entire year's work evaporate in front of our eyes," McLoghlin says, describing a two-week period last March when some of the company's wholesale partners canceled orders for 130,000 units already in production.
McLoghlin launched Frank & Eileen to create the perfect button-down shirt for women using materials from a family-owned mill in Italy whose fabric was previously used for luxury men's shirts. The brand grew beyond the original button-down shirt to include a full collection of men's and women's clothes, and gained traction over the years, with celebrity customers including Meghan Markle.
With retailers pulling a force majeure, a common clause in contracts allowing one party to back out because of unforeseeable circumstances, McLoghlin accepted early on that she had to pivot fast to save her business.
"Immediately I was like, 'OK, it's time to become a wartime CEO.' We have to scrap all of our plans and come up with a wartime-like strategy," she says.
McLoghlin's first move was accepting that the pandemic was going to change the world as she knew it, just as the recession had in 2008, and conveying to her team that there was no 'normal' to go back to. She switched Frank & Eileen's focus from wholesale to direct-to-consumer, and grew DTC sales by overhauling the digital marketing strategy, including hiring a new creative and photography team and a digital marketing agency. In the absence of in-person shopping, the company hosted virtual trunk shows on social media, live-streaming the unboxing and styling of products.
While the initial blow to Frank & Eileen's wholesale business wiped out half of the company's projected 2020 revenue, the growth in DTC revenue allowed the company to stay profitable in 2020 and end the year almost exactly on target. The company declined to share revenue figures.
One of the advantages McLoghlin says she's had during the pandemic is the fact that she owns 100 percent of the company, eliminating any investor pressures or conflicts of interest. This has allowed her to focus only on her employees, supply chain partners, and customers. She calls this mentality being part of "The 100 Club."
With the extra time from working remotely in 2020, McLoghlin and her team decided to do the things they'd always wanted to do but never had time for--including the lengthy application process for B-Corp certification, which grades a company's legal commitment to a positive social and environmental impact. Frank & Eileen recieved the certification in November and McLoghlin has plans to pursue new sustainability initiatives in 2021, including using scrap fabric from its Italian mill's archives for new products and creating a vintage buyback and resale program.
Through all the challenges she has faced, McLoghlin has found that surviving a crisis can help small businesses build the confidence that's necessary to perservere long-term.
"If you can figure out how to grow strong enough to do it, you'll come out ahead," she says.
Jan 7, 2021