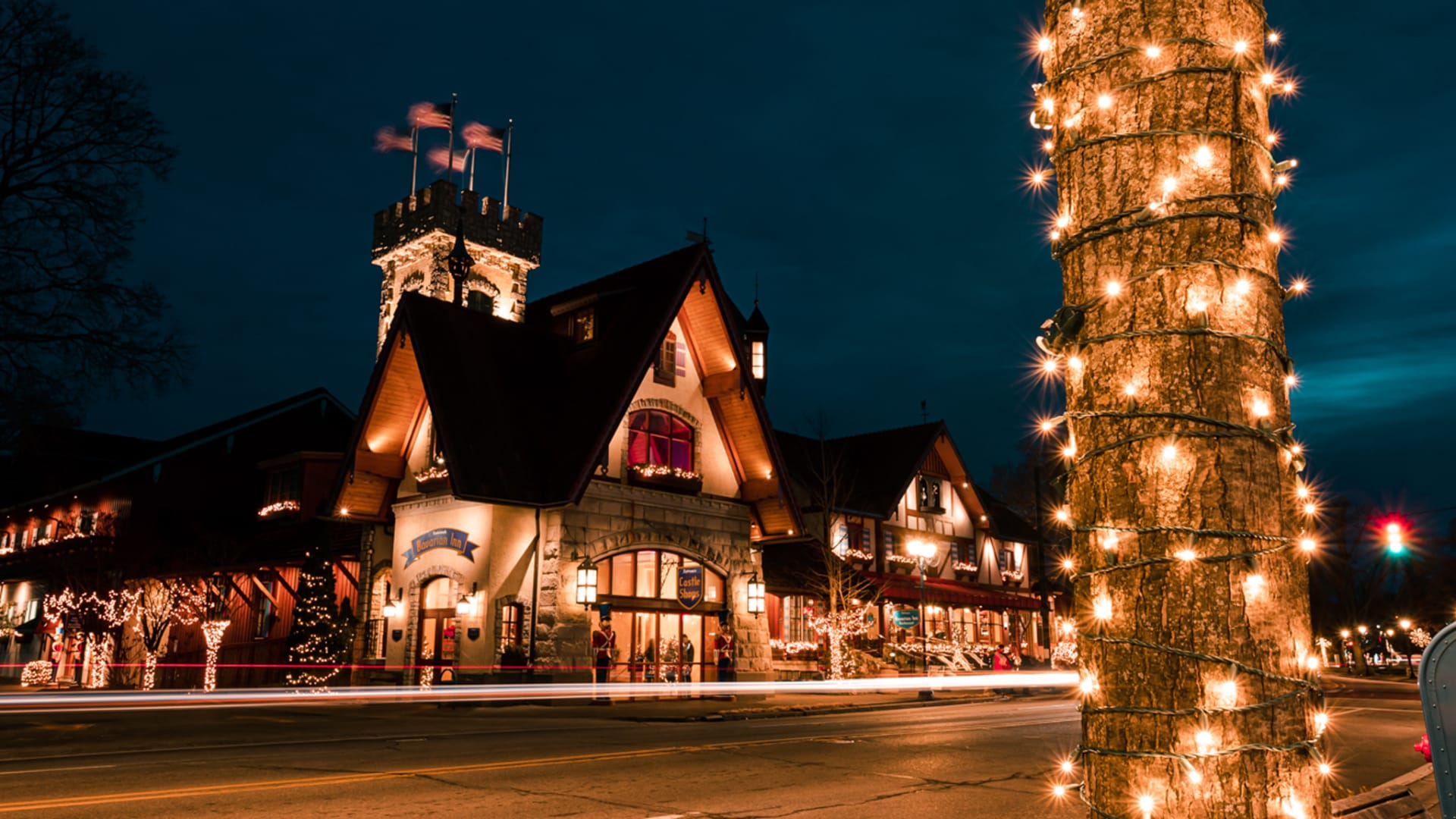 Tradition is big in Frankenmuth, Michigan, a town of less than 6,000 famous for its Bavarian-style architecture and year-round Christmas celebration that annually attracts three million visitors. In a year when the pandemic has upended daily life around the world, Frankenmuth's business owners knew they'd need to reframe long-time traditions to keep the spirit festive.
Partnering with other small businesses has been key, says Wayne Bronner, CEO of Bronner's Christmas Wonderland, which bills itself as the world's largest Christmas store and is one of the town's main attractions. In the absence of the town's usual holiday kickoff ceremony the day after Thanksgiving, local business owners pooled together $300,000 to purchase a 40-foot Christmas tree that performs a light show with music at scheduled times throughout the day, alongside a driving tour of holiday light displays. Frankenmuth visitors also can purchase a ticket to drive through a park where Santa and his reindeer say hello through a car window, and kids can write letters to Santa and receive a postcard in return.
"There's a little spend on competition, and a lot of spend on cooperation," says Bronner, whose father, Wally Bronner, founded the company in 1951. At Bronner's, Facebook Live video chats with Santa have replaced in-store Santa visits. Mrs. Claus also does storybook readings on Facebook.
With indoor dining closed in Michigan, some Frankenmuth restaurants have converted space to retail and now sell branded food products so they can remain open and bring in cash to stay afloat. Many mom-and-pop retailers have upgraded their websites to sell inventory online.
Even the Frankenmuth Chamber of Commerce has adapted its marketing. Its messages focus on ways that "shopping small" is safer than shopping at big-box retailers, says Christie Bierlein, the Chamber's sales and marketing director, pointing to how hand-washing and cleaning procedures are easier to monitor and enforce in small stores. Bierlein adds that people see small towns as a safe getaway from the hustle-and-bustle of busier cities, and that Frankenmuth's visitors are attracted to the town's charm.
"There are a lot of people looking for that cheer this year," she says. "It's definitely a message of hope and resilience."
Dec 18, 2020