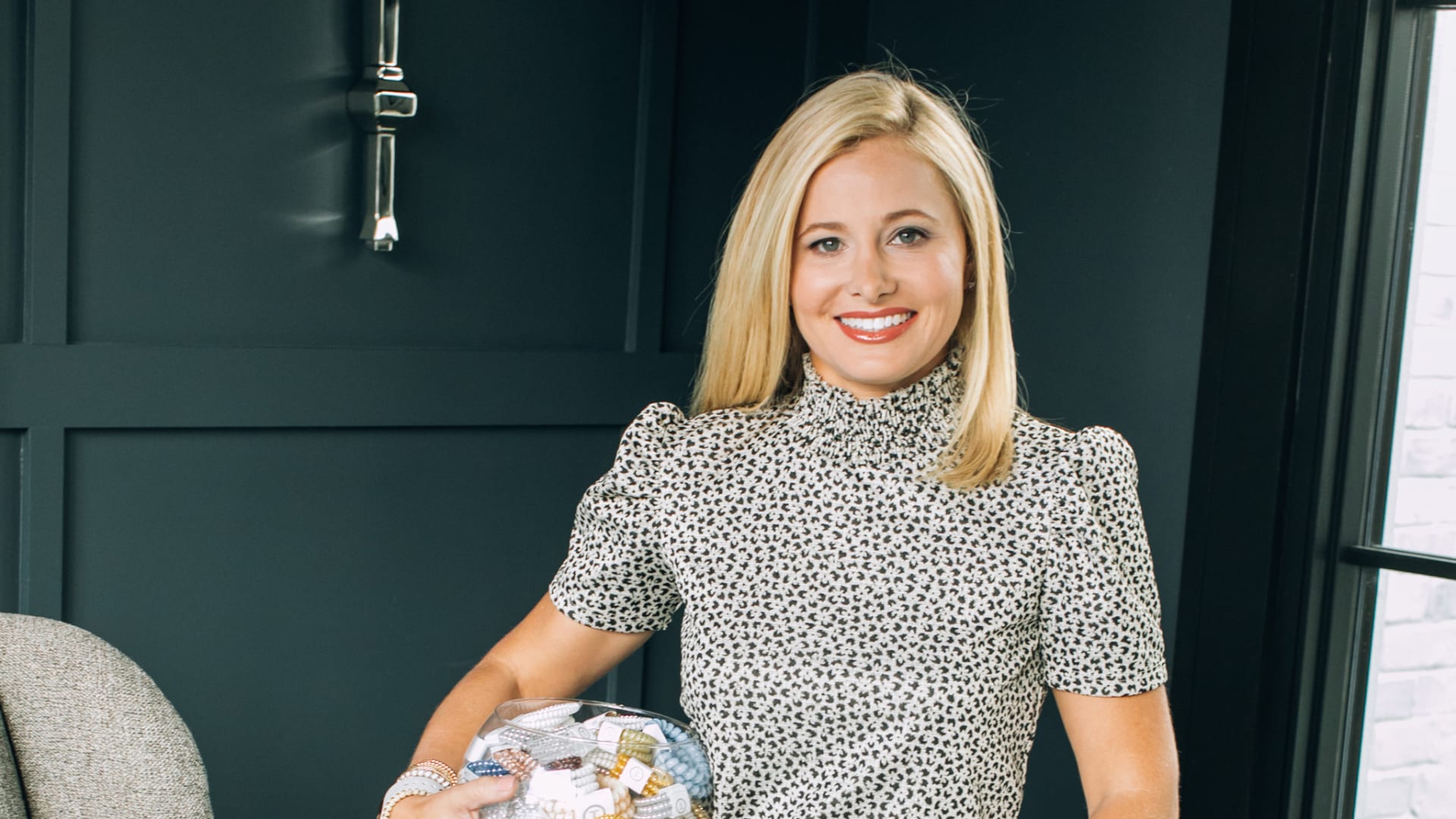 When it comes to growing a business, it's the smallest efforts that can make the biggest impact.
That's according to serial entrepreneur Lindsay Muscato, 36, founder of Teleties, which sells durable hair ties that double as stackable bracelets. From a small startup run out of her garage, she grew her brand using social media to eventually sell millions of products to customers nationwide. Most recently, the Maitland, Florida-based company placed at No. 397 on the 2021 Inc. 5000 list of the fastest-growing private U.S. companies, with three-year revenue growth of 1,216 percent.
When she was just 16, Muscato knew that entrepreneurship was her calling. She started her first business, selling a flip-flop with interchangeable straps called Switchflops, made from a design she created in a high school art class. The shoe brand grew to sell in more than 4,000 stores, and her operation landed her the Ernst & Young's Entrepreneur of the Year award in 2010. She later changed the name of the shoe company after herself under her maiden name, Lindsay-Phillips, and sold it in 2013 to Trimfoot Co., which has a portfolio of footwear brands.
She got married, had two children-- and then the idea for her second venture was born. As someone who loves sports and working out, Muscato was sick of hair ties that would slip or stretch out, requiring her to constantly stop what she was doing to flip her head upside down to retie her ponytail. Her life-long frustration reached a breaking point after she became a mom and had the same problems while balancing bottles and babies in hand. Knowing there had to be a better way, she started working on a prototype in 2016 for a durable tie that stayed in place yet looked like a bracelet when wrapped around her wrist. Along with prototyping, she also brainstormed about what kind of branding would help her idea gain popularity.
In 2017, she landed on a prototype that met her high expectations and created a makeshift office space in her garage to start selling her product, calling it Teleties. She paired it with branding that was fun, conversational and feminine. She named the product's color options with playful names like Eat Glitter for Breakfast and Talk to the Sand. She sent a few hundred bands to family and friends, and she recalls being shocked at how quickly word spread on social media, especially among Instagram influencers who were friends-of-friends.
She had never seen that kind of fast growth as a founder 10 years prior--social media hadn't quite arrived yet--so she decided to lean into social media marketing. "We've been very lucky because nothing we do is paid. It's all word of mouth," she says.
While exciting, that fast growth also led to supply challenges. Orders of hundreds quickly became orders of thousands, and Muscato was running out of product. Working late nights and weekends, she and her CFO crunched the numbers on what they needed but still ran into communication barriers with overseas manufacturers.
So Muscato got on a plane and flew to China to work it out.
"Sometimes you have to take the bull by the horns and just make it happen," she says. "Emails, phone calls, and WeChat are great, but sometimes you've got to get on a plane, go see it for yourself, and make it happen." Within six months of her flight, Muscato had made the connections to solve her manufacturing problems and was able to meet demand. To date, Muscato says Teleties has sold 6.4 million packs and 19 million singles of its hair bands, and has done product collaborations with popular brands like Lilly Pulitzer and Pure Barre.
When reflecting on what she believes made Teleties grow the most, Muscato says her best investment has been hiring a team with a persistent and confident work ethic. She looks for employees who are go-getters, self-sufficient and don't need to be micromanaged. She says the office has an inside joke that on your first day as an employee you're usually on a plane somewhere--and you have to just figure it out. "The worst thing someone can say is no, or I can't help you," she says. "We're gonna figure out a way to make it happen."
But having independent employees doesn't mean ignoring workplace culture. For her team of 37, there's a weekly workout in the office gym, and team lunches. After going remote at the start of the pandemic, Teleties is now a hybrid workplace, working remotely on Mondays and Fridays.
Above all, Muscato says any entrepreneur can go far if they follow the golden rule: treat people the way that you would want to be treated.
"What comes around goes around. That's just the truth," she says. "Whether it's a business decision, or you're dealing with someone in the office, it's like, well, how would they feel if I was coming to them with that question? What would I want as the answer?" When you remind yourself of this simple lesson, she says, the success will follow.
EXPLORE MORE Inc. 5000 COMPANIES
Sep 9, 2021