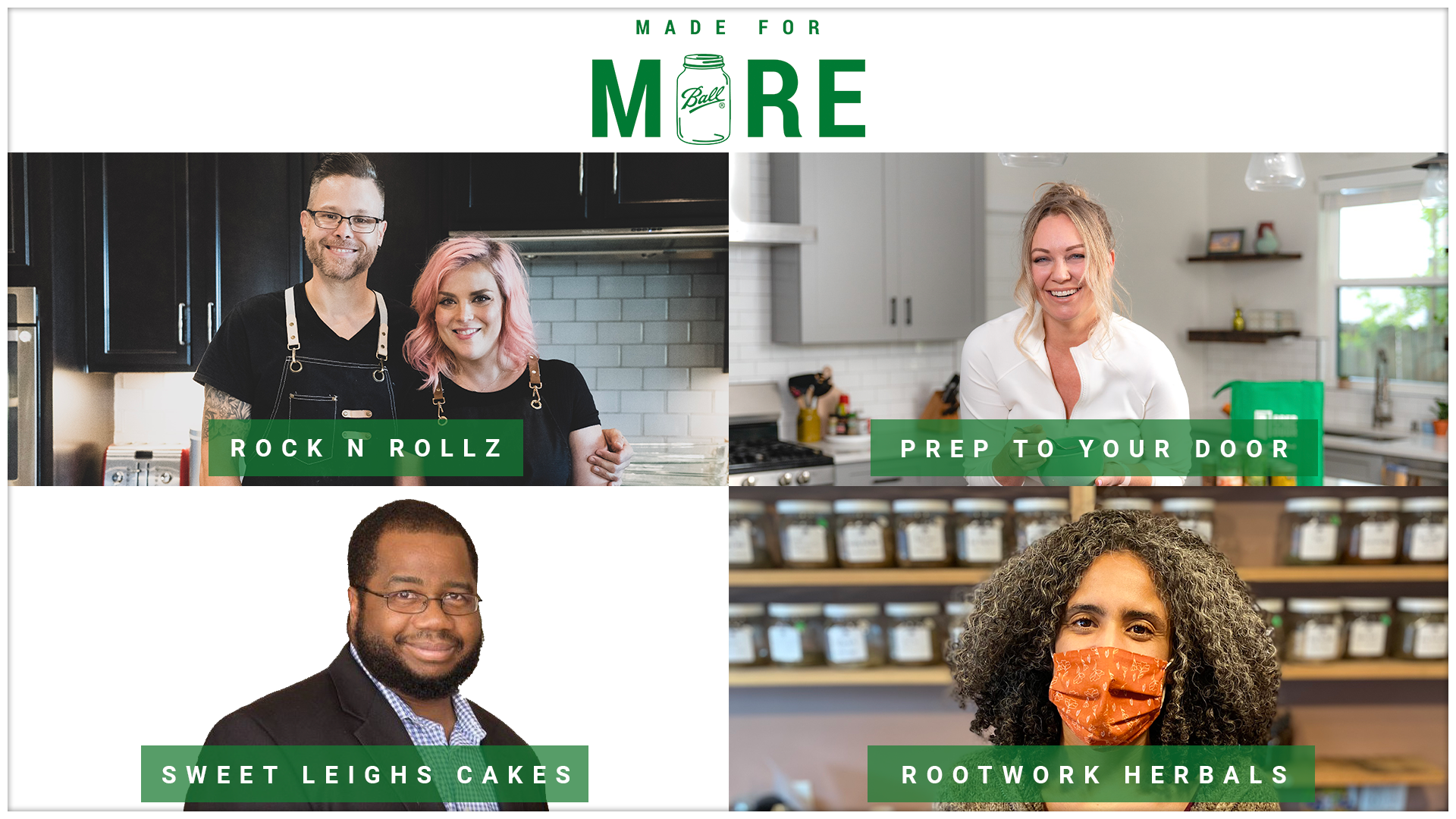 The pandemic was challenging for small and midsize businesses (SMBs). But something amazing happened in spite of the challenges. Some existing businesses pivoted, and others turned a hobby into a startup. Newell Brands, the maker of Ball® home canning products, celebrated SMB ingenuity with its "Made For More" Small Business Fund grants. Ten recipients were awarded $10,000 each to support their business and continue the important work they're doing in their communities. Here are the stories and lessons from four SMBs that innovated their way through the pandemic.
Heather Emerson and Faiez Rana combined their interest in sustainability and organic, fresh food into one business. Prep to Your Door, based in Austin, Texas, is a zero-waste meal service that delivers 100 percent plant-based and gluten-free food in Ball® home canning jars to customers. While the business was formed in 2016, meal delivery businesses like theirs gained visibility when people were unable or uncomfortable shopping in person. Prep to Your Door served 77,000 meals in 3,900 Ball® jars during the pandemic, while donating almost 1,500 pounds of meals to the community as well.
Emerson and Rana follow advice they received to start with a minimum viable product, and then let customer responses lead the company's growth. They encourage new business owners to make sure they know the "why" of their business and infuse that "why" into their work daily.
SweetLeighs Cakes & Treats
While architect Mark Palmer has been baking as a hobby and as an occasional side job for a decade, the pandemic pushed him to think bigger. His existing monthly donations of treats to a nearby hospice facility didn't seem like enough during the difficult public health crisis. He wanted to give to those on the frontlines too. Individual cakes in Ball® mason jars were a great solution, and soon teachers and medical organizations providing COVID-19 testing and vaccines received individual cakes as gratitude for their work.
Palmer sells made-to-order full-size cakes and mini cakes in Ball® mason jars and several Florence, South Carolina, vendors carry them, too. He never intended to start a bakery business, but he sees it as an opportunity to bring others joy through his creations. He's learned the importance of reaching out to other small business owners for advice and advises others to start small and grow slowly.
Amanda David saw a need a decade ago to help Black, indigenous, people of color (BIPOC) gain access to health and healing through herbalism. At that time, she created Rootwork Herbals, a collective offering herbal products, an herbalism school, and free health clinic in Brooktondale, New York. The pandemic highlighted these healthcare needs, as the BIPOC community was disproportionately impacted. In response, Rootwork Herbals created a BIPOC community garden to distribute organic food and herbs, and they give free gardening and herbalism workshops complete with seeds, transplants, and herbal medicines to take home in Ball® mason jars.
David continues following advice given to her, to stay true to her dreams, vision, and heart and encourages other entrepreneurs to do the same. "Owning a business is a way to live a life dedicated to your passion and towards making the changes you would like to see in the world," she says.
When the country shut down in spring 2020, Zito, who goes only by his last name, and his wife Christin Zito, were immediately out of work. Zito was a music industry production manager, and Christin was a freelance hair and makeup artist for award shows and commercial shoots. They joined in on the sourdough home baking trend but took it a step further by selling their newly created sourdough cinnamon rolls to their Nashville, Tennessee, community. By the end of 2020, Rock N Rollz pop-up bakery sold more than 31,000 cinnamon rolls, supporting the couple, employing 13 other music industry professionals, and donating $33,000 to local charities.
The couple learned to document their progress and processes, as it's impossible to remember everything. "If it's not written down, it doesn't exist," Christin says. And working hard requires down-time. With busy baking weekends, they take Mondays off. "You can't give 100 percent if you don't have 100 percent to give."
In addition to these four businesses, Newell Brands granted $10,000 to six other companies, including:
Ball®, TMs Ball Corporation, used under license, © 2021 Rubbermaid Incorporated
May 27, 2021