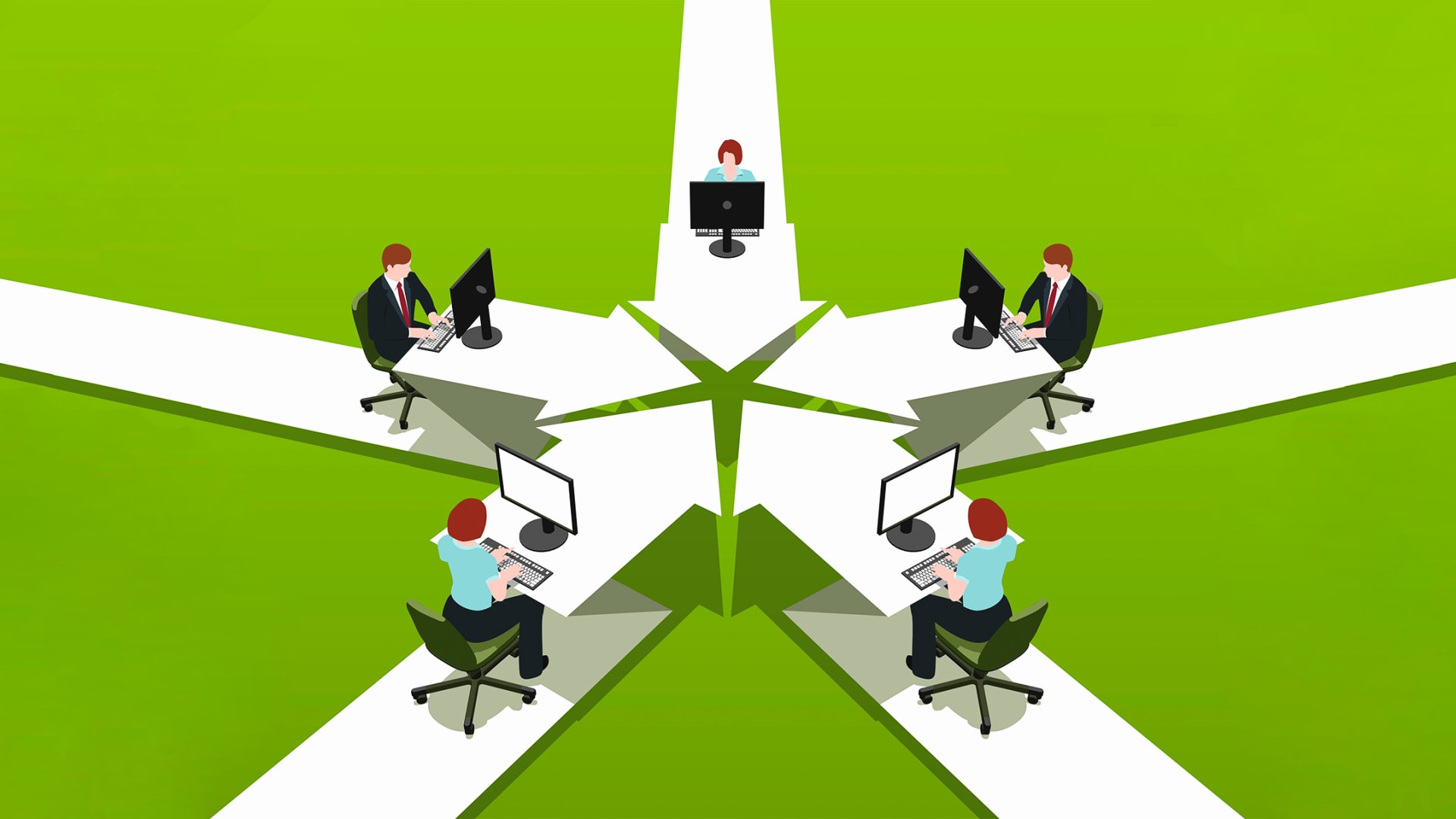 In 2020, the Covid-19 pandemic ushered in massive global changes in the way we live and the way we work. To be sure, quarantines, social distancing orders, bans on assemblies, and working from home have changed us, and as a natural consequence, they have reshaped businesses across the globe.
From one day to the next, business process transformation -- in other words, digital transformation for business models -- surged to the top of the corporate agenda, and mobile working moved from luxury to necessity. According to IT analyst Gartner, these trends will continue to gain ground even after news of the pandemic fades into the background. In fact, the market research firm is forecasting that remote working will account for a full 48 percent of the workforce by 2030.
Going forward, this means that more and more companies will be embracing hybrid work environments, in which part of the staff works from home or on the road while other co-workers hold down the fort in the office.
Not having all of your personnel in the same place at the same time clearly comes with its own set of challenges. But whether your staff is working remotely or on-site, the business requirements they need to adhere to are the same. Regardless of where they are, employees need to do their jobs at a level that delivers the results that the company expects.
To ensure a seamless transition to hybrid work environments, companies need to provide the infrastructure that makes it possible. That's where the pyramid of needs in a hybrid workplace comes in. Alongside the appropriate technical equipment, employees need a working environment where they feel comfortable -- one that motivates them to give their best, day in and day out.
The Base: The Right Equipment
Your hairdresser can't cut your hair without scissors any more than a surgeon can perform open-heart surgery without a scalpel or a Nascar driver can race to victory without a perfectly tuned car. In other words, if staff doesn't have the equipment they need, there's simply no way they'll be able to do their jobs efficiently and stay motivated.
This means the onus is on business executives and IT team leaders to make sure employees have the baseline infrastructure in place so they can thrive. In an office, this naturally includes traditional workplace basics like an office desk and chair, internet access, a computer, and a cell phone. And if you need your employees to participate in virtual meetings, they'll also have to have the proper cameras, headsets, and other tools.
And of course, employees also need to access the software they use to get their work done efficiently, such as your company's office software suite and online meeting software.
The Middle: A Supportive Corporate Culture
Throughout the pandemic, workers already demonstrated to a large degree that their productivity and commitment aren't necessarily a function of working in employer-controlled workspaces. In fact, increased flexibility tends to go hand-in-hand with enhanced efficiency. Without question, for employees to be able to perform efficiently and effectively, a convenient, well-resourced working environment that champions employee comfort is key. In this context, two aspects are paramount:
Team coordination: While transparency regarding how employees use their time is important, coordinating tasks flexibly and staying focused on results over input is the secret sauce. Strive to agree on specific goals but be flexible in terms of how, where, and when the team achieves them. Evaluate your team members according to their contribution, not their location. There's no room here for doubts about whether employees get enough work done when they don't have to be physically present in an office setting.
Social interaction: As social beings, staying in touch with others is essential for our well-being, both professionally and personally. Encourage virtual interaction among co-workers -- meetings, video chats, and group activities are great ways to keep the team spirit strong.
The Top: Leveraging the Power of a High-Performance Workplace
Having the right people with the right skills and experience working on the right project at the right time -- that's how you get the right results. In addition to that, your staff needs to have secure and immediate access to the information they need to deliver top performance no matter where they are. A seamless flow of information between autonomous work teams is imperative -- which includes minimizing the time employees waste searching for relevant information. Innovative knowledge management is the foundation on which this is built.
With access to all the information they need to get their job done, employees know they can count on the whole team to work effectively together and support and encourage each other, which undoubtedly boosts job satisfaction. In turn, this translates into better performance, productivity, and efficiency.
When it comes to traditional ways of working, the pandemic has prompted a structural shift for many businesses. Instead of working only from the office, working from remote and home offices has seen a dramatic upswing. Companies that can tap into the potential of this upswing, rather than fighting against it, will enjoy a massive competitive advantage when vying for customers, wooing new recruits, and hitting business objectives.
Jul 27, 2021