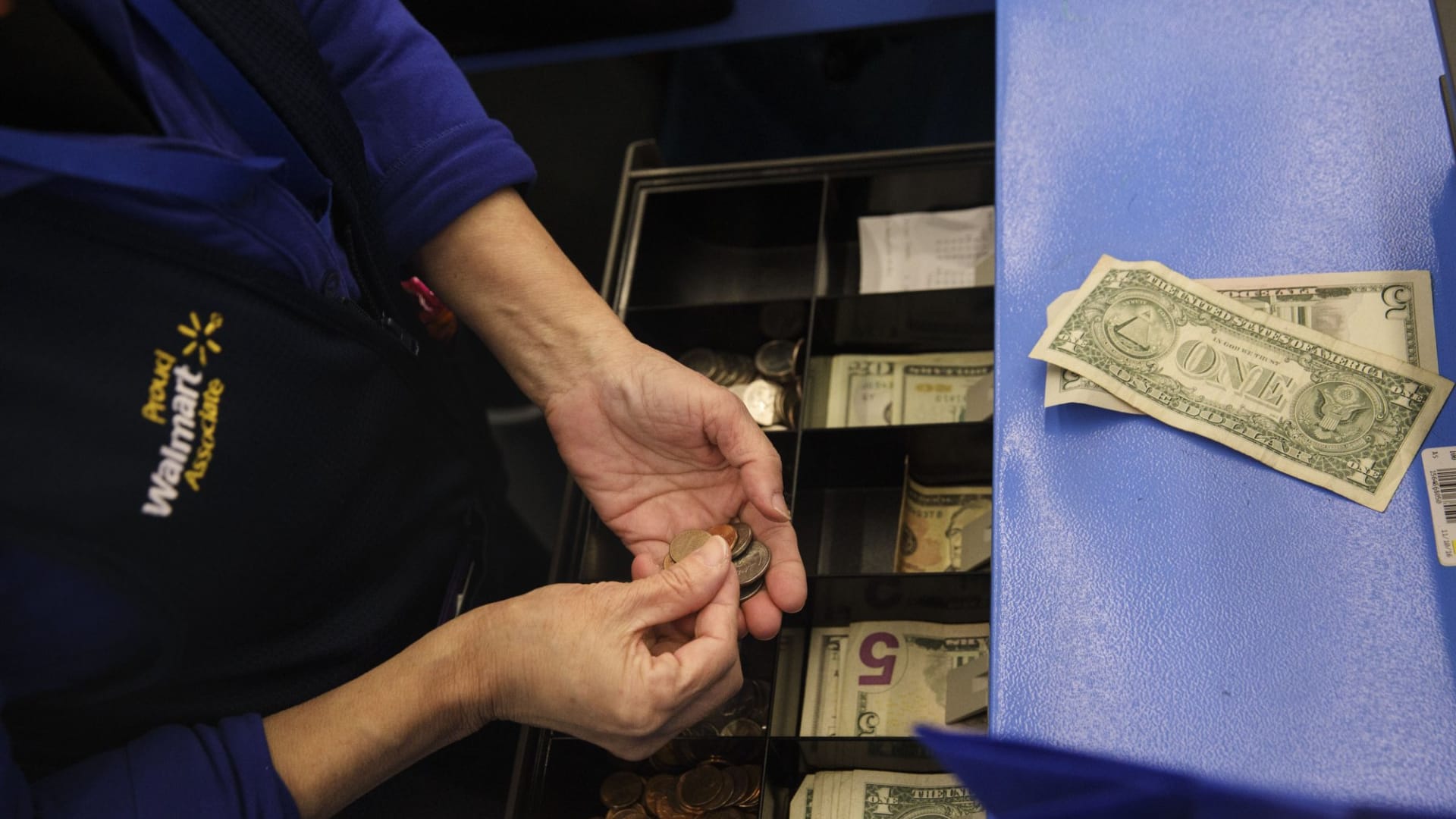 But it turns out that Walmart is already asking customers to make a big change that would have seemed unthinkable only a few months ago.
Along with smaller retailers, Walmart is taking steps to encourage customers paying for their purchases to do so with credit and debit cards instead of cash.
It's coronavirus-related only in that the pandemic has resulted in a surprising shortage of coins in the U.S. money system, which makes it difficult to offer change for cash purchases.
The problem started a few weeks ago, as a result of two things.
First, there are fewer people working at the U.S. Mint right now due to the virus and social-distancing effort. The result is fewer coins are being minted, according to the Federal Reserve.
Second, while the total value of all coins in circulation is about $47.8 billion (up $400 million from a year ago), the simple truth is that more people in general are staying home and not spending the cash they have.
"Like most retailers, we're experiencing the [effects] of the nationwide coin shortage," a Walmart spokesperson told NPR when it reported on changes at the chain's efforts. "We're asking customers to pay with card or use correct change when possible if they need to pay with cash. Cash is welcome at all of our stores."
While the United States and other countries have been moving toward a cashless society for some time, about 26 percent of transactions were made with cash prior to the pandemic, according to a 2019 Fed study cited by Bloomberg.
The New York City Council passed a local law in January that requires stores to accept cash. New Jersey, Philadelphia, and San Francisco have similar laws on the books.
But that was all pre-pandemic. Among the changes at Walmart and other retailers now to encourage customers not to pay with cash:
Converting some Walmart self-checkout registers to accept plastic, but not cash.
Telling customers they have to pay with exact change or via plastic at Starbucks.
Asking to give customers change in the form of credits on loyalty cards at Kroger.
Asking customers at some Wawa gas stations to turn in rolls of coins in exchange for bills.
Encouraging customers at CVS, "if possible, to pay for their purchases using exact cash, credit/debit card, or check."
I admit to personally being part of the problem here. In fact, I've made it a point during the few times I've paid for anything with cash to mention that it's all been out of circulation and sitting in my drawer since February.
By the way, dollar bills seem like less of a problem, Bloomberg reports; they're still circulating.
Which maybe leads to a solution: round up, round down--or just tell whomever you're buying things from to keep the change.
Jul 19, 2020