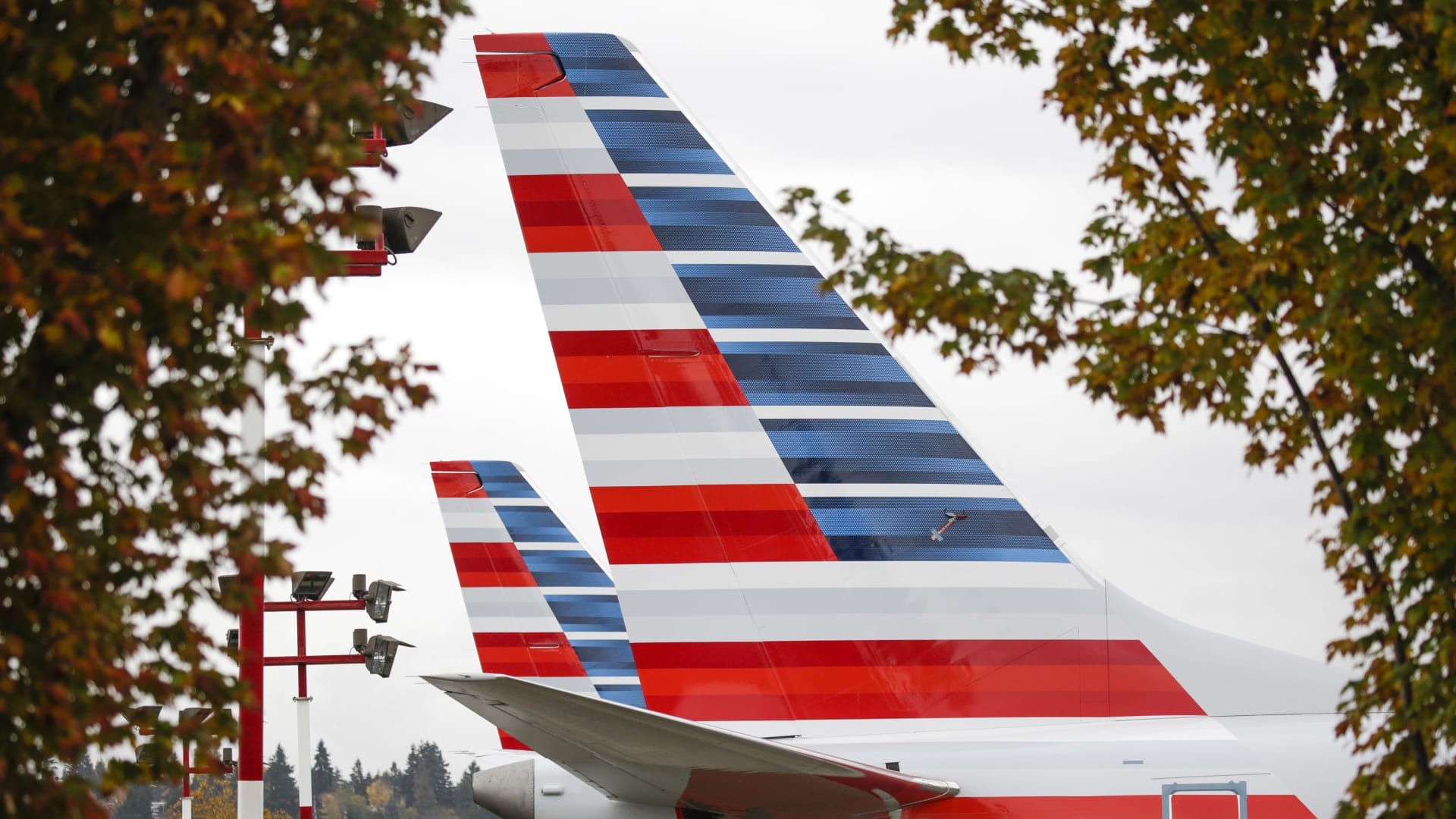 Starting tomorrow, American Airlines will begin a series of five flights of its Boeing 737 MAX aircraft, "exclusively for team members," as the airline put it.
These planes were grounded for more than 20 months, after two 737 MAX aircraft owned by airlines in Asia and Africa crashed, taking 346 lives. The FAA just lifted the order in the U.S., which prompts two big questions: Are they truly safe now? And will passengers fly them?
Hence, the decision to fly these demonstration flights--both to make sure employees are comfortable with the planes, and to try to project that confidence to customers.
The airline site View From the Wing published part of the American Airlines message to employees about these "flights to nowhere," including the schedule: tomorrow in Dallas, two next week in New York and Miami, and two more the week after that.
American then plans to return the 737 MAX to its operational fleet at the end of December in a limited role, likely months ahead of its domestic competitors.
But I realized something I hadn't seen: There was no word about whether Doug Parker, the CEO of American Airlines, had decided to be on that first demonstration flight tomorrow.
Back in April 2019, I wrote that for passengers to be comfortable again on 737 MAX aircraft, this would be part of what it would take: executives flying it ostentatiously -- probably even taking their families aboard for good measure.
Otherwise, I wrote, passengers wouldn't care how many times they're told that the plane is safe; they have to see it for themselves.
Now, credit where it's due, it turns out that just about the time Tuesday that I was asking American Airlines when Parker might fly one of these aircraft, he was literally doing that--without advance fanfare.
This was an important decision, and last night, he posted the proof: nine Instagram photos showing himself, his fellow passengers (all masked; we're still in a pandemic), the crew, the 737 MAX plane he was on--and the view out the window.
"I've long said that when American Airlines pilots -- who are the best in the business -- are comfortable and confident in flying the MAX, so am I," Parker wrote on Instagram, accompanying the photos. "So today, along with my wife, Gwen, American's president, Robert Isom, and many others, we boarded the MAX at our Tulsa maintenance base with the utmost peace of mind."
An American Airlines spokeswoman confirmed that the photos were taken Tuesday, and Doug Parker, Gwen Parker, Isom, and the rest did in fact fly from Tulsa to Dallas aboard the 737 MAX aircraft.
There's an expression in business: "Eat your own dog food," meaning you want your employees to use your products.
In the airline industry, however, the core product is trust. Most of us aren't pilots; even fewer of us are aeronautical engineers. So, if we don't have faith in the airlines and their teams' judgment, there's not much of a business.
This goes to why I always advise leaders of smaller businesses to study airlines: They're highly competitive, publicly traded, and operating largely in a commodity business: safely transporting passengers from one place to another.
It's also why I think there's such a good lesson here.
If you're asking customers for trust, you have to show them your trust as well. You have to demonstrate your faith in the things you're asking them (and your employees) to have faith in.
Ironically, very early in the 737 MAX crisis, some American Airlines employees were vocally skeptical. If people have long memories, I wonder if that might help American Airlines now.
Flight attendants called for the plane to be grounded in March 2019, before it actually was, joining their peers at other airlines. More colorfully, secretly recorded audio leaked of a heated meeting between Boeing officials and American Airlines the previous November.
If their skepticism was typical then--and yet, if those same kinds of professionals are willing to fly the 737 MAX now (even to put their families on it)--could that say something important?
Of course, I really do hope that this works out on all fronts. Obviously, I hope that 737 MAX aircraft are safe from a human standpoint.
And, given the economic issues involved, and the challenges facing the airline industry right now, I certainly hope that American Airlines and its competitors are successful.
I'll also be watching with interest how it unfolds. And if you're running a business, and customer trust is important to you, I think it will be worth your time, too.
Dec 2, 2020