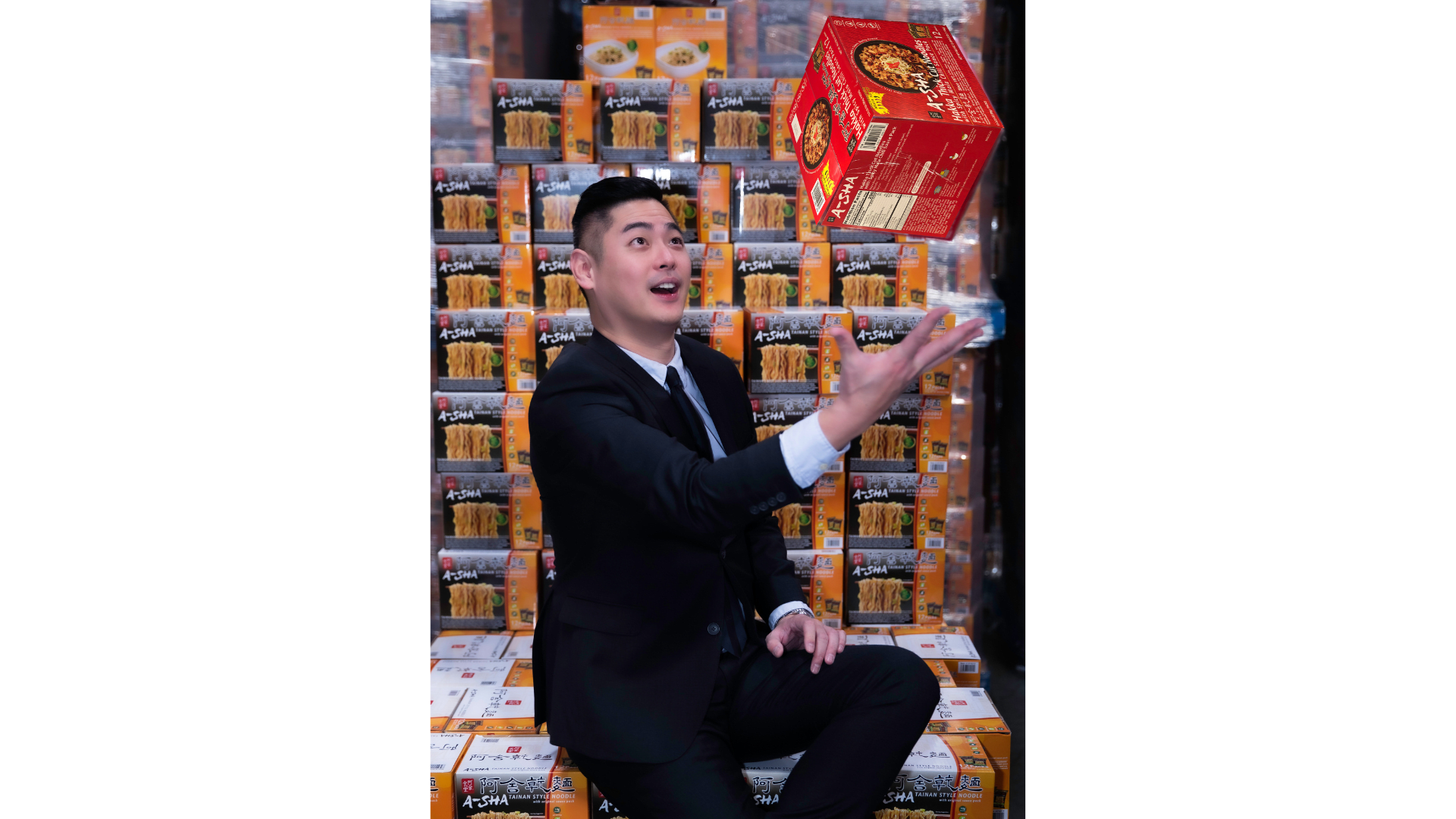 Ramen noodles used to mean college kid food--an inexpensive meal hack for people on a budget. A-Sha Foods' ramen noodles are different. They're tasty, certainly, but they are also made with sustainable, premium ingredients and air-dried, not deep-fried like other brands.
With a 1,182 percent three-year growth rate, A-Sha Foods ranks no. 392 on the Inc. 5000. CEO Young Chang says they are poised for even more explosive growth and on a mission to become a well-known American brand. He credits success to the quality of the product, perseverance, and a strong leadership team.
A "NEW" BUSINESS WITH A LONG HISTORY
Chang officially launched the company in 2015, but the noodles originate from a noodle factory in Tainan, Taiwan, that started in 1977 using a 100-year-old Taiwanese recipe. Chang's business partner, Henry Liao, CEO of Breeze Group, the largest shopping mall chain in Taiwan, acquired the factory in 2011. Liao had "zero experience in the food industry," but he was struck by the quality of the product. Chang, who grew up in the U.S., was also impressed. "I think everyone knows ramen [traditionally] has a lot of MSG and sodium and is a food we eat out of necessity. This was so different from anything I've had in the States," he says.
Liao asked Chang if he wanted to partner and bring Taiwanese ramen to the rest of the world. Chang saw the potential, and they both knew they would do things the industry had never seen.
READY TO RIDE THE RAMEN WAVE
Chang led A-Sha's foray into the Western market while working his 9-5 job. It wasn't easy to convince the U.S. to spend more for a premium ramen product, but Chang did not waiver. He began selling online, then graduated to specialty stores, and, one year later, his first grocery store, Safeway. In 2015, Chang left his job at Warner Bros. to officially launch A-Sha Foods U.S.A. Some people thought he was crazy, but his mentors supported him. Their support was really helpful. So was the support of Liao, who provided Chang guidance at every turn and invested in safe-food certifications at the factory level. "When the opportunity comes to work with a Costco or a Walmart, we are ready," Chang says.
The next few years were a blur. Ramen noodle shops began to take off nationwide, and A-Sha was ready to ride the ramen wave. "Success is the convergence of opportunity and preparedness," Chang says. "We focused on being the best at what we do, and when people were ready to accept a premium ramen noodle, we were ready, too."
National distribution deals with mainstream retailers, partnerships with Asian markets in all 50 states, and a growing presence in Canada contribute to A-Sha's growth. But Chang is most focused on building the brand in the States. "We want people to see A-Sha and know, instantly, "They stand for best-tasting, premium, ramen. We strive to elevate the ramen experience."
Dec 29, 2020