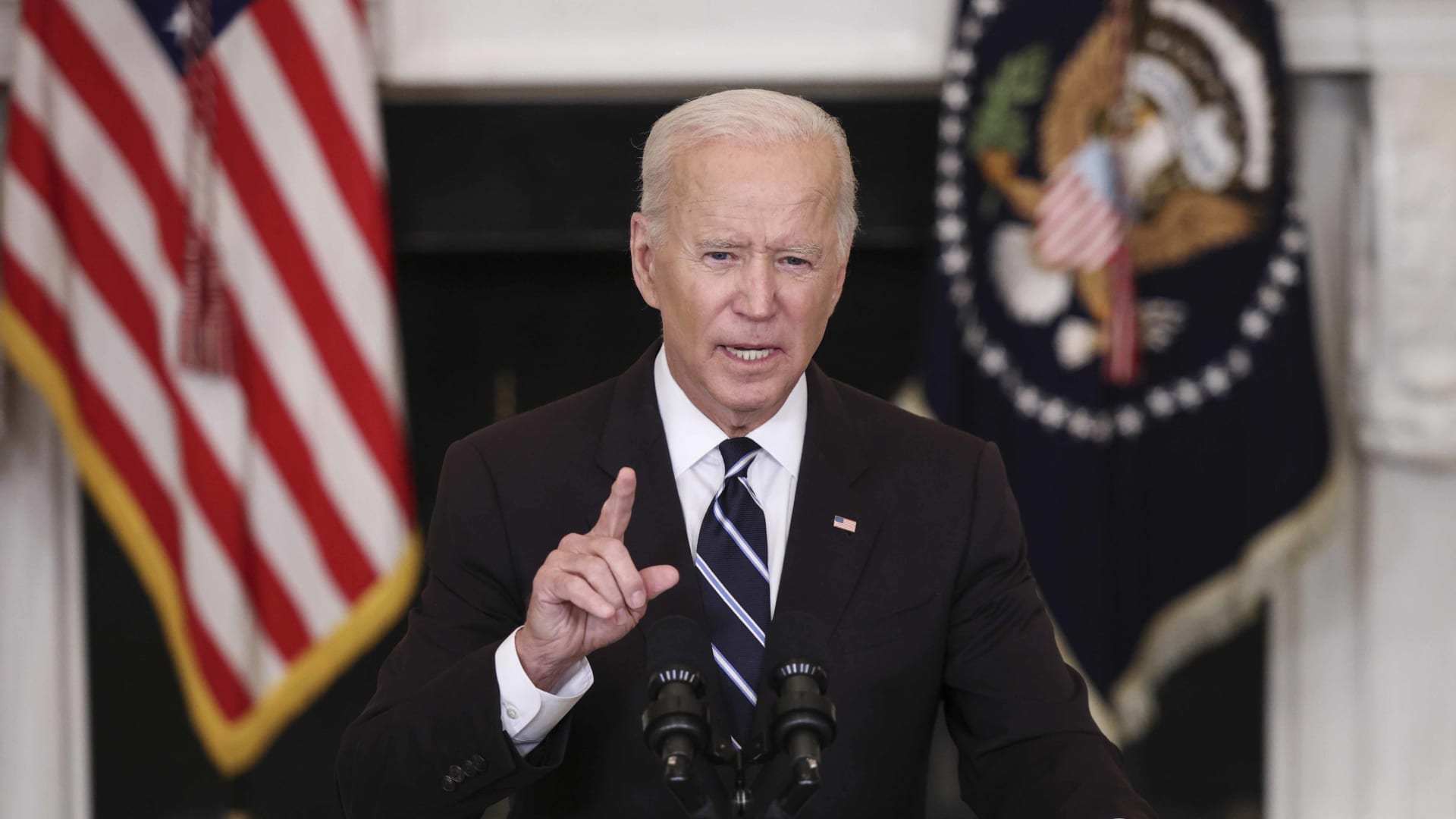 Many large companies, such as airlines and meat packers, have already instituted vaccine mandates to keep employees and customers safe as Delta variant-driven Covid-19 cases spike across the country. A new directive from President Biden will now enforce the trend.
On Thursday, Biden announced a new rule from the Department of Labor that will require all companies with 100 or more employees to ensure each worker is fully vaccinated or can show a negative Covid-19 test at least once a week. The emergency temporary standard will be implemented by the Occupational Safety and Health Administration (OSHA), the federal agency that oversees workplace health and safety, and will affect roughly 80 million workers. Businesses will also be required to offer employees paid time off to get a jab.
The move comes as the Delta variant continues to sweep the nation. As of September 7, there were 152,393 average daily cases and more than 1,500 deaths per day, according to data from the Centers for Disease Control and Prevention (CDC). That's up more than 400 percent since August.
"To those of you running large entertainment venues -- from sports arenas to concert venues to movie theaters -- please require folks to get vaccinated or show a negative test as a condition of entry," said Biden during the briefing. In some places, such as New York City, that is now law.
Requiring workers to be vaccinated as a condition of employment is entirely legal, and many large companies, such as United Airlines, Tyson Foods, and Disney, have already done so. However, the move will likely face pushback, especially since businesses will have to pay out of pocket to test any employees who don't want to get a jab. A rapid Covid-19 test costs about $75 and the more accurate PCR test costs $150. That's per person, per test. Companies can also require employees to pay for tests themselves. Vaccine mandates also come with various legal risks if not handled with caution.
"President Biden calls his plan a 'path out of the pandemic,' but this mandate on business is a path to confusion, vastly higher costs, new liabilities, and general workplace chaos for businesses," says Karen Kerrigan, president and CEO of the Small Business & Entrepreneurship Council, an advocacy, research, and education organization focused on small business and entrepreneurship. She says that the requirement will hamstring the flexibility business owners need to adapt to the ever-changing nature of the pandemic and its variants.
On the flip side, small businesses with fewer than 100 employees may be at an advantage in this tight labor market, as workers at larger organizations may go elsewhere if they are unwilling to adhere to the new mandates. But hiring the unvaccinated has its own risks, including making your existing staff feel uncomfortable. And there are financial risks, too. A hospital stay for an employee who gets Covid-19 can cost a company $50,000.
Whatever side of the issue you're on, experts say that the most important goal for business owners is to make sure that all employees feel safe in the workplace.
Sep 9, 2021