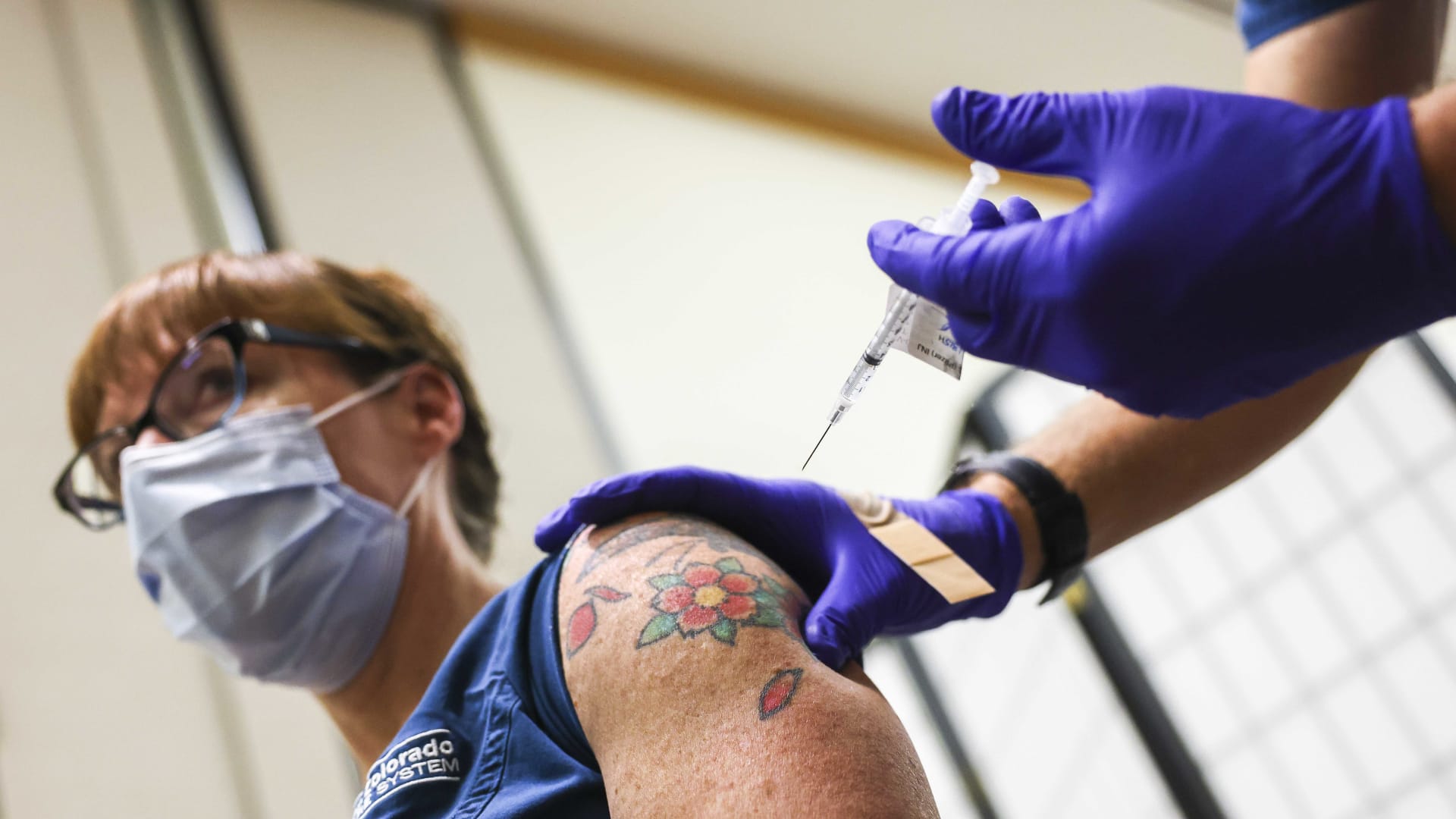 For Tony Lamb, the decision to get the Covid-19 vaccine is a personal one. Living in Florence, Kentucky, he mostly avoided run-ins with the virus until this fall, when he found himself driving his 81- and 84-year-old parents to the hospital, on Thanksgiving Day, where they were admitted with Covid-19. Fortunately, they've recovered, but he says the experience changed his perspective on the vaccine, and his decision to recommend that his employees get it.
"When it's personal, your perspectives change and your attitudes and your opinions change," says Lamb. "Right now, I'd say, 'You know what, everybody vaccine up,' but that's based on some personal issues that just happened. If you had asked me this 30 days ago, I'd have told you to take it if you want to."
Lamb is the founder and CEO of Kona Ice, a shaved-ice truck franchise that's landed on Inc.'s list of the fastest-growing businesses in America five years in a row, from 2013 to 2017. And with more than 1,300 trucks across 49 states (all except North Dakota), system-wide the company generated $175 million in 2019 revenue. Requiring employees to follow basic guidelines from the Centers for Disease Control and Prevention (CDC), such as wearing masks and socially distancing, wasn't easy--especially for truck operators in states like Arkansas, where there were very few cases early in the pandemic.
So getting the workplace vaccinated will likely be another nuanced situation. It's likely that some workers will be skeptical of the new vaccine or vaccines in general. The Pfizer/BionTech vaccine has already triggered allergic reactions in a few patients in the U.K., where Covid-19 inoculations began a couple weeks ago. Two health care workers in Alaska reported negative allergic reactions to the same Pfizer/BionTech vaccine this week. Negative reactions are not unusual in a mass vaccination program.
You can make the vaccine mandatory as a condition of employment. Plenty of employers are considering doing so, according to a poll held Tuesday at a virtual summit by the Yale Chief Executive Leadership Institute. Seventy-two percent of current and recent CEOs of major companies including Walmart and eBay signaled an openness to vaccine mandates.
Many health care organizations and corporations with essential workers are likely to require vaccinations. Note that there may be legal risks and expenses involved in mandating vaccinations. Plus, you'll have to accommodate people who can't take the vaccine due to a particular disability or because of sincerely held religious objections. (Employees may be asked to provide evidence of religious beliefs that restrict them from complying with an employer's request.)
If you don't want to make vaccines mandatory, the next best option is encouragement. Here's what experts recommend.
Lead by example.
Former presidents Bill Clinton, George W. Bush, and Barack Obama, as well as business mogul Bill Gates, have all announced that they are willing to take a Covid vaccine publicly. And it's an idea worth following.
Jay Starkman, CEO of Engage PEO, an HR outsourcing and consulting company for small and midsize businesses, says he plans on getting vaccinated and sharing the video of the event with his employees. "I do think we as a society need to be encouraging people to get the vaccine so that we can temper the spread," he says. "We need to do everything that we can as leaders to encourage people to get it."
Theater is an essential part of good management, says Denise Rousseau, professor of organizational behavior and public policy at Carnegie Mellon University. That's why it is often taught in business school. You may not need to go as far as videotaping your vaccination, but communicating that your leaders are receiving the vaccine, or plan to do so, is a good way to start. Helping ease employees' anxieties is crucial for conveying a level of care.
Provide accurate information about vaccines and make it easily accessible.
It's easier to persuade employees to get a vaccine if they understand facts, Anthony Fauci, director of the National Institute of Allergy and Infectious Diseases, said in a recent interview with The Wall Street Journal. For example, you can point to specific scientific research that has been published about the various vaccines. Remind employees that the vaccine had gone through rigorous screening processes by independent clinicians, vaccine serologists, immunologists, biologists, and others before it was approved by the Food and Drug Administration and distributed.
Since vaccine distribution is state controlled, make sure you're up-to-date with local information, says Bob Greene, an HR Industry Analyst at Ascentis, an HR software company. Find out where the vaccine is available locally, and provide contact information for those places (local pharmacies, hospitals, urgent care centers, etc.). It's also best for all the information provided to be located in one place, whether that's in a lengthy email, a spreadsheet, document, or on a software platform. Make sure everyone has access to the same information and that the information gets updated as needed.
"Give employees a single source of well researched information," says Greene. Ideally, he adds, this should include links to the CDC and information about employee health insurance plans.
Offer an incentive.
Incentives can encourage compliance, notes Greene. That includes hard incentives like cash or gift cards or soft incentives such as an extra day of paid time off. They can be individual or team focused--though make sure team based incentives don't hurt overall company morale or result in undo peer pressure towards individuals who may not be able to receive the vaccine. Make sure the incentives are cleared with a legal authority before being offered.
Starkman says he plans on providing incentives for employees who receive the second vaccine jab, as both the Pfizer/BionTech and Moderna vaccines require a second booster shot administered three to four weeks after the initial injection. "There's a belief out there that that first vaccine can have some mild but unpleasant side effects and there may be a group of people who don't want to get the second vaccine, so I think incentives are the smart thing to do," he says.
Dec 21, 2020