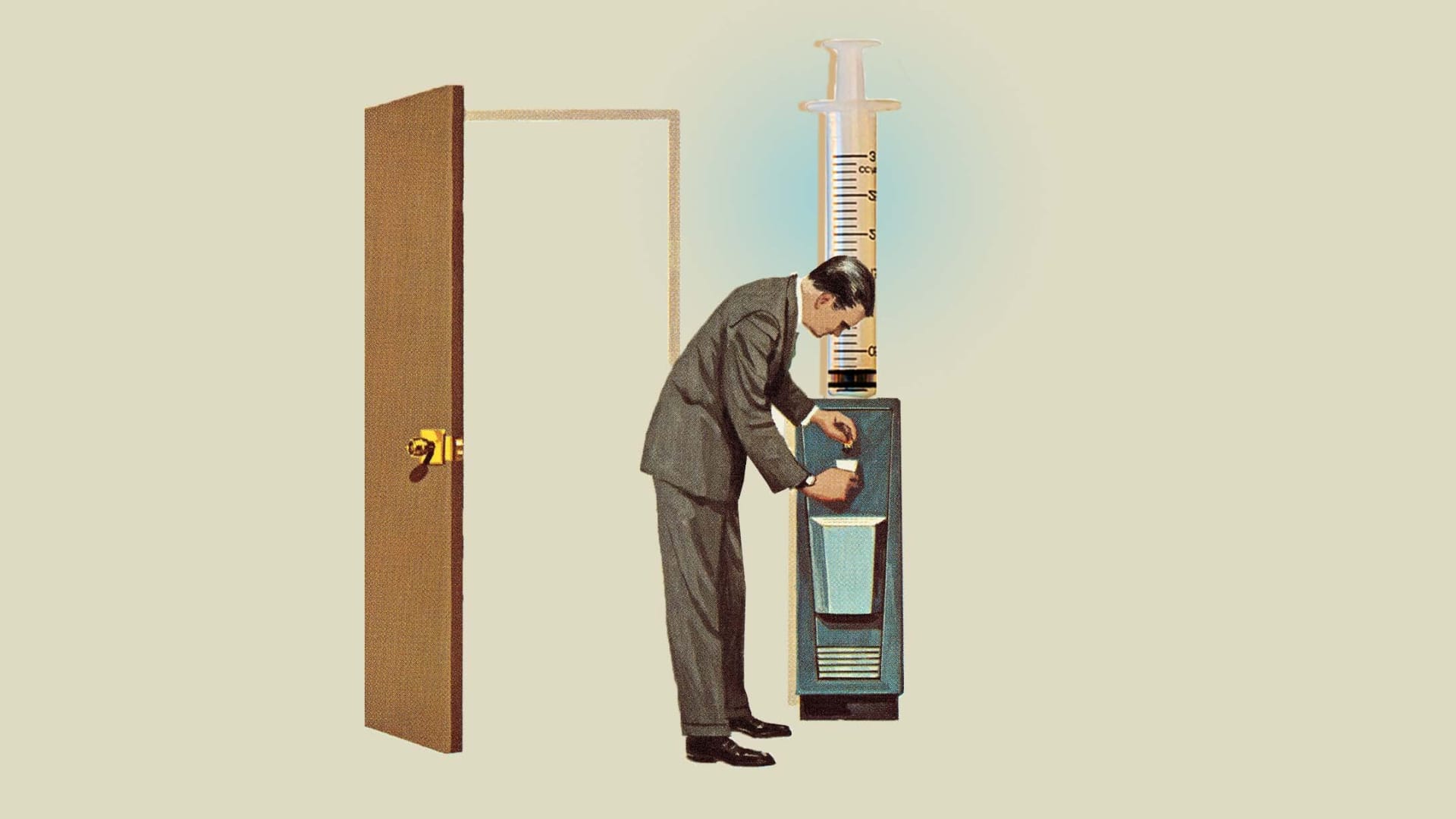 With a Covid-19 vaccine on the horizon, you may be wondering when and how to fully return to the office. Hold your horses. Employees are likely to get vaccinated at different times, meaning it could be weeks to months from the first to last worker's getting a jab.
Health care workers and residents and staff of long-term-care facilities will likely be first in line. The goal is to fully vaccinate this group by the end of January; then, the elderly and essential workers--anyone from cops and meatpacking workers to teachers and grocery store clerks--by the end of March. That's according to Paul Ostrowski, the retired Army general who currently serves as the director of supply, production, and distribution for Operation Warp Speed.
After that, vaccine priority depends on age, profession, general health, and location. For example, according to a perspective from The New York Times, my being a healthy nearly 26-year-old living in Brooklyn means there are hypothetically 144.1 million people in line in front of me to get a vaccine.
Long-term, the CDC says the goal is to deliver safe vaccines before the end of 2020 and that all adults should be able to get vaccinated by late 2021. That assumes vaccines from both Pfizer/BioNTech and Moderna, a Massachusetts biotech firm, get Food and Drug Administration (FDA) approval. There are two other vaccines in late-stage, phase three, clinical trials: one by AstraZeneca and the University of Oxford, and one by Janssen Pharmaceuticals, which is part of Johnson & Johnson.
These logistical issues leave business owners with a major challenge: how to bring employees back to the office when they're getting vaccinated at different times. Here's what experts recommend.
Continue with current health protocols and screenings.
From surveys to onsite testing systems, whatever screening protocols you currently have in place for the office should continue. Don't stop it, even for employees who get vaccinated.
The virus is still a risk until we reach "herd immunity," which means 75 percent or more of the U.S. population is vaccinated, said Dr. Anthony Fauci, director of the National Institute of Allergy and Infectious Diseases, in an interview on December 8 with The Wall Street Journal. When the nation reaches herd immunity, the circulation of the virus will be so low that the threat of outbreaks in any workplace will be minimal, he noted.
Until then, don't abandon public health measures such as mask wearing and social distancing. Surveillance testing or screening the health of employees is still encouraged.
This is crucial, because herd immunity alone may not keep people safe. During the vaccine trials, a person who got either the vaccine or a placebo was tested for Covid-19 only if they presented symptoms of illness, such as fever, chills, and sweats. The studies did not test people who may have been asymptomatic. So while it isn't likely, there's a possibility that a vaccinated person could become mildly infected and then transmit the virus to someone who is unvaccinated, says Dr. Bruce Farber, chief of infectious diseases at North Shore University Hospital and Long Island Jewish Medical Center, part of Northwell Health.
Communicate accurate information about the vaccine, especially to those opposed to vaccines generally.
Some workers may be skeptical of vaccines or even just this vaccine, as this particular treatment has already triggered allergic reactions in some patients in the U.K., where Covid-19 inoculations began last week. Despite their worthy reservations, make sure employees understand the facts and the data around the vaccine, says Fauci. For instance, if trust is the issue, point out that vaccine safety data is reviewed first by an independent data and safety monitoring board. This group of clinicians, vaccine serologists, immunologists, biologists, and statisticians vets the data before pharmaceutical companies can provide their treatments to the FDA for consideration for emergency-use authorization.
"The entire process is both independent and transparent, and I think if you can get people to understand that, with an open mind, you will have essentially dissolved any reason that they might have for not getting vaccinated," Fauci told the Journal.
It can also help to talk about cost. The Cares Act mandates that all employer-sponsored health insurance provide coverage with no cost-share for a Covid-19 vaccine, 15 days after it is recommended by the CDC, explains Jeff Levin-Scherz, MD, co-leader, North American Health Management Practice, at Willis Towers Watson, a risk management, insurance brokerage, and advisory company. For employees who don't have insurance, the Medicare payment rates for the vaccine are $28.39 to administer single-dose vaccines, and for a series, the payment rate will be $16.94 for the initial shot and $28.39 for the administration of the final dose.
Be flexible and accommodating.
Business owners have had to be flexible in allowing employees to work remotely during the pandemic. The same approach should apply in bringing employees back.
Experts recommend bringing people back in phases. Even among people who are first to be vaccinated, retain the WFH option to ease their way back into the workspace, says Dr. Sachin Nagrani, medical director at Heal, a company that offers primary care services and telemedicine. This will ease anxiety, allow employees to figure out at-home situations like child care, and make sure the workload isn't being unfairly distributed across the workforce.
Set timeline expectations.
Getting people vaccinated and back to the plant or office won't be quick, and it will likely test everyone's patience. So it's important to set expectations early. That way employees can make preparations and understand that the vaccine, in and of itself, isn't a quick fix for what will largely be an ongoing process.
"We're going to be wearing masks probably a year from now," says Farber. "If employees think that, and that's the expectation, and they're surprised that there is widespread vaccination and immunity earlier, then that's great."
It's also important to note that both the Pfizer/BioNTech and Moderna vaccines require two doses, the second of which is three or four weeks after the first. This means that even after employees get their first shot, it will likely be a month before they could realistically return to the workplace.
Dec 11, 2020