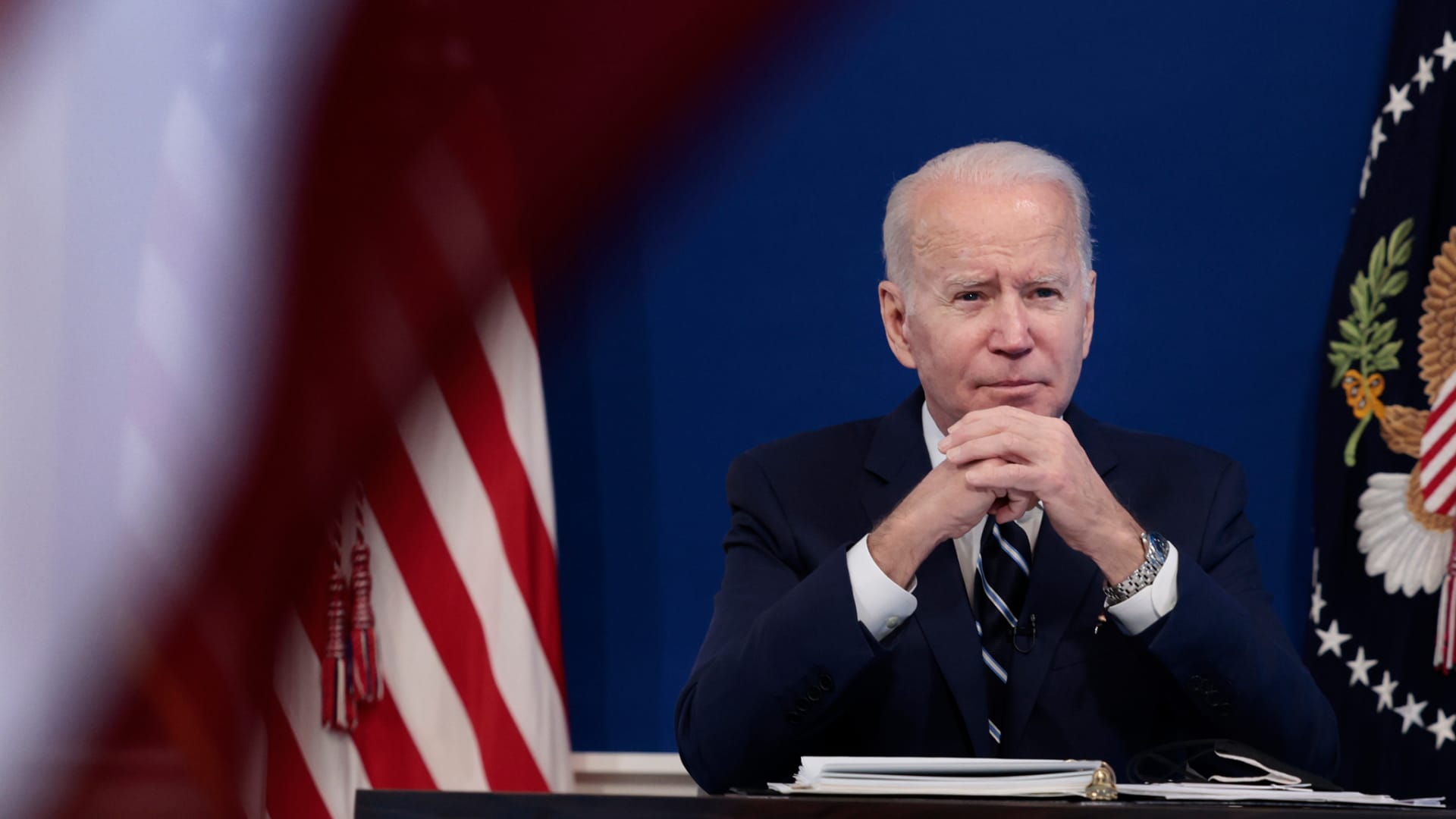 As Omicron surges in the U.S., the need for rapid tests has also climbed--a painfully obvious observation if you're one of the millions of small businesses that want to keep their workers safe, while also keeping the lights on. The trouble is, the tests are in short supply. President Biden wants to fix that.
In a Thursday announcement, Biden said his administration plans to procure 500 million additional at-home rapid Covid-19 tests to meet demand around the country. In December, he made a similar announcement--calling for the handout of 500 million tests.
"That means a billion tests in total to meet future demand," the President said at the White House on Thursday.
For Biden, the heat is very much on. The country reported roughly 1.5 million new cases on Monday, a new record according to data compiled by Johns Hopkins University, pushing the seven-day average to 754,000 new cases per day. And as a result, rapid tests are flying off shelves at pharmacies as they struggle to keep them in stock and lines at free testing sites grow longer.
So how do you get the free rapid tests? Through the mail.
In the coming weeks, the administration expects to get online a website and phone number through which people can request the free tests, according to The Wall Street Journal. The administration didn't provide a date as to when they plan to start shipping them, so the timeline isn't quite clear. It's also not clear how many tests an individual can request. At the moment, private insurers are required to cover the cost of up to eight at-home coronavirus tests per member per month.
With such a fuzzy timeline, it's little wonder why some companies are taking the testing shortage into their own hands. At JPMorgan Chase, employees can order at-home rapid tests from an internal company site. Google is providing to its full-time employees free at-home tests worth more than $70 each. Employees can also receive as many as 20 rapid tests per month, even if they're not going to the office. These companies were reportedly able to secure contracts with individual manufacturers, prior to the Omicron surge. According to Bloomberg, Google gets its rapid tests from Cue Health, a San Diego-based diagnostics company, which manufactures molecular tests, and its PCR tests from another testing company, BioIQ. Cue's molecular Covid-19 tests, says a Cue spokesperson, tend to offer PCR-test-style accuracy with the speed of a rapid test.
If you're attempting to procure a large number of tests for your employees, you could wait around for Biden's promised tests. It may also be worth it to go directly to the source and contact a testing manufacturer as opposed to individual pharmacies.
Keep in mind that rapid-antigen tests aren't the end-all be-all for Covid testing. They're typically less accurate than PCR and molecular tests. If you test negative on a rapid test, in some cases you might still test positive on a PCR test, which is much more sensitive. Rapid tests may also not pick up positive cases in people who have been vaccinated or who have recently recovered from Covid-19, since they may produce less of the virus. This means that you may want to ask employees who've been exposed to the virus to wait an additional few days for PCR test results or take a second rapid test before returning to work.
Additionally, it's likely that testing will play an even larger role in the workplace, as the U.S. Supreme Court on Thursday ruled against the Biden administration's vaccine mandate for employers with at least 100 employees. That rule, which went into effect on Monday, required employers to mandate Covid-19 vaccinations among their staff or submit to weekly testing.
Clarification: This article was updated to include a more accurate depiction of Cue Health's Covid-19 test. The company manufactures a molecular Covid-19 test.
Jan 13, 2022