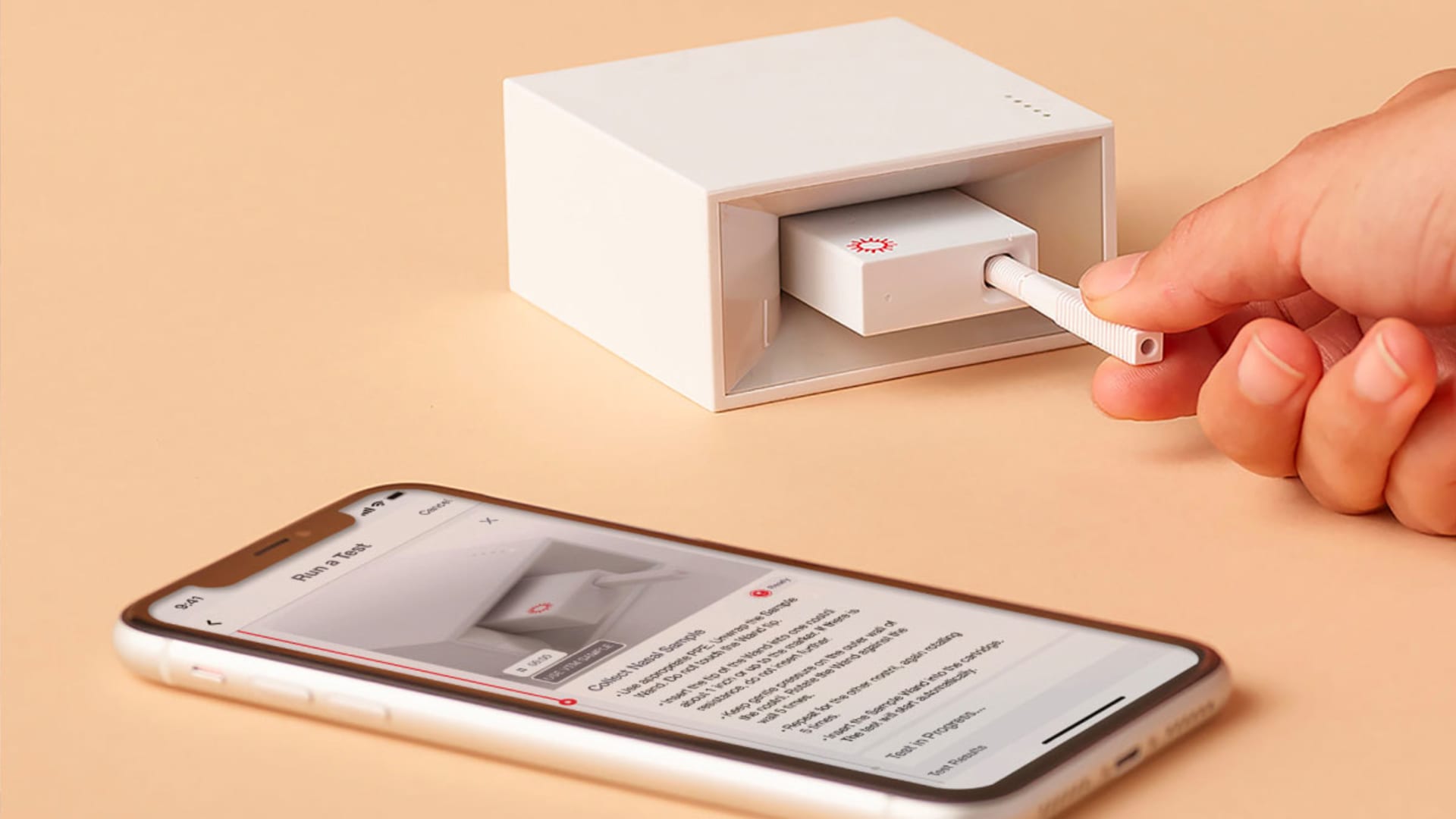 Scaling is difficult for any company. But when your business is primed for Covid-19, growth can be as viral as the disease.
That's the case for Cue Health, a San Diego-based health care technology company that develops portable diagnostic tests for institutional and at-home use. Founded in 2010, the company's main product, a molecular Covid-19 test, is now the go-to option for Google, Salesforce, the NBA, MLB, Netflix, NASA, and other organizations. The product boasts the speed of rapid antigen tests with the lab-quality accuracy of PCR tests, the company says, meaning it can detect both symptomatic and asymptomatic cases, including the Omicron variant, in just 20 minutes.
Cue's tests work by targeting a region of the nucleocapsid gene ("N gene") that is highly conserved, which the company says allows the test's accuracy to remain unaffected by the mutations in the Covid-19 variants. Cue's product was also built to be modular and flexible to adapt to future care offerings that will work with the Cue Reader.
Cue's overnight success was a decade in the making. Co-founder and CEO Ayub Khattak was inspired to start Cue during the H1N1 (swine flu) outbreak in spring of 2009. The CDC estimates that from April 2009 to April 2010, there were approximately 60.8 million cases. Khattak realized that if customers could test themselves using at-home diagnostics, and communicate those results to a doctor through an app, individuals could be diagnosed faster, get proper care, and reduce the potential spread of infection.
"All these people were flooding into emergency rooms and urgent cares, where they'd have to fight 100 other people to be seen and given a diagnosis," Khattak remembers. "People should be able to find out this information easily at home, especially those without symptoms."
He was thinking about this problem when he met co-founder Clint Sever, a product designer and his neighbor in Santa Monica, at the time where they were both finishing up school. Something immediately clicked.
They procured more than $1 million in seed funding for research and development and continued to raise funds over the years: $7.5 million in Series A in 2014, over $45 million in Series B in 2018, and a $100 million Series C in 2020. By the time Covid-19 hit, they were almost done developing the product. Cue had just started its clinical study to test for the flu, which the company was conducting in partnership with the Biomedical Advanced Research and Development Authority (Barda), the U.S. Department of Health and Human Services office responsible for procuring and developing medical countermeasures.
Cue's Covid-19 test was given emergency use authorization (EAU) for professional use in June 2020. That year, the company generated approximately $23 million in revenue, including $15.4 million from product sales. It then became the first molecular test to win EAU on March 5, 2021, from the Food and Drug Administration for at-home and over-the-counter use without a prescription. The company reported preliminary full year 2021 revenue of $613 million to $618 million. While the company has not yet publicly reported its outlook for 2022, Cue has delivered millions of tests to date, which are being used in schools, nursing homes, correctional facilities, hospitals, community health clinics, and private companies.
"Businesses around the globe are looking for the best ways for their employees, customers, and partners to get together, safely," Bret Taylor, co-CEO of Salesforce, said in a press release about the company's partnership with Cue. "Testing is the path forward, and Safety Cloud (a subset of Salesforce that helps with Covid-19 testing and health and safety protocols) enables organizations of all types to take the complexity out of events, and bring people together again with confidence."
The test's boosted accuracy and speed come at a cost. The test reader alone is $249, and the tests cost $65. The company also offers two subscription tiers that range from $39.99 to $74.99 that include 10 or 20 test cartridges, respectively (and discounts on additional ones), free same- or next-day delivery, and a discount on the reader device. That compares with the BinaxNOW Covid-19 Antigen Self Test, which costs $23.99, and the Ellume Covid-19 Home Test, which costs $38.99. While equally as fast as Cue's, other antigen tests aren't as accurate, and some have been recalled over the past year for false positives and inaccurate results.
Ramping up and expanding out
Cue went public last September, with a valuation of nearly $2.3 billion. But as the pandemic has waned, not to mention stocks in general, the company's market cap has retreated to a recent $1.22 billion.
Khattak attributes the company's success in part to the development of its supply chain, which Cue created from scratch, a move necessary for the more integrated product it wanted to create. The company had to develop a more complex manufacturing and product design, making its own enzymes and primers and cartridge assembly -- processes he says that are commonly outsourced.
"We developed a whole network here in the U.S., so that we could have a protected, domestic supply chain," says Khattak. "We embraced a much larger scope than most younger companies from the start, and now it's a huge advantage." Cue currently has roughly 1,600 employees and eight facilities nationally.
Cue was never designed around a single disease, and continuing success will mean diversifying as the pandemic transitions to an endemic. The global Covid-19 diagnostics market is projected to drop from $20.05 billion in 2021 to $9.20 billion by 2028, according to a study by Fortune Business Insights. Khattak says while Cue will continue to provide Covid-19 tests, especially as more variants pop up, the goal is to offer an easy testing solution for a variety of illnesses. This entails more products and services across categories such as respiratory health, sexual health, cardiac and metabolic health, and chronic disease management.
"People have such a problem accessing health information. There are multiple layers of logistics and gatekeeping to get every piece of data in one place in real time," says Khattak, "and you should be able to do that with the most important thing you want to know, which is your health."
Mar 1, 2022