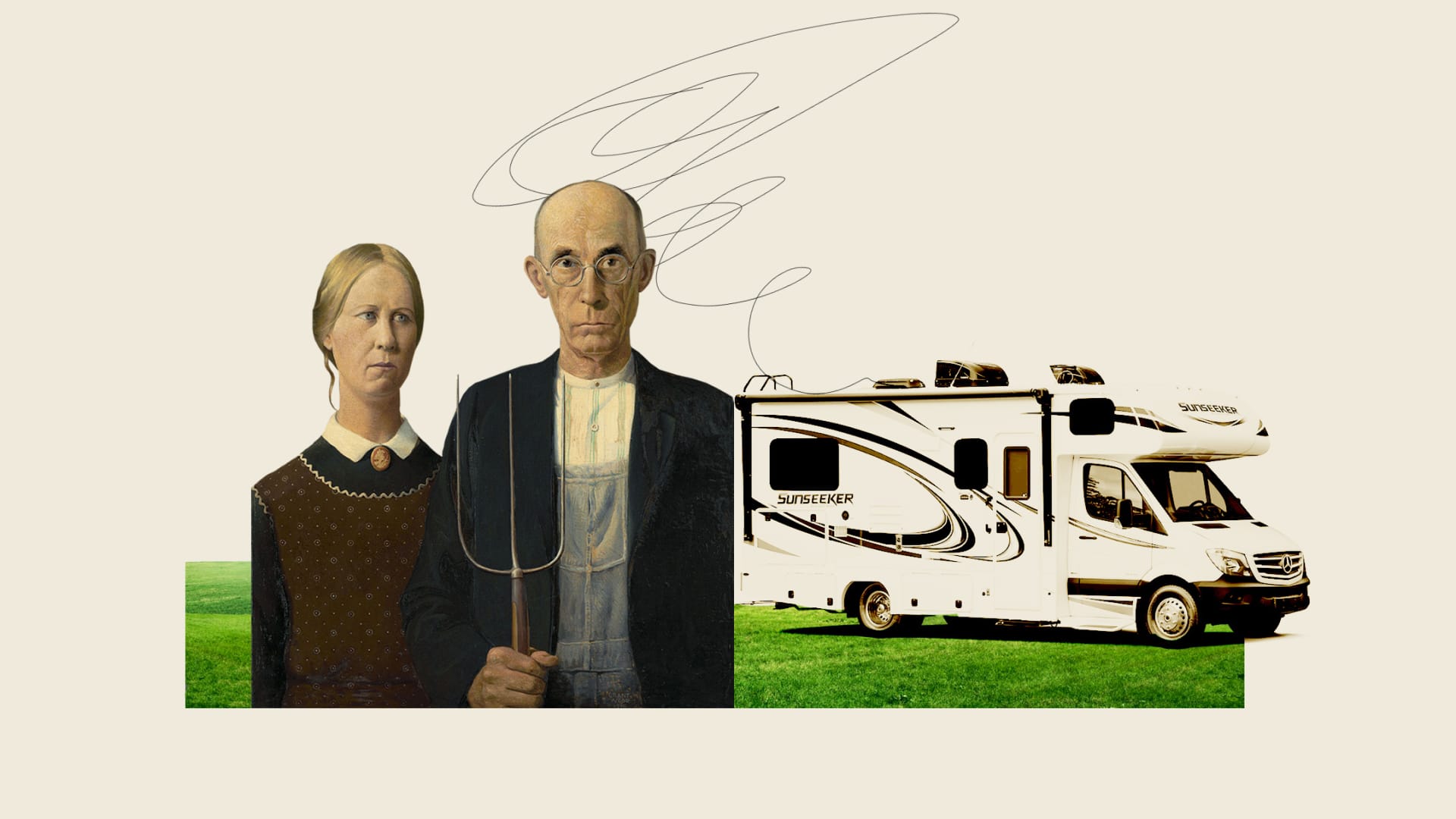 After Joel Holland stepped down as CEO from his stock images company in 2016, you could say he was burned out. The Arlington, Virginia-based company, Storyblocks, which he founded in 2009, made Inc.'s list of the fastest-growing companies in the U.S. seven years in a row, and he was looking for a break. So, he skipped town. In 2018, he and his wife--along with their two cats and pet ferrets--hopped in an RV and spent several months traveling the lower 48 states, spending a night or two at a time packed amid farmland or other privately owned scenic lots offered up through an app called Harvest Hosts.
On one of their first stays, the couple spent the night on a farm in Kansas run by three octogenarian nuns. "I completely fell in love with the concept," says Holland. "You get to stay at these really amazing locations like wineries and farms, meet the proprietors, taste the produce. It's such a unique experience." He was hooked.
In 2018, the Hollands snapped up the then nine-year-old business for an undisclosed sum from Don and Kim Greene, who founded the company in 2009 as a passion project. When Holland got involved, he staffed up, and spent money on advertising and promotion. Harvest Hosts started taking off. At the time of the sale, Harvest Hosts had 600 locations and about 6,000 members. Today there are roughly 2,286 locations available to stay at across the U.S., and more than 180,000 members. Membership bookings for Harvest Hosts in January and February 2021 were up 400 percent from the previous year and March was up 700 percent.
The uptick makes sense. Holland had time on his hands after the sale of Storyblocks to a private equity firm in 2020. The pandemic helped spur the RV booking company's growth too. Several companies, including Hipcamp and Tentrr, which offer to connect travelers with Covid-safe vacations, have reported a continued surge in bookings--even as vaccination rates rise across the U.S.
Whether that traction will last is not assured. But at least one moneyed investor is banking on the trend staying popular. In March of this year, Harvest Hosts raised $37 million from Stripes, a New York City-based growth equity firm. Holland plans to use the cash to help drive the company's continued expansion and keep up with a major surge in demand as domestic travel continues to increase because of the pandemic.
"It became clear as we spent more time in the space that Joel is building a really special product for RVers," Chris Carey, a partner at Stripes, said in a press release regarding the investment. "As part of our research, we surveyed thousands of RVers and dozens of hosts to learn about their firsthand experiences, and the feedback was overwhelmingly positive from both members and hosts."
The beauty of Harvest Hosts, Carey says, lies in the company's business model. Instead of paying per night, such as one might do at a campsite or Airbnb, travelers who sign up for Harvest Hosts pay a yearly membership fee of $99. The locations themselves make money when travelers spend money onsite at, say, farm stores or wineries. Businesses do not get a cut of the membership fee. But Holland says the company strongly encourages its members to purchase products from the businesses that host them. On average, individual visitors spend $13,000 a year at the locations in which they stay; members spent over $25 million in total at small businesses they visited in 2020.
Richard Gyuro, the owner of Alpacas at Lone Ranch, an alpaca farm in Sams Valley, Oregon, and a host for Harvest Hosts since September 2020, affirms the sales boost. Most guests spend roughly $100 in the farm's store, which sells alpaca-related products such as socks and yarn. "We've had to block off dates for people to stay, because if we didn't we would probably have people here virtually every day," says Gyuro.
While Harvest Hosts isn't the only company that helps individuals rent out land to vacationers, Holland is convinced it's the best one for hosts. The low-cost membership model, he says, allows campers to purchase more from the businesses where they're staying. Whereas Hipcamp and Tentrr largely make money on per-night fees.
Holland also believes the surge in domestic travel this summer could be a huge opportunity for the small businesses that utilize the service to get back on their feet, after getting socked by the pandemic. It might also be helpful to spur tourism among the communities that stand to lose the remote workers they gained during the pandemic.
Thee Draper Village, a collection of businesses, which include a coffee shop, tea garden, mercantile, marketplace, and events space in Draper, Virginia, hopes its tourism spurt will survive post-pandemic. The small town of roughly 300 saw an uptick in travel last year, which the company hopes will stay elevated.
"We're in a really poor, remote area, and Harvest Hosts has offered us an opportunity to bring people here, and add more jobs in the area," says Kate Nipper, marketing director for Thee Draper Village. "I firmly believe that I live in one of the most beautiful places in the U.S., and people are finally starting to see that for the first time."
While Holland says Harvest Hosts may be a ways away from making the Inc. 5000, he's sure that given time and more happy campers, it'll get there. The company declined to provide revenue information, but it could be generating upwards of $17.8 million annually from membership fees alone. "My goal was work a few hours a day, ski the rest of the time, and have a good [work-]life balance," but he adds, "the company [is taking on] a life of a life of its own."
EXPLORE MORE Inc. 5000 COMPANIES
Jun 24, 2021