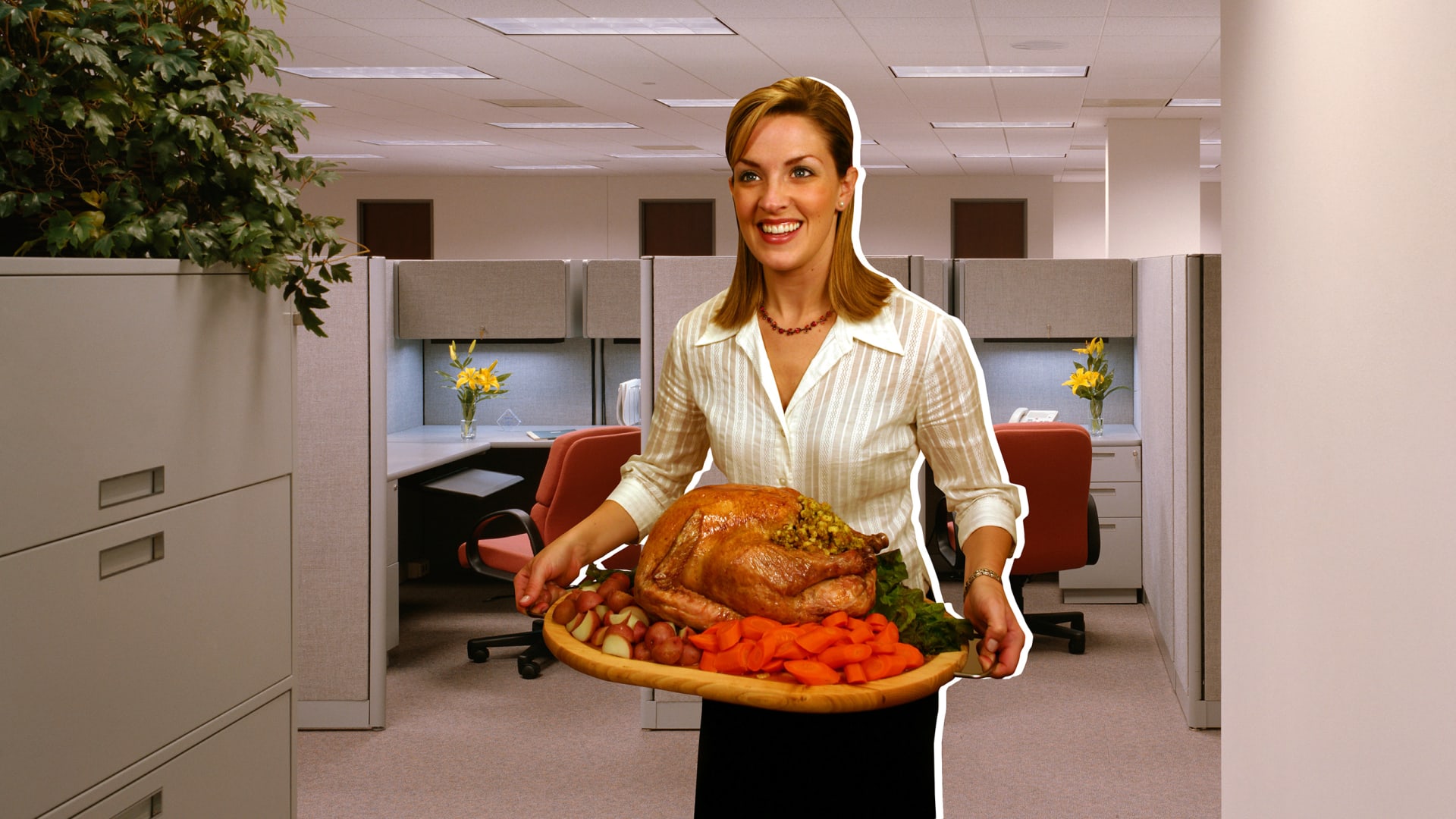 It's become difficult to pinpoint any single source of a Covid-19 outbreak now that the virus is so widespread and Americans may be exposed in so many ways. But large gatherings, whether for holidays, birthdays, weddings, or religious celebrations, still pose a major risk. And if your employees are in the office, allowing them to continue with those activities could become a workplace health hazard.
Last week, the Centers for Disease Control and Prevention (CDC) warned strongly against gathering with people outside of your household during Thanksgiving. Some household gatherings have "become a major vector of disease spread," the Health and Human Services secretary, Alex Azar, said in an interview with CNN in late October.
Because of the risk, employers may try to control their employees' time outside of work. The questions are: Can they? And if they can, should they?
Remind employees of mandated guidelines.
Some things are out of your hands, says Kelly Williams, founding partner and employment attorney at the San Diego-based Slate Law Group. She notes that, depending on where you live, state and local ordinances may limit travel. New York State, for instance, requires a mandatory quarantine for residents returning from any state outside of the tristate area. Employees either must quarantine for 14 days upon returning home or get tested within three days prior to arrival in New York, then quarantine for three days and obtain a negative result. On day four of their quarantine, the traveler must obtain another Covid test and if both tests come back negative, the traveler may exit quarantine early upon receipt of the second negative diagnostic test. Either way, employees may not be able to do their job if it can't be done remotely. If an employee makes that choice, after three days the job could be considered abandoned and given to someone else, says Williams.
Obviously, this is severe. It's doubtful you'd want to fire an otherwise stellar employee because he visited out-of-state family members. Also, be careful if you take that step, says Williams, as any worker who is forced to quarantine for 14 days after being exposed to Covid-19 is protected by the Cares Act and eligible for optional paid time off or sick leave.
Some states already have restrictions on family or social gatherings. In California, for example, family gatherings are limited to no more than three households.
It's also crucial to keep doing health screenings, especially right after a holiday, says Vanessa Matsis-McCready, assistant general counsel and director of human resources for Engage PEO, an HR outsourcing and consulting company for small and midsize businesses. Be consistent and, of course, continue encouraging the use of masks and social distancing when off-duty.
A formal policy around social interaction isn't necessary, but you can make one.
Four states, California, Colorado, New York, and North Dakota, specifically prohibit employers from restricting employees engaged in lawful activities outside the workplace. So in those states you need to be careful to phrase any policies about out-of-work conduct as recommendations, or reminders of policies already in place.
"I generally would recommend that an employer ... be respectful of an employee's choices," while also making sure you're aware of what's happening, says Matsis-McCready. Ask employees to disclose whether they're going to gather in large groups, and, if so, help them plan accordingly, which could mean asking them to request time off or to work remotely for a period of time.
That said, you can restrict an employee's interactions if you have a reasonable belief that the employee's behavior presents an increased risk to the workplace, says Alissa Kranz, a labor attorney at Tampa-based law firm Lieser Skaff Alexander. Ultimately, she says, employers need to meet Occupational Safety and Health Administration (OSHA) standards and keep the workplace safe. If there is a policy, it must be enforced equally across your workforce, and employees should be aware of it before a holiday or time away from the office.
While traditionally such notices must be posted in a clear manner where employees may visibly review them, when the office is remote you might find it more effective to issue reminders directly--during a town hall, or when sending out a holiday or year-end email. Any communication should also get directed to an individual, preferably an HR staffer, whose job it is to carry out the policy and maintain employee confidences, says Matsis-McCready.
"You don't want to have a situation where a manager discloses that an employee went to church last week, and then all of a sudden, they find out in the news that an individual at the church was diagnosed with Covid-19," says Matsis-McCready. "That's a medical issue, and there could be a HIPAA violation" if it's revealed. HIPAA refers to the Health Insurance Portability and Accountability Act, a federal law that protects sensitive patient health information from being disclosed without consent.
When it comes to social media, it's probably best not to know.
It's common for people to post family pictures on Instagram or Facebook, but this year doing so could make fellow employees uncomfortable and put employers in a tough position. If this situation is reported, HR may need to check it out, but it's best not to go looking for information on social media, says Michael Schmidt, a New York City-based employment lawyer for Cozen O'Connor.
The tricky thing about policing via social media is that if employers decide to check accounts, it has to be done equally. Some groups, particularly younger employees, are more likely to post on social media, and, as a result, employers or HR staffers may detect one group more consistently than others. If you're seen as judging profiles unevenly, you could be exposed to discrimination or wrongful-termination lawsuits. Some religious groups may also feel targeted around the holidays, the result of which could again lead to a discrimination lawsuit.
Certain states also have laws about what can and can't be done with information employers may see on social media. So before taking action based on a social media claim, consult an HR expert or employment attorney.
Nov 27, 2020