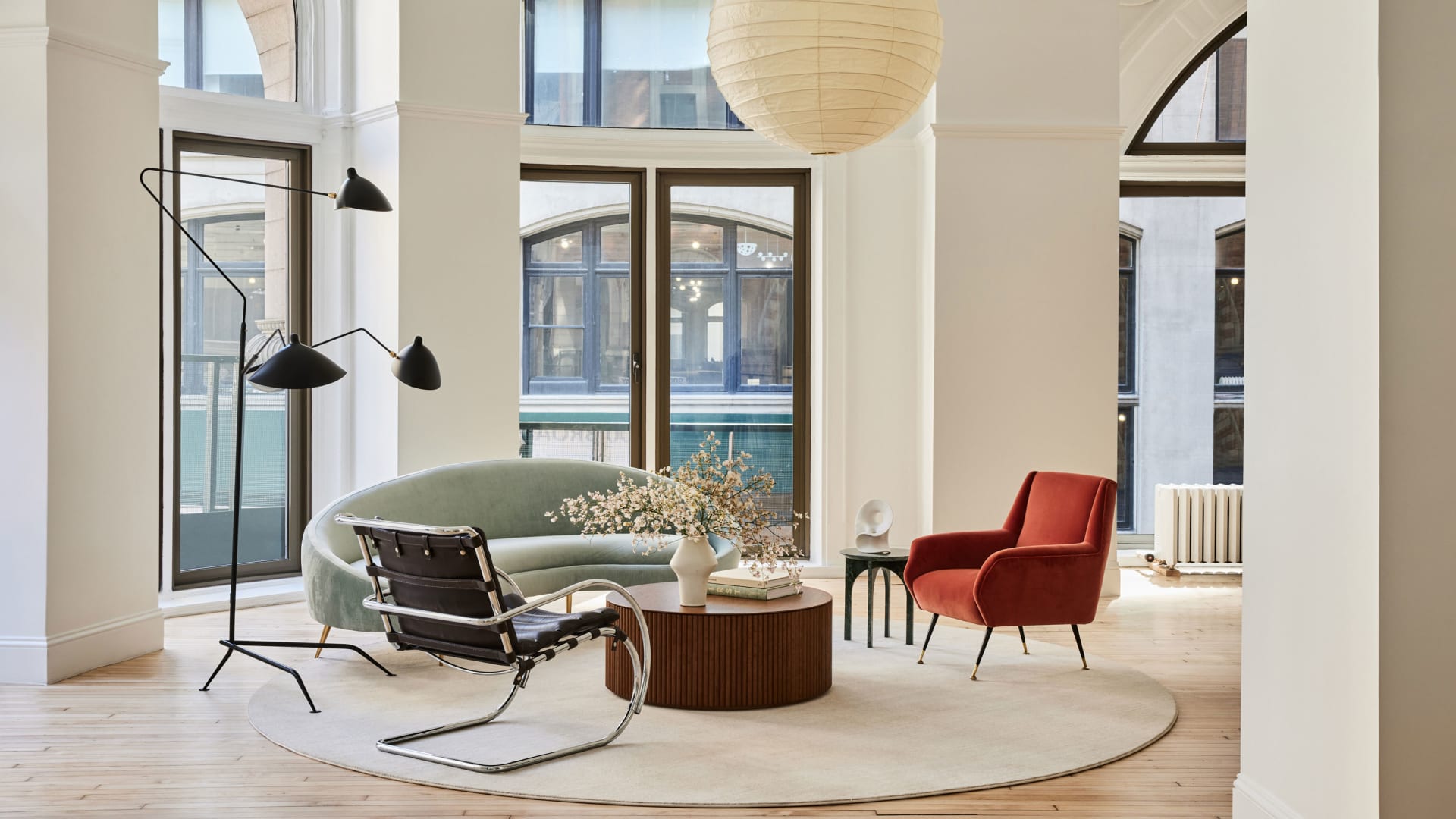 When Michael Martin closed on a new New York City office space last year, he knew he wanted it to be unlike any traditional space. Located in a historic building in the city's Flatiron district, the office has 15-foot ceilings and arched corner windows. It's not crammed with desks, computers, and white boards. Instead it boasts leather sofas, lots of plants, and high-end finishes -- giving it an air of a private club or posh hotel lobby rather than a traditional office. And that's the point.
"It's meant to be a space where agents can come and go, do work, bring a client with a laptop, have a coffee, and/or print a board package," says Martin, the 38-year-old co-founder of real estate brokerage Avenue 8. "It can be easily activated for an event but also have conference rooms and spaces to do deep, focused work."
Many business owners are facing a tough decision when it comes to getting employees back to the office. They can mandate a return to in-person work, which many companies -- such as Google and Goldman Sachs -- have already done. They can also allow their employees to work remotely or come up with some in-between policy. Still others, like Martin, are hoping employees will make their own decision to venture in, and they're sweetening the deal with revamped, multifunctional office spaces more conducive to hybrid work.
If you're looking to take a similar tactic, here are three ideas to consider.
1. Make a good first impression.
An employee's commute can weigh heavily on their first impression of the office environment, notes Rachel Casanova, senior managing director of workplace innovation at Cushman & Wakefield, a commercial real estate firm.
The overall impression is crucial, because most employees who are hesitant about coming back to the office will make that decision about whether they're onboard that first day. "Many people haven't been in the office in a while, so it's more like you're coming to a hotel for the first time than back to the office," she notes. "You should expect that your employees will notice all the changes, or lack of changes, you've made to better their experience and make them feel safe."
This is especially true in a hybrid model, she notes, as they feel that the benefits of being there outweigh what they have at home, or that coming in offers them something different from what they experience remotely. An easy way to do this is make the space a little more hospitable. Couches, rugs, plants, artwork, large dining tables, or anything that bridges the gap between a home office and a corporate office is a good place to start, notes Martin.
When he renovated his space, he hired Brooklyn-based staging company ASH to help design the office. Since ASH focuses on residential staging, in addition to corporate environments, Martin says the company helped him create a space that feels laid back and comfortable while still being professional.
2. Location matters more than ever.
When Martin chose his office space, he picked the Flatiron district because it's centrally located in Manhattan, is easily commutable, and has many local bars, coffee shops, and shopping destinations. In other words, the office isn't the only destination anymore, employees want to be in a neighborhood that offers them benefits outside of the actual office. This is true outside of New York City too.
"People don't want to commute to the office for just an office space anymore," notes Robert Rivani, president of Black Lion Investment Group, a real estate investment firm based in Miami. He notes that instead of focusing on amenities in the office, more companies are focused on choosing a space in a central location with breweries, restaurants, gyms, shopping centers, and spaces employees may not have access to at home. "It gives people another reason to leave the house besides going to the office," he says. "They can go to work then hit the gym, get their hair done, and go out for drinks with colleagues."
3. Be open to feedback and making changes.
When employees do come back to the office, it's important for management to be open to feedback and take what employees tell them into account, especially in the first few weeks. "Leadership needs to let their teams tell them what's working and what's not," says Casanova, "and be quick to make changes when needed."
While you don't necessarily need to gut your office to make it more amenable to employees, adapting your current space can go far in making it more inviting. Such changes include creating spaces for uninterrupted work, getting better coffee, and making it easy to reserve conference rooms and get meetings started on time. "The alignment of those things is really the challenge that business owners have to meet," Casanova says, "and those things take time to figure out, especially if you've remodeled your space."
Even simply requesting notes and hearing employees out, she adds, can make a big difference if you want them to come back regularly.
Apr 14, 2022