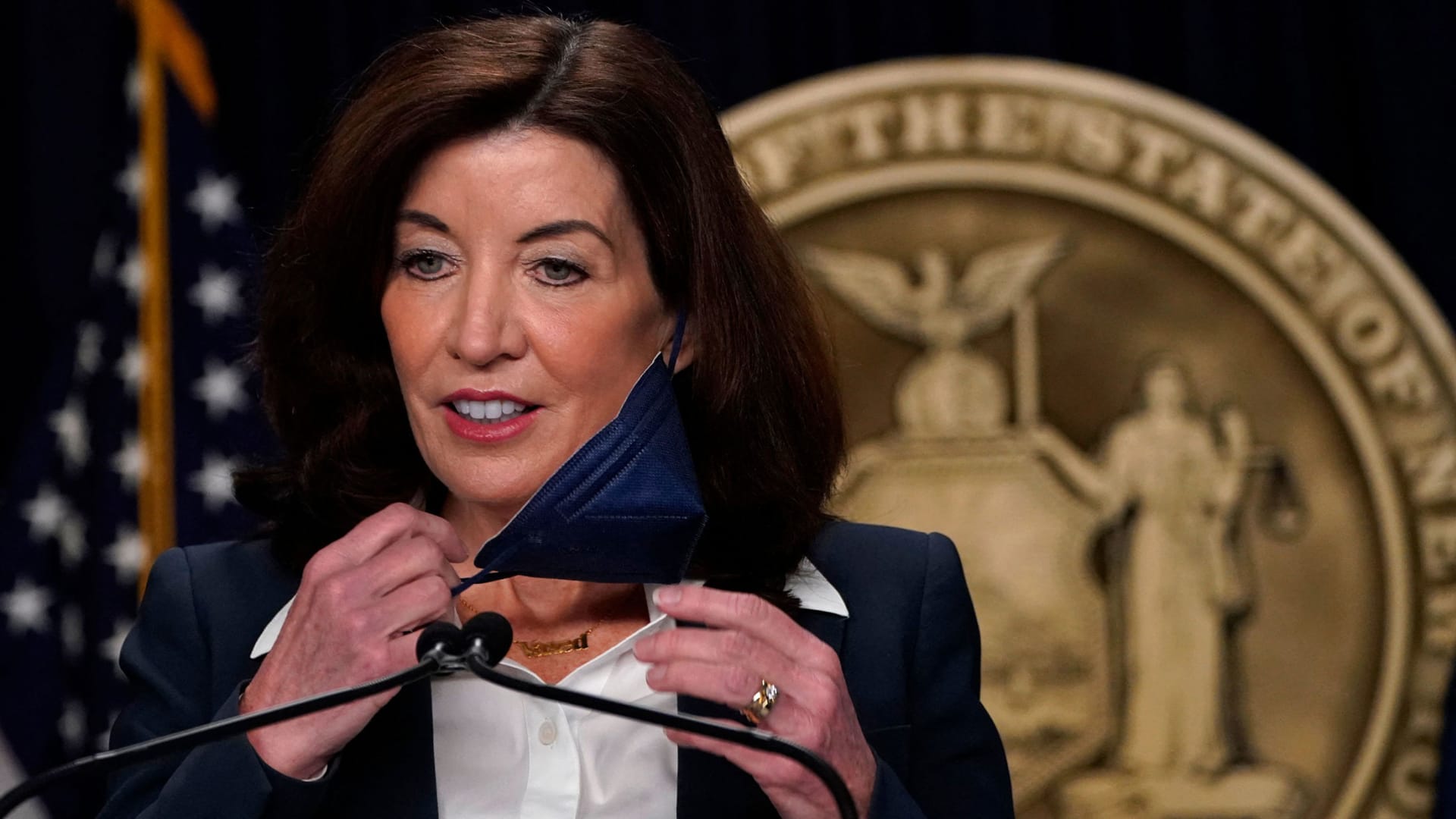 On Wednesday, New York Governor Kathy Hochul announced the expiration of the state's mask mandate, which requires businesses to ask customers for proof of full vaccination or require mask-wearing at all times. The move comes just a couple months after she imposed the mandate in mid-December. California Governor Gavin Newsom also announced this week that he will drop the state's indoor masking mandate for vaccinated people on February 15. Delaware Governor John Carney similarly announced a lifting of his state's mask mandate for indoor settings on February 11.
These states join Connecticut, Oregon, and New Jersey -- all led by Democratic governors -- which declared a similar easing of restrictions in recent weeks. States including Florida and Texas, which are led by Republican Governors, have banned mask mandates altogether.
The easing of mask restrictions is surely welcome news among some employers eager to bring employees back to the office. The Omicron surge had derailed many companies' plans to bring employees back, and lifting mandates may stand as one of the last barriers to re-entry. If given the option, employees typically chose to work remotely -- mask-free -- versus masking up and coming into the office, reports The New York Times.
It's worth noting that, for the time being, officials from the Centers for Disease Control and Prevention (CDC) are hesitant about the shift. "Now is not the moment," the agency's chief, Rochelle Walensky, told Reuters in an interview on Tuesday. "I know people are interested in taking masks off. I too am interested. That would be one marker that we have much of the pandemic behind us." For now, she notes, the CDC's guidance on indoor masking hasn't changed. The CDC recommends wearing a mask indoors in public if you are in an area of substantial or high transmission, regardless of whether you've been vaccinated.
With states easing rules, how you respond next might come down to local or city ordinances. In New York City, for instance, mask requirements are still in effect. It's unclear how new Mayor Eric Adams will respond to Governor Hochul's announcement. Without any restrictions, employers can make their own rules in regards to workplace safety.
As of February 2, 2022, the current seven-day moving average of daily new cases is 378,015, a 37.6 percent decrease compared to previous weeks, according to data from the CDC. And while cases and death across the country are waning, community transmission remains high. Walensky said she is "cautiously optimistic" that case counts will fall below crisis levels but that the country is not quite there. So, proceed with caution.
Local rates of Covid infections can still spike, so even if you feel comfortable dropping your mask requirement now, be prepared to change your policies if needed. Also, keep up to date with the transmission rate in your local area, and consider how employees get to and from the office. If coming back to work means getting sandwiched into a train car with tens of strangers, that too is something to consider.
Feb 9, 2022