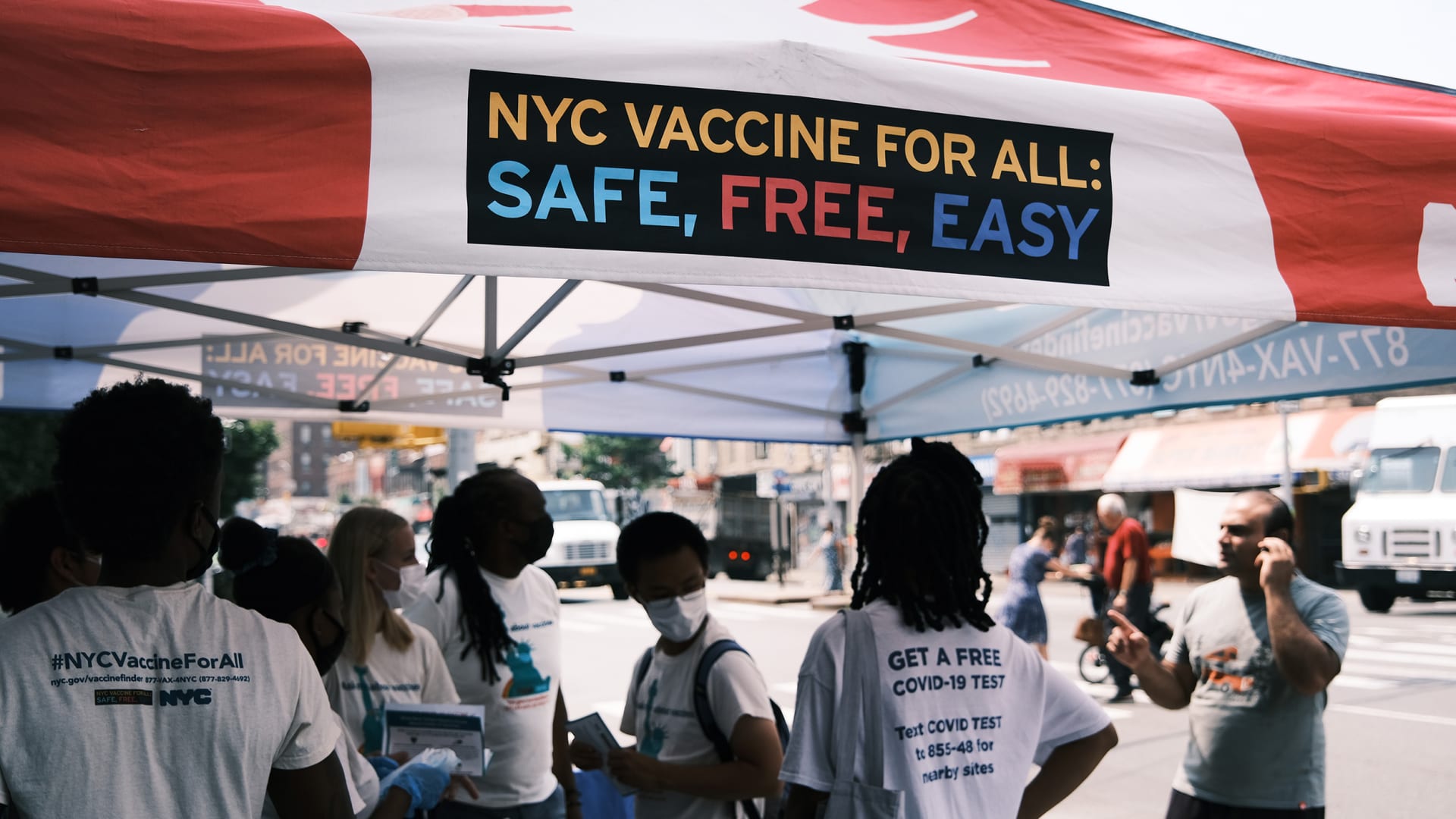 The U.S. may be on the verge of another pandemic wave, as the highly contagious Delta variant, now the most common strain in the U.S., accounts for 83 percent of analyzed infections. Businesses are preparing for the worst--again.
Delaying a return to the office, or considering it
Companies such as Apple, which didn't make remote work permanent, had pegged the day after Labor Day as a return to the office date. Last week, Apple extended its return date to October at the earliest because of the Delta variant, according to The Wall Street Journal.
Other large companies are sticking to their plans, while monitoring conditions. The Journal notes that Facebook still intends to open most of its U.S. offices at half capacity in September, and then fully in October. And executives at Citigroup said that while the company expects employees to return in September, they are actively talking to health experts and will consider conditions at that time.
Masks are coming back, regardless of vaccination status
On July 27, the Centers for Disease Control and Prevention (CDC) announced new guidance noting that vaccinated individuals in certain parts of the country should once again don facemasks indoors. Businesses are likely to adhere to the guidance, if they haven't already changed their policies in recent weeks.
If you're looking to reinstate masking requirements, it's also best to get equipment as soon as possible, because mask sellers are starting to see an increase in demand. Brian Wolin, CEO of Protective Health Gear, a Paterson, New Jersey-based manufacturer of N95 masks, says the company, in the last few weeks, has experienced a 50 percent increase in sales from both individuals and businesses.
And some experts are pushing for the use of high-quality masks, such as N95, as opposed to cloth procedural masks for most public-facing workers. "Delta is so contagious that when we talk about masks, I don't think we should just talk about masks," Scott Gottlieb, former commissioner of the Food and Drug Administration, said during a recent appearance on CBS's Face the Nation.
The push for mandatory vaccinations is increasing
While many businesses have been hesitant to mandate vaccines due to legal concerns, as well as potential pushback from employees, many are now taking the plunge due to major health concerns and pressure from officials. Last Friday, Mayor Bill de Blasio urged New York City's private businesses to require their workers to get vaccinated, even though roughly 71 percent of adult New Yorkers have at least one dose of the vaccine. New York is requiring the vaccine for all municipal workers, starting Labor Day.
"If people want freedom, if people want jobs, if people want to live again, we have got to get more people vaccinated," de Blasio said on Friday, during a weekly radio appearance on WNYC. "And obviously it's time for whatever mandates we can achieve."
On Monday, the U.S. Department of Veterans Affairs announced that it will require 115,000 of its frontline health care workers to be vaccinated against Covid-19 in the next two months--the first federal agency to do so. Meanwhile, California is requiring all state employees and health care workers to be vaccinated or face regular, frequent testing.
Jul 28, 2021