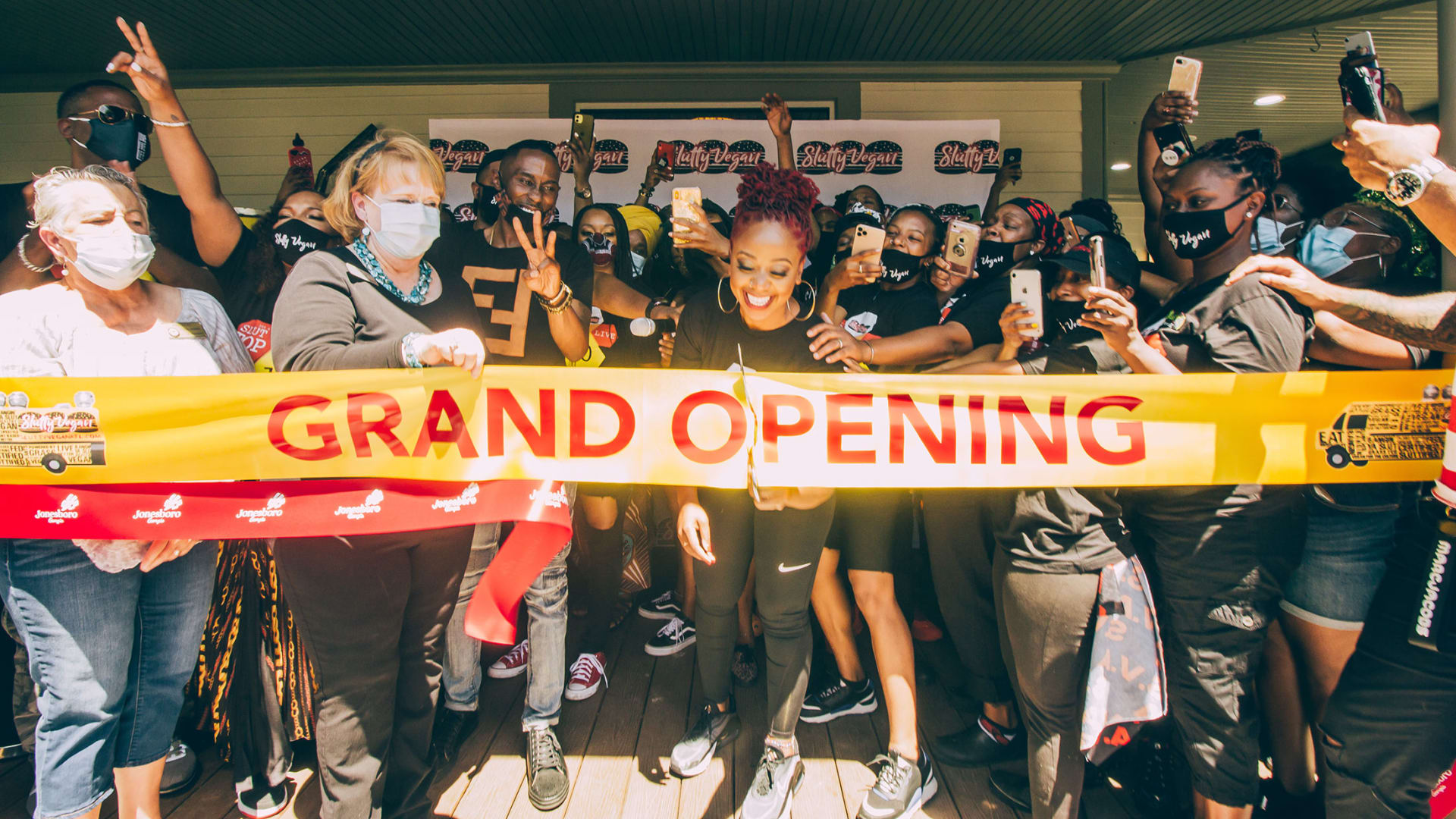 When Pinky Cole launched Slutty Vegan in 2018 as a fix for her own late-night cravings, she had no idea it would become a fast-growing, pandemic-proof cultural phenomenon. Its revenue grew to $4 million within the first six months of its grand opening. Now she has four restaurants and plans to open a new one every month this year, thanks to a $25 million series A investment round, led by Enlightened Hospitality Investments--the growth equity fund affiliated with Danny Meyer's Union Square Hospitality Group--and Richelieu Dennis's venture firm New Voices. Here, the 34-year-old Atlanta-based entrepreneur explains why she decided to take on money for the first time and offers some choice advice for founders looking to do the same. --As told to Brit Morse
Many investors were trying to approach me about funding, and I always closed the door, because we didn't need them. We were really serious about looking for a strategic partner, and we wanted to make sure that it was the right person because the business is so unique. We wanted people who really cared about more than just money.
I also needed to feel good about it. I mean, you know, I'm human. So of course I had concerns about taking on investors, but I'm not going to dwell on it. I've always been a hustler, a natural born hustler, and either way I'm going to figure it out.
What changed my mind about taking investment was our supply and demand issue. The demand was too high for the supply. People really love us; we have a cult following. As soon as we post an Instagram flier about launching in a new city, it feels like the whole damn city shows up. To keep up, we needed more than money, we needed strategic resources to be able to help us scale.
During the pandemic, we got super creative. When I realized that labor problems were starting to arise, I provided life insurance for all of my staff members. I made it available to everyone, even crew members. If they work 40 hours a week, they get benefits. And then we raised everyone's pay and offered phantom equity to employees who'd been at the company for at least a year. So those little things alone really helped to incentivize employees, and they were a way for me to be able to overcome some of the challenges that have happened through the pandemic.
This is nontraditional advice. Our goal is not to make the investor happy; it's to make the consumer happy. As long as you can make the consumer happy, you will have a continuously growing and thriving business. That's a part of the reason we've been so successful, because I put the customer first. It's important to me to make sure that this business is not defined by money. As long as you show up, and you're intentional and you're mission driven, and make the people happy and give them a good experience, everybody's gonna win. The bills are going to get paid, and investors will see a return on investment.
Before you lie in bed with any investors, they have to know that you still want to have creative freedom. I was very clear on that when I decided to take on investors. I'm not your average CEO. I'm like out of the box. I cuss a little bit, but I mean well, and people love me for that authenticity, and that can't change. You've got to continue to be yourself and take on investors because you want strategic resources, not just because you need money, because if you're doing it just for money, it will not work.
I am a philanthropist. I watched my mother and everybody grow up, give, and get nothing in return, and she did it out of the kindness of her heart. Now, as an adult woman, it feels so good to be able to use my resources to help other people and provide them with an opportunity to give them a safe space. And I've done that at the foundation. [Editor's note: Cole refers to the Pinky Cole Foundation, founded in 2019, to support people of color.] We've paid the balances of 30 college students so that they can graduate. When Rayshard Brooks was murdered in the Wendy's parking lot, we provided life insurance for the family and a brand-new car. We've given fruits and vegetables and paid the rents of local businesses in the area. We've given life insurance to Black men in Atlanta who make $30,000 or less.
When people see that you are not only building a profitable company, but you are building an ecosystem, people respect that. They continue to want to support you. It feels so good to know that level of growth can come beyond money, and funnel back out to our communities. One thing that attracted our investors to the business was my philanthropy, right. Obviously, they love the idea of Slutty Vegan, but the community element was something they especially wanted to be aligned with.
I'm so grateful for my business, because Slutty Vegan has opened doors that I could only dream of. It makes me emotional all the time. When I was a kid, I always said I'm gonna be famous. I felt it as a kid; I just knew that I was different, that I wasn't designed to live a regular life. And now that I'm grown, and I've gotten all of it, and everything that I've spoken over, my life has really come to pass, and I'm just like, damn, like, these are all the things that I said as a little girl. When the money hit my back account, I just knew that any idea in the world that I have I can do. I have no limitations. Can you imagine?
May 9, 2022