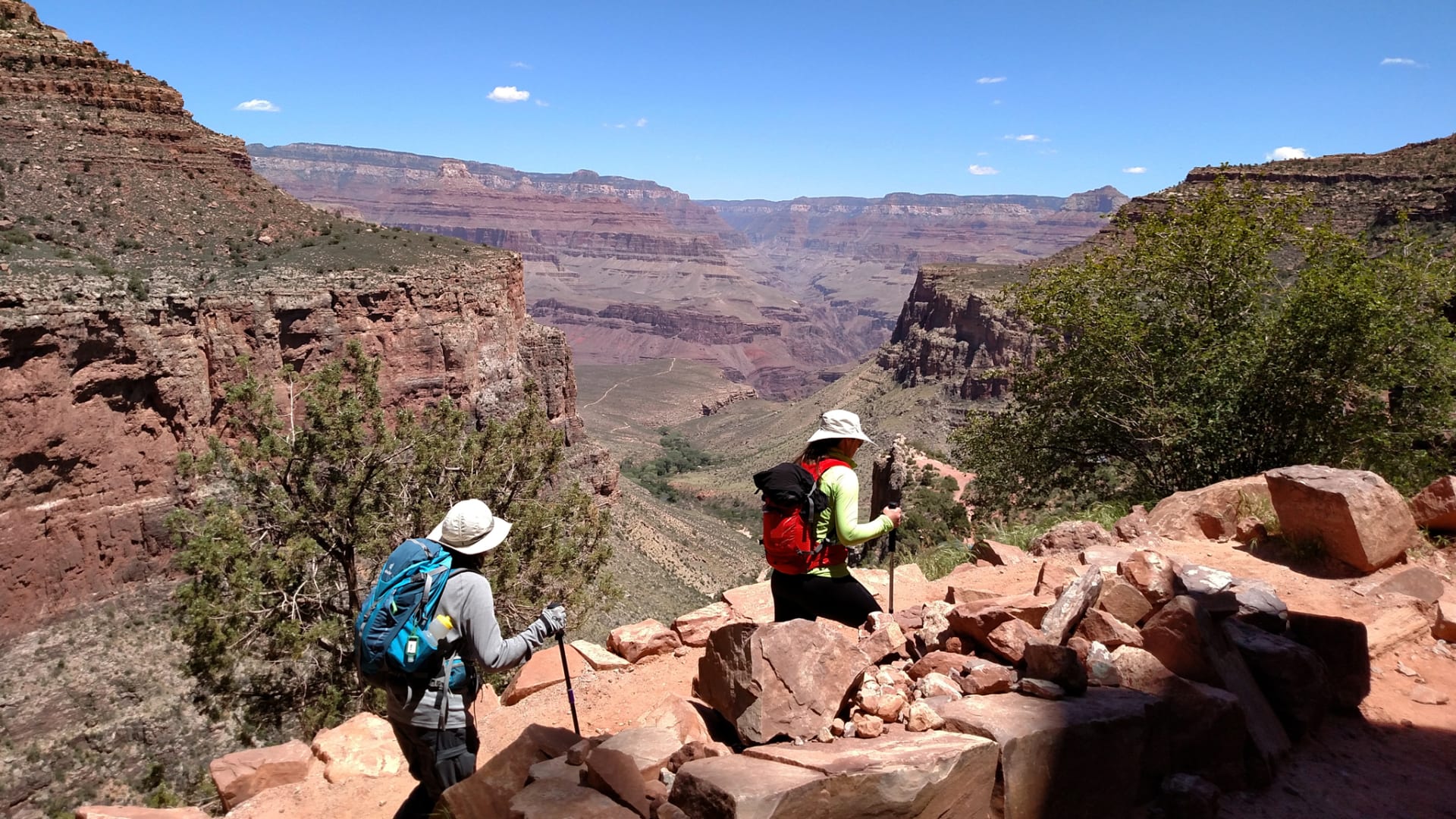 Americans are ready to dust off their luggage.
Many of the newly vaccinated are feeling more confident about traveling for some well-earned rest and relaxation. In March 2021, hotel bookings at eight of the top 10 U.S. hotel chains tracked by Adobe Analytics grew 50 percent compared with the weeks leading up to the vaccine rollout. The analytics platform adds that March bookings surged 57 percent over February and 79 percent over January.
Alyssa Ravasio can attest to the bump. The founder and CEO of Hipcamp, a 70-person campsite booking platform with more than 475,000 private and public sites, has been staffing up in the past few months to accommodate the exodus.
Like last year, Ravasio expects travelers to stay within the country when plotting travel plans, as international travel remains uncertain. Greece is open, for instance; other countries are still dealing with their third wave of Covid-19. Her company's booking data bears this out. In the past 30 days, bookings show a 30 percent increase in the average mileage people are traveling for their getaways, over a similar period in May 2020--which was 45 percent lower than in May 2019. So people are getting out, but they're not going far. "We're seeing more close-to-home travel, which we think is awesome, obviously, in terms of environmental impact, but also just in terms of people connecting with their local region," Ravasio says.
Domestic tourism-dependent businesses--such as those that cater to the nation's more than 420 national parks--aren't just poised to benefit. They're hungry for visitors. Despite ongoing capacity restrictions, many businesses have adopted Covid-safe best practices such as installing touch-free technology--and they're eager to try things out.
Sydney Rubin is one such business owner itching to see her new operations in action. The owner and innkeeper of Maitland Manor has spent the better part of the past year Covid-proofing her small bed-and-breakfast, located on the northern tip of Washington State and a stone's throw from Olympic National Park. After a series of bookings were canceled last spring as a result of the pandemic, Rubin was proactive about getting people back. She swapped regular door handles for keypads that were easier to wipe down. She has also invested in sanitizing equipment and renovated room amenities to include individual coffeemakers and dining tables to allow guests to eat in their rooms.
"It wasn't fun," she says about the initial surge of bookings that were canceled. "But we also saw it as an opportunity to maximize our small property." Maitland further partners with other local businesses to develop guest add-on packages that include socially distanced excursions in and around the park.
She expects those upgrades to pay dividends this year. While sales dipped in 2020, compared with 2019, Rubin says Maitland's pace of bookings for 2021 is up 180 percent over a year ago. "We expect the lure of the national park to continue to play a major role in our success this year," says Rubin.
Last year, despite early park closures and canceled vacations, 15 national parks actually reported a record number of visitors, says Theresa Pierno, president and CEO of the National Parks Conservation Association. People sought safety in the great outdoors. She added that the businesses surrounding the parks also saw a boost, which she expects to happen again this year.
"Local businesses are an integral part of the national park experience," says Pierno. "When you go to Yosemite or Big Bend, you are not just going to the park, chances are you are also visiting local restaurants, gift shops, or staying in local hotels or RV parks."
While the atmosphere will likely remain subdued, given the circumstances, some parks are starting to relax restrictions. They are reopening lodging while approaching normal in terms of capacity restrictions, as more people get vaccinated, says Barb Hoyt, owner of Timberline Adventures, a Colorado-based cycling and hiking tour company that runs multiday trips across the country. She adds that fewer restrictions will make it easier to cater to customers--and also house her staff. Last year, she had to conduct a few tours with smaller than average group sizes, as she simultaneously struggled with staffing. The mostly young people and students she employs were largely unable to travel and live in the traditional dormitory style housing usually provided.
Of course, the vestiges of Covid-19 remain. To reduce the risk of infection from unvaccinated tourists, Yosemite National Park announced that as of May 1, visitors will need reservations. "The health and safety of park visitors, employees, and partners continues to be our number one priority," the park said in a statement, noting the area's limited health care capacity.
Renting RVs will also continue to prove popular this year, says Ravasio. Last year, RV bookings exploded, growing twice as quickly as tent-site bookings, she says. This year may break that record. "We are seeing unprecedented levels of demand like we've never seen before," says Ravasio. "So [we're] really trying to get ahead of those bottlenecks and create more places for people to get outside."
Apr 22, 2021