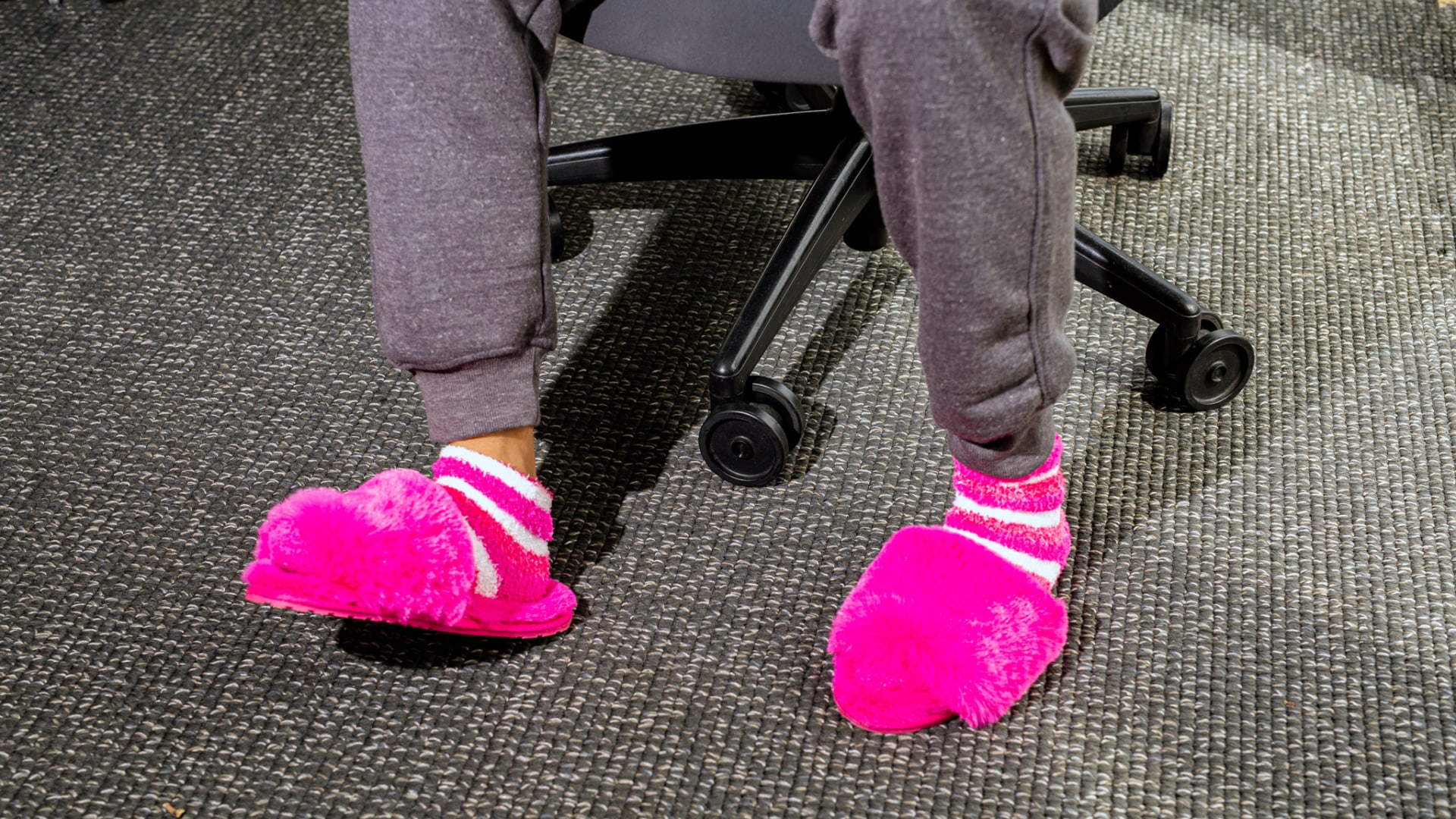 Workplace attire has never been more casual.
As the global pandemic has kept people out of the office--and mostly in their homes--pajamas and athleisure wear have become the new slacks and button-downs. The question is, as vaccination rates rise and people start trickling back into work, will they be willing to part with their sweatpants?
The short answer: yes and no. Jeff Galak, associate professor of marketing at Carnegie Mellon University's Tepper School of Business, says there are two likely outcomes: One, some companies will keep the momentum of casual wear going and a new normal will be born. Two, there might be a strong desire to return to pre-pandemic "normal." As much as sweatpants and T-shirts might be wonderful when working from home, he notes that returning to more business casual or even traditional office wear--remember suits and skirts?--might be a psychological reminder that we're moving past the pandemic.
"What is likely to happen is that companies will diverge in this regard and this will prove to be another differentiator across firms and industries," says Galak. "Some will long for a return to the old normal and some will forge a new normal."
For Vanessa Perry, owner and CEO of Impeccable Credit Services, a credit repair company in Houston, professional attire is a necessity. All employees at her firm must dress professionally, meaning no jeans and no sneakers, save for the occasional summer Friday. "It reflects the company as a whole," says Perry. "If you are dealing with professionals, you expect them to look professional."
Other company leaders are fine with changing dress codes and say it helps lower employee anxiety about returning to the office. Sandra Craft, CEO of ThinkImpact, a Boston-based company that provides education and career-related statistics, trends, and data, says she recently changed the office dress code to be more casual so employees coming in one to two days a week would be able to "breathe for a while" and feel less stress during the transition to working onsite.
Of course, people have been dressing down at work for years--long before the pandemic. A November 2020 "casualization" of fashion report by the market research firm Mintel shows that just over a quarter of full- or part-time workers hope their employer lets them dress more casually in the future.
"I don't think all workplaces are going to have the dress codes that they had before, because it's just not the life that we're living anymore," says Alexis DeSalva Kahler, senior retail and e-commerce research analyst at Mintel. If you've thought at all about what people might wear when they return, it doesn't hurt to talk about it, she notes. Remind employees of company expectations, whether there's a more casual approach to the dress code or if it'll revert to pre-pandemic norms. Either way, it's best not to leave the company dress code up for interpretation.
The Hybrid Approach
Both fashion startups and established high-end brands alike saw huge sales spikes in comfortable clothing like sweatpants at the start of the pandemic, but now as people reenter the workforce, brands are pivoting once again. RicherPoorer, a Los Angeles-based clothing brand that focuses on comfortable essentials like T-shirts and sweatpants, saw its e-commerce sales grow 500 percent in 2020, from 2019. Now, co-founder and CEO Iva Pawling says the brand is focused on making clothes traditionally worn outside the home more comfortable, such as dresses, dress shirts, and bras.
"There's all this clothing that we historically have accepted as the norm that I don't think consumers are going to accept any longer as they go out into the world," says Pawling.
Like RicherPoorer, many fashion brands are betting on a new hybrid approach to post-pandemic fashion, understanding that people will want to be comfortable but put together, to reflect the hybrid lifestyle of sometimes working in the office and sometimes from home, says Andrew Wyatt, CEO of CALA, a New York City-based company that helps connect fashion brands with suppliers and distribution networks. This means professional silhouettes, but in fabrics that are traditionally more comfortable, featuring woven materials like cotton, and fabrics that stretch and can comfortably be worn at the office or lounging at home after work. He notes that a few brands are leaning more traditional and showcasing floral dresses and other traditional summer attire, but not many.
"Deep down, everyone's kind of hoping that there's going to be this big line in the sand we're going to cross and then everyone's gonna go back," says Wyatt. "But what we're actually seeing from a design perspective is hybrid clothing."
Case in point: Ameliora, a New York-based fashion brand that makes wardrobe staples using stretchy, breathable, performance fabrics, says its button-down shirt collection has sold more than 8,000 units--up 116 percent--in the past 90 days. Founder Adrienne Kronovet says most customers are buying in bulk as they prepare to go back to their offices.
A more casual dress code doesn't mean that people will never buy a cocktail dress or tailored blazer ever again. Excitement for the future can elicit more indulgent purchases of clothes people won't wear everyday and don't need, says DeSalva Kahler.
"Those types of purchases are likely still going to affect how we dress when we go out in the world, but I don't think they're necessarily going to affect how we dress when we eventually go back to the office," she says. "Because not everyone's going to go back to the office the way they were before and dress codes are going to reflect that shift."
May 4, 2021