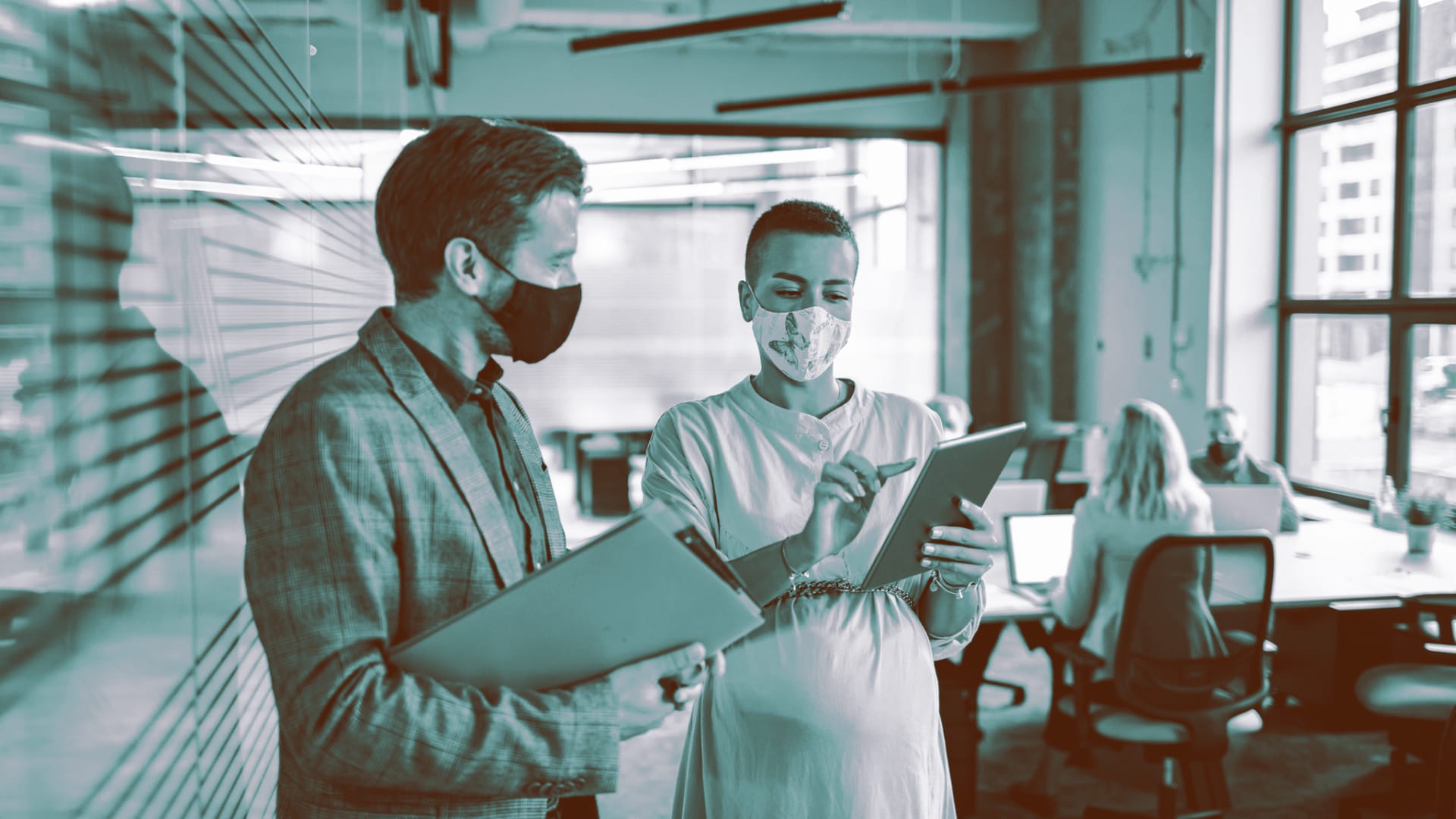 Since vaccination rates are on the rise, and employer mandates start to take effect, you may be wondering if it's time to ditch masks in the workplace?
Large employers, including Amazon and JPMorgan Chase, have recently dropped their mask policies at the office. Apple is dropping its mandate this Friday for customers at more than 100 retail stores, a decision leaders at the company say in a memo is due to "positive trends in vaccinations, testing, and case counts."
It may well be time for your company to follow suit, but there's a lot to unpack before you make that policy official. Here's an action plan:
Know the rules.
On May 14, 2021 the Centers for Disease Control and Prevention (CDC) announced that fully vaccinated people can engage in indoor activities without wearing a mask or physically distancing, except where required by federal, state, local, tribal, or territorial laws, rules and regulations, including local business and workplace guidance. In other words, businesses were given the go-ahead to drop their mask mandates for vaccinated individuals. Then later, on July 27, 2021 with the rise of the Delta variant, CDC updated its guidelines, recommending that individuals, even if fully vaccinated, wear masks in indoors in public if in an area of substantial or high transmission--defined as a place with more than 50 cases per 100,000 people, or a test positivity rate of more than 5 percent. Roughly 87 percent of counties in the U.S. don't currently hit that threshold.
Be aware that change is constant.
But things may change as vaccination rates rise, especially with a federal mandate deadline looming. Starting January 4, 2022 employers with 100 or more employees must require their workers to get vaccinated or submit to weekly Covid-19 testing. As of November 8, 2021, roughly 193.8 million Americans have been fully vaccinated in the U.S., according to data from the CDC.
However, rates do vary across the country and you should be mindful of how many people have been vaccinated not only at your company, but also in your area. For instance, about 75 percent of all people are fully vaccinated in the state of New York compared to 45 percent of people in Alabama.
Additionally, some cities are trending toward a point of "endemic," meaning the impact of Covid is considered manageable and integrated into society, becoming more like a perennial illness rather than a full-blown pandemic. On October 15, 2021, San Francisco lifted indoor facemask requirements for vaccinated individuals in settings with fewer than 100 people, including offices. While other cities, such as New York, have their own policies that largely require masks in public spaces.
Be prepared to change your policies again.
Local rates of Covid-19 infections can spike--particularly as new strains crop up. So even if you feel comfortable dropping your mask requirement now, be prepared to change your policies if need be. Further, don't just blindly follow what other companies are doing. Make sure you take into account state and local guidelines before changing any policy, know the vaccination rate at your company, and talk to employees about their own comfort levels being mask-less in the office. Also, keep up-to-date regarding the transmission rate in your area, how employees get to the office, and what their risk of infection may be.
Nov 9, 2021