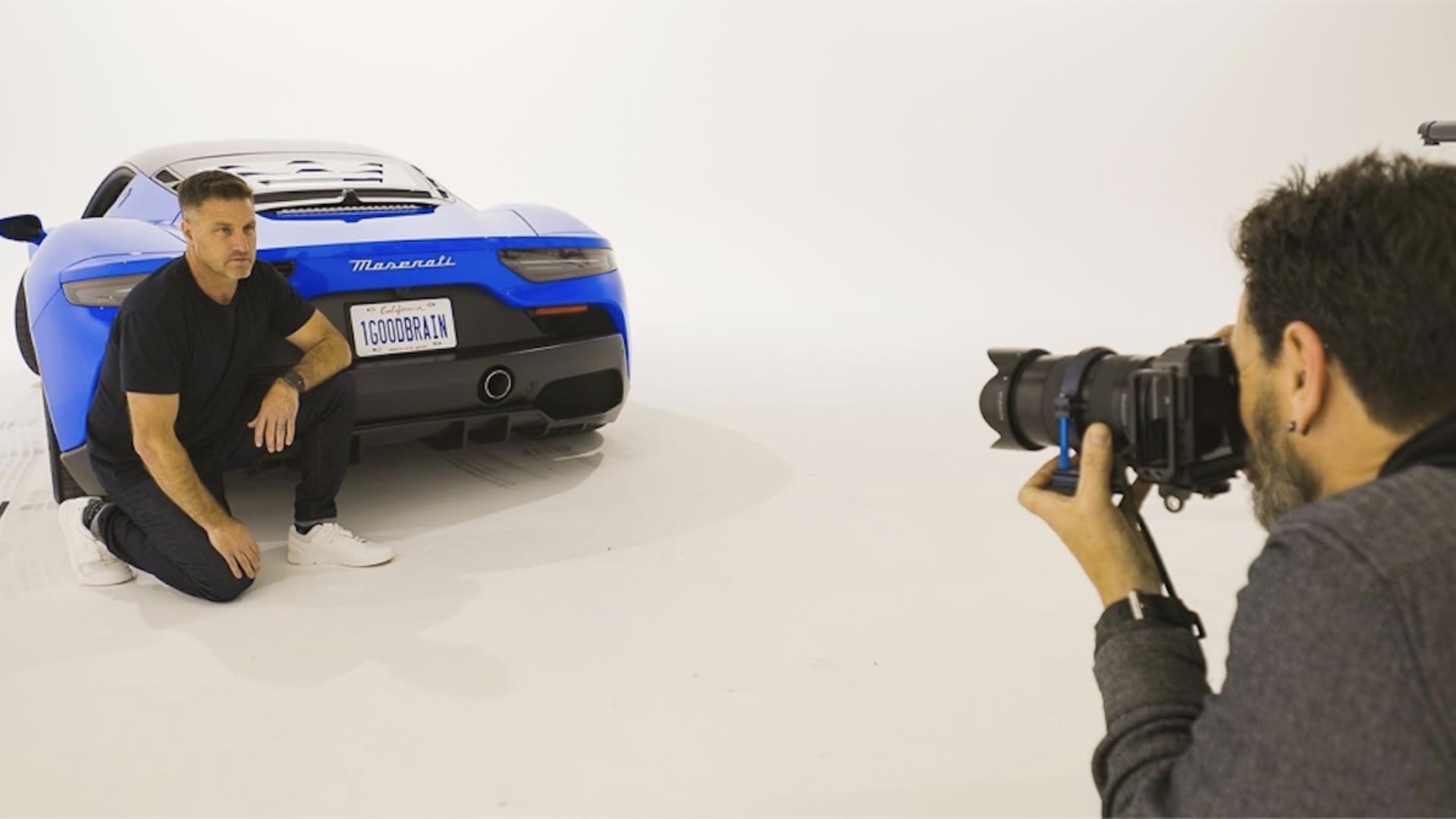 I get asked a lot about my routines and "things I can't live without" from my audience who watch me talk to fascinating people with distinctive routines on my series Behind the Brand. So I thought I would compile my own shortlist and share some ideas. It also happens to be that time of year again, and you might be dreading the obligatory gesture of getting your dad, partner, or man in your life a gift for Father's Day. As usual, I went one step further and asked 10 of my closest male friends about what they might want to get as a gift, so here's a combo of my thoughts and their curated answers. Disclaimer: I am not being paid to endorse these products. Here we go!
1. Maserati MC20 -- From $220,000
I know this is a stretch for me (and maybe the father in your life), but hear me out. I recently did a studio shoot along with a full test drive of Maserati's new supercar, the MC20, and it was bananas in the best possible way.
I got cheers from men, women, and children who couldn't stop taking selfies with the bright blue beast. Am I throwing down hints? Yes. Will I get one? The chances are low -- but not zero. Suffice it to say I was impressed with what is the Italian maker's first of its kind -- a true supercar that will turn heads anywhere you go. The MC20 is equipped with a 3.0 L twin turbo V6, 631 horsepower, and 531 pounds-per-foot torque, and feels like a legitimate race-inspired machine that's comfortable cruising Laguna Beach on PCH, and then heading to the track for a few aggressive hot laps. Need more seats? Maserati also introduced the Grecale SUV for dads who need more spots for a family. Stay tuned for my full write-up on the MC20, including the studio shoot and video in a future Behind the Brand article.
2. Eight Sleep Pod Pro Cover -- $1,695
What's the ROI of a good night's sleep? It turns out it's extremely high. When I was researching how to get a better night's sleep to improve my health, I found the Eight Sleep Pod Pro mattress and cover. It's a thermoregulated system that uses technology and an innovative cooling or heating system to dial in your custom temperature for optimal sleep.
You get a lot of data with the app, which tracks your heart rate and movements in bed and gives you a sleep score from 0 to 100 percent. Experts agree that good sleep is the gateway to a myriad of benefits including a stronger immune system, heart and pulmonary health, mood and emotional well-being, weight control, stress management, sex drive, and many others. I love my Eight Sleep bed so much that I now think twice when I have to travel and miss a night's sleep in it. I wish hotels and Airbnb's around the country would have them available -- I would seriously choose my lodging on the basis of whether an Eight Sleep Pod Pro was an option. To be able to perform at my highest level -- and be a great dad -- I need my sleep!
3. Fourlaps Bolt 5" Shorts -- $68
Daniel Shapiro, founder of Fourlaps apparel, has created a niche in the market that is a modern man's destination for athletic apparel that's functional and styled. For me, it's leg day at the gym and I basically live in my Fourlaps Bolt shorts -- no underwear needed as they have a full liner. I'm 5 foot 9 inches, 175 pounds, and wear size M. I can jump in the pool and they are dry again within 15 minutes. I used to wear seven-inch shorts, but since getting my fitness and confidence back, I love the freedom of the shorter fit for movement and comfort. Fourlaps also has buttery soft polo shirts and tees, joggers, pants, and a line of golf wear for dad.
4. Meater Bluetooth Meat Thermometer -- $69.95
Whether it's backyard BBQ home cooked or semi-pro chef style, help dad beef up his cooking skills with this state-of-the-art tool to make overcooked meats a thing of the past. Meater's guided cook system walks you through every step of the cooking process for guaranteed consistent results.
5. San Diego International Beer Festival -- $60
I live in Southern California, so one of my go-to guides to great dining, experiences, and fun is Locale magazine, founded by Erik Hale. He pointed me to the San Diego International Beer Festival, which is bringing more than 200 breweries from around the world to the Del Mar Arena over Father's Day weekend. Whether you're a fan of craft brews or classics, beer lovers won't want to miss out on this exciting outdoor event. If you want to take your experience to the next level, purchase VIP tickets to enjoy unlimited beer samples, food pairings, and early admission.
6. Tickets to an MLB Game -- $44 Each
I'm a Los Angeles Dodgers fan -- but you can get your tickets to a Major League Baseball game in a city near you. Some of my best memories are going to games, and it's always a good time at the ballpark. I have my eye on the June 30th game when the Dodgers play the San Diego Padres -- Go, Blue!
7. The Roger Centre Court by On -- $189
On started as a small Swiss-based brand making shoes with soles created from garden hoses. Six-time Ironman champion Olivier Bernhard, along with the other founders, wanted to prove that running shoes don't all have to look the same (and actually shouldn't). The On brand quietly grew into a global sportswear giant that just IPO'd at the end of 2021. Now, it's set to shake up the industry and challenge traditional sportswear brands by doing things totally differently, from athlete partnerships -- like this tennis-inspired classic with Roger Federer -- and leadership priorities to establishing never-seen-before technology.
8. Babolat Tennis Racquet -- $239
I'm recently back into playing tennis and wanted to upgrade to a new racquet but didn't know what to get. A tennis pro friend suggested I demo a few brands using a service called Tennis Express, and I was able to order a couple of models for $25 each for a week. I played my best with the 2021 Babolat Pure Drive, size 2 - 4 1/4, so that's my personal recommendation. Take a look at a wide variety of brand choices and try a couple out before you buy.
9. PerkPotions by Michelle Lee -- $250
Michelle Lee is one of the most respected cosmetic surgeons in Beverly Hills. Lee is a board-certified, Ivy League-trained plastic surgeon behind some of the most natural-appearing results. She created Perk plastic surgery and her new line of skin treatments (for men and women) because she struggled to find high-quality products in the market that she could actually recommend to her patients. PerkPotions might seem a little pricey, but it's because they are top of the line and doctor-approved. A little goes a long way. I like to use the No. 7 Illuminate Enriched Vitamin C Ultrapotent Radiance Serum in the morning if I'm going on camera to give me a refreshed look. No. 11 Nourish Lipid Replenishing Cream is great to restore dry skin after a shave. For those who want a little extra help with age-related wrinkles, try the No. 2 Retinol + Bakuchiol Power Duo.
10. Theragun Mini -- $199
When I'm done playing tennis, the Mini is a pocket-sized reliever, giving me quality muscle treatment with excellent portability that fits in my sports bag or suitcase when I travel. This little piece of tech is a lifesaver.
That's it for now, wishing you and the father in your life a very happy holiday full of good health, happiness, and new memories! I am always looking for great new products, services, and experiences -- please reach out to me and let me know what you recommend. Find me on Twitter, Instagram: @1GOODBRAIN, or YouTube, and leave me a comment!
Jun 5, 2022