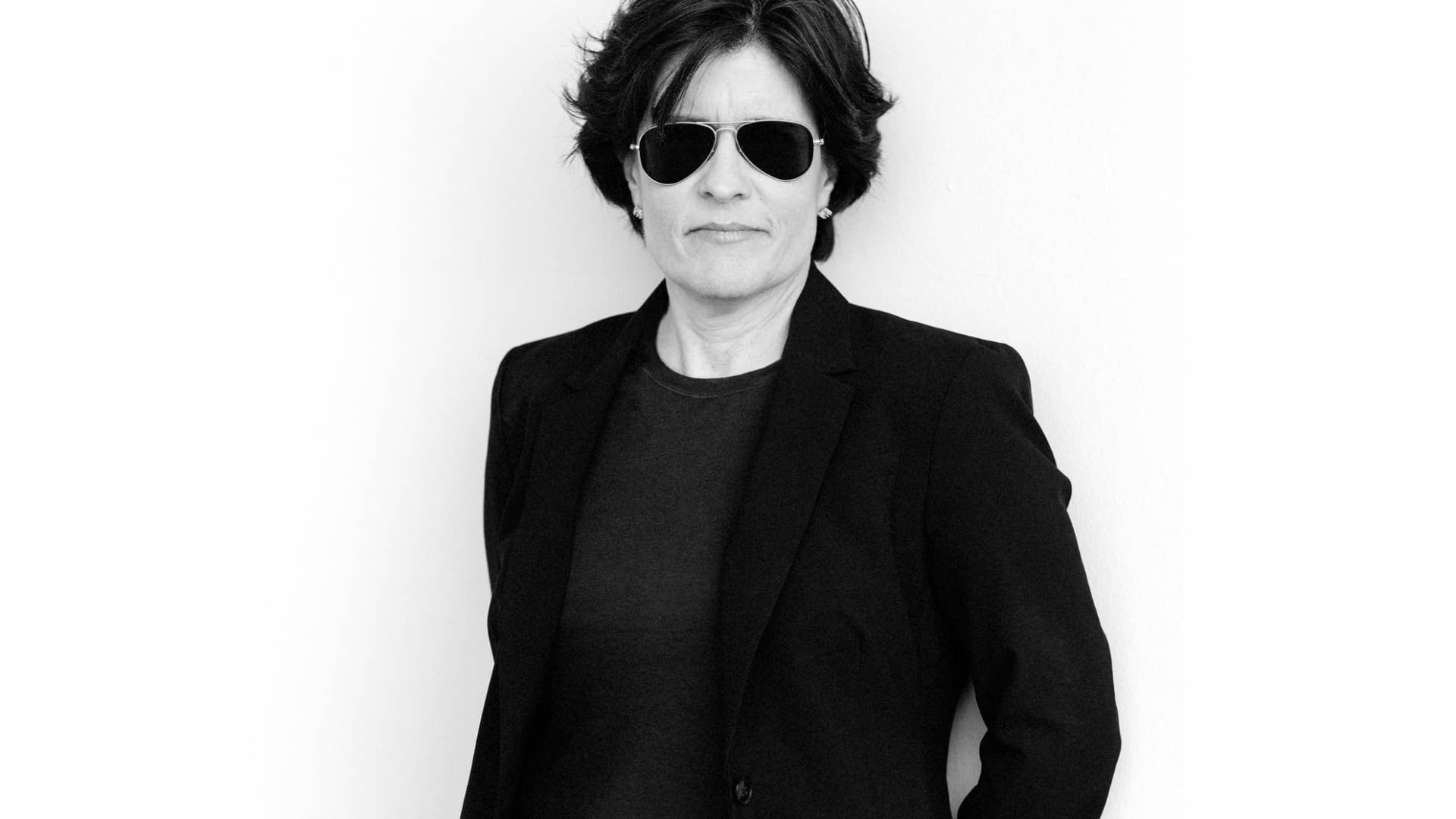 Kara Swisher is known as Silicon Valley's most powerful tech journalist and she's a force to be reckoned with. The lore is that she's the only tech journalist who can give Mark Zuckerberg heart palpitations, and she's so formidable and well-known in the industry that she played herself on an episode of Silicon Valley. Swisher's interview style is straight and to the point and she never shies away from asking tough questions. She's whip-smart and laser focused, fearless and takes no B.S.
Remember the original CSI Miami? To me, Kara is equal parts Horatio Caine (especially the signature sunglasses), who was played by veteran actor David Caruso -- and the other part Kate McKinnon from Saturday Night Live. She's been called: Brash. Cocky. Arrogant...and a bully. And that was just Elon Musk in their last interview. Not really. But Elon did threaten to end his interview with Kara abruptly during their last sparring match on Kara's podcast, talking about whether or not Elon's vaccine tweets were irresponsible. Which they were. She handled him gracefully, like Spanish matador does a charging bull. Olé!
Swisher began covering tech in the 1990s and later founded the online publication AllThingsD, which later became Recode, which was acquired by Vox back in 2015. Swisher previously wrote for The Washington Post, The Wall Street Journal, New York Magazine, and she has a weekly column for The New York Times. She's also host of the popular podcast Sway and co-host of Pivot with Scott Galloway.
Swisher seems to think it's silly that people are afraid of her, but she only calls it like she sees it. One of my favorite examples of this was last year, when she tweeted at a braggadocios Guy Raz, who pretends to have real-world business experience, that his show How I Built This was nothing more than a "tongue bath."
When it comes to the Tech Bros and Billionaire Boys' Club, Swisher tells me that she thinks the fear is because she's a woman who asks questions -- but those questions are often just what everyone is thinking and doesn't have the guts to say to their face. It's ironic that people want to peg her as a dragon -- maybe gangsta is more appropriate. But the fact is that Kara's been an entrepreneurial force and as fearless as some of the iconic entrepreneurs she spars with in the ring. She never shies away from tough interviews, and when I ask her about what advice she'd give to journalists who come up against big personalities who might push back, she answers without hesitation:
"Just don't worry about it. I don't stay up a night worrying about what Elon [Musk] or anyone else thinks of me. I really don't. I couldn't care less, and [that's] not to say I don't care either. I try to be fair. I try to be polite. I try to ask tough questions. I respect their intelligence. If they don't want to answer questions, they don't have to answer questions, but they have to live with what they say. I don't get angry at anybody I'm talking to, necessarily. I try to ask the toughest questions I can -- and by tough, I mean hard, like really difficult and thoughtful questions."
Swisher grew up in Roslyn Harbor, New York on the northern part of Long Island. She is the middle child of three. She has said that she never felt like she had classic middle child syndrome as she was the only daughter, and she has always been very close with her two brothers. When Swisher was 5 years old, her father passed unexpectedly, and she describes it as one of the worst and most formative experiences of her life.
"Just imagine right now if half of your friends died," she says. "Your parents, when you're 5, are really pretty much your entire world. If one half of your friends just suddenly died, it would be shocking and devastating, and so I think it also gives you a sense of the capriciousness of life; that life can change on a dime, that bad things happen, and you survive them just fine. You just keep going. And so, I think that that age taught me a lot of lessons."
After her father's passing, the family moved from Long Island to Princeton, New Jersey, where she was raised. Swisher was an outspoken child, a quick study, and an eager learner. She has remarked that she once walked out of class in fourth grade because the subject matter was too easy and boring to her. She has described herself as an avid reader and a very forthright kid.
As a child, Swisher said she always wanted to work either in the military, with military intelligence, or with the CIA, but this dream never came to fruition. Swisher says she knew she was gay at a young age, and never wanted to adopt a "don't ask, don't tell" policy in order to serve her country. "I wanted to tell, and I wanted them to ask." she says. Her father was in the Navy, which she admits might have influenced this desire, but she says she also just felt innately that it was important to serve.
Swisher was also drawn to architecture, but after doing a high school summer architecture program at Harvard, she noted that she didn't have much of a talent for it and shifted gears. She attended Georgetown University, where she wrote for The Hoya, the school's newspaper. She won a writing award her freshman year at Georgetown and has said that that piqued her interest enough to continue writing. She later went on to write for the school's news magazine, The Georgetown Voice.
Her sophomore and junior year, she interned at The Washington Post, and her career in journalism was set in motion. Swisher has said that she never shied away from advocating for herself when it came to her career. She was comfortable acknowledging the things she wasn't good at and also the things she was. Whether or not that was considered boastful didn't seem to bother her much.
"I've had jobs ever since I was in high school," she says. "I worked quite a lot and I continue to work all the time. I shift[ed] careers really substantively during my long career. It's been on the same trajectory in journalism, but I've moved with the times...with the technologies. I've been very adept, I think, about shifting as times shift. And I don't have an issue with sticking around in things that aren't working."
After Georgetown, Swisher earned her master's in journalism from Columbia University and then later wrote for The Washington City Paper before heading back to The Washington Post and working there full-time.
At the age of 35, Swisher started working for The Wall Street Journal. She created and penned a column called Boom Town, which was devoted to the personalities, companies, and culture of Silicon Valley. Her column appeared on the front page of The Wall Street Journal's Marketplace section and garnered her the reputation of the most influential reporter covering the internet at that time.
Just six years later, Swisher along with colleague Walt Mossberg launched the All Things Digital conference and later expanded it into their daily blog, AllThingsD. The conference featured interviews that Swisher and Mossberg had conducted with heavy hitters in the industry such as Bill Gates, Steve Jobs, and Larry Ellison, all of whom were interviewed live on stage, without any prepared remarks. AllThingsD would later go on to become Recode.
Since that time, Swisher has become an absolute staple in the industry. She interviewed Steve Jobs many times during his lifetime and knew him quite well. The way that she talks about him sounds more like he was a family member, and not just a tech giant. Part of what makes her so fascinating as a journalist is that you get the feeling that she doesn't mind getting close to her subjects. She talks about Steve Jobs or Elon Musk like they're just people she's known as opposed to famous billionaires. I like that status and wealth don't impress her to the point of intimidation.
"They don't shake me up," she says. "You either have to be secure in yourself or not. I try to do my best work of research and knowing what I'm talking about. I try to read widely when I'm talking to people. I try to know what they've said about things before. I have respect enough to have spent time to know what they've said. And then when they start to move into talking points, I tend to get that out of the way really quickly. I just treat people like I would normally, like anyone. Just because they're billionaires doesn't mean they get a pass."
Swisher's approach to both her life and her work seems to be pragmatic above all else. She has a very it is what it is attitude and she's very seldom flummoxed. She tells me that she thinks this comes from losing her father.
"A lot of people whose parents have died at a young age, they often become highly functional, which means essentially that very little gets in their way and they don't tend to dwell too much. I think I tend to be fine with moving on. I don't get bogged down by failure; I don't get bogged down by success."
As a parent herself, Swisher still employs her pragmatic nature while raising her children. She says she likes to encourage them to make their own good decisions and to think for themselves. She qualifies this statement by saying there are exceptions for activities like drinking and drug use. But when it comes to school, she says if one of her children doesn't finish their homework, she'll try to respect that decision. It's also notable, as she related to Bryan Cranston while they discussed one of his characters and story plots on her podcast, that if any of her children are guilty of a crime, Kara would not hesitate to turn them in to the authorities. She takes a hard line on tough love, ethics, and doing what she feels is the right thing.
"The things I've done in my career...everything I've done, I've liked [for] myself," she says. "I like it, it makes me happy, when I'm happy I create jobs, when I'm happy I'm creative, and so I really do push among my kids, 'Please don't do anything for being a good boy or good girl, just don't.' Enjoy your learning. I want them to learn for learning's sake and no other reason."
Swisher is true to her word when she says that she's always followed her passion. She started covering the internet in the early 1990s, before it was commonplace in all of our homes. She started podcasting and saw the vision for what it could become, and now has one of the most popular podcasts on the market.
She's good at observing and listening and she seems to have a knack for knowing when something new or avant-garde has promise. She's quick to shift and move to a new sector if something is interesting to her, and as a result, she keeps her readers and fans on their toes. She's true to herself and does only the things that give her joy -- and that she also excels at, which can be really tricky in a world where everyone has to make a living.
More with Kara Swisher here:
Apr 20, 2021