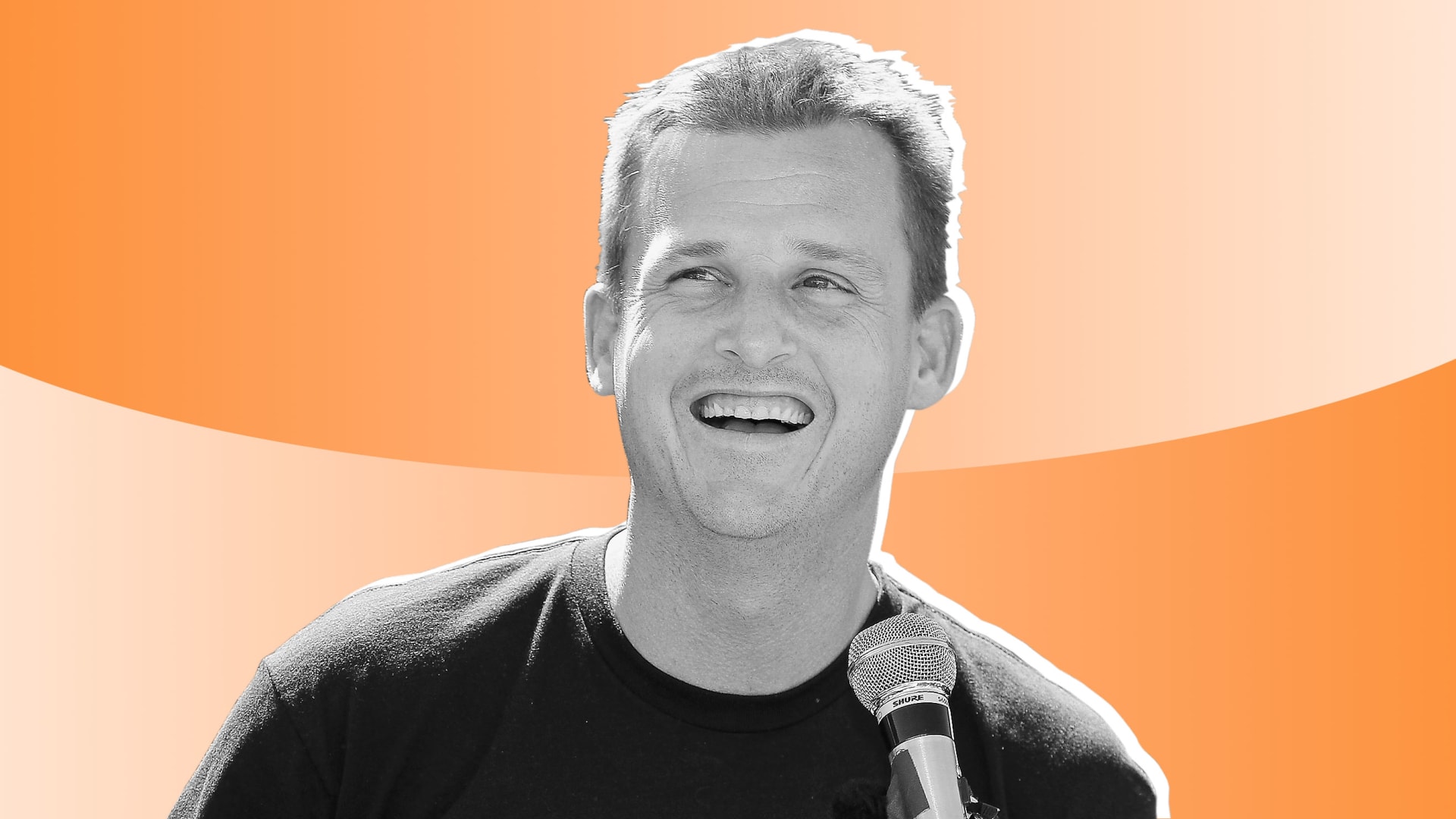 It's 5:00 am and Rob Dyrdek has his entire day, week, month, and year planned out (probably) to the minute--optimized like a well-oiled machine. He's always had street-smarts. But there's an iceberg of talent and ambition lurking beneath the surface that probably no one--including Dyrdek--saw coming back in 2012 when he was flipping cars, swimming with sharks and other shenanigans on his hit show Ridiculousness on MTV. Now Dyrdek is all grown up, raising his family, and has a new focus. After decades of working as a pro-athlete and media personality, Dyrdek now runs Dyrdek Machine, helping other entrepreneurs get their start.
"The Machine, itself, I launched in 2016. I had, before the Machine, been a serial entrepreneur and built 13 different companies, up until that point, to varying stages using operating partners to finance ... In 2016, I wanted to create a business that solely created businesses," he tells me. "My true passion was going through the process of ideating, creating, and launching a business. But I didn't want to operate them all. And so the formula was essentially, co-found them, fund them with great partners and then help advise them, and then they go on and operate and build these businesses."
Dyrdek is no stranger to building a career from the ground up with a little bit of help from a mentor. He was born in Kettering, Ohio in 1974 and participated in sports as a child. But the key moment for him was when he began skateboarding at the age of 11, after receiving his first skateboard from professional skateboarder Neil Blender. Blender would later become a mentor and partner to him.
Dyrdek said that he was so focused and excited to become a professional skateboarder, he would spend his entire school day planning what he was going to practice after the bell rang. And he would skate until his parents made him come in for dinner.
"I was really focused on soccer at an early age. And I like to say I built this foundation of belief because everything I would try when I was young, I would be really good at," he says. "So if it was soccer, if it was Tae Kwon Do ... and then I found skateboarding, and then got so good at it so quickly, there was already this clear shot to being a professional."
At the age of 12, Dyrdek caught a lucky break when he acquired sponsorship from the same company that endorsed Blender. Dyrdek began his skateboarding career. Shortly thereafter, Dyrdek and Blender quit their board sponsor and created Alien Workshop. At 16, Dyrdek decided to forgo his senior year of high school and moved to Southern California to continue his professional skating career. That's when things really kicked off for him.
"I actually got that pathway through the local skate shop," he says. "The local skate shop was owned by a serial entrepreneur by the name of Jimmy George. Not only was I on my path toward becoming a professional skateboarder, but also, I was watching him create company after company. So then in my mind I thought, I'm also going to build companies."
Jumping into the real world before most of his friends had even gone off to college propelled Dyrdek into the world of business before the age of 18, and his dream of building companies became a reality. Being surrounded by other athletes who ran businesses, sponsorship deals, and companies of their own, Dyrdek says he quickly learned the power of building brands and used all that he had learned to start his first company.
It seems clear that Dyrdek has always favored a career path that energized him and gave him joy. But for a while, he was high on his own supply, never really understanding what made him truly happy--or how much negative energy he was giving to the wrong people and projects. It wasn't until the first attempt to sell his media company that he got a rude awakening that his brand wasn't worth as much as he thought. Dyrdek started his company with the plan to sell it for $50 million in three years. To his surprise, the private equity firm, doing its due diligence, rejected his offer--citing that Dyrdek was "spending more than he was making" and his business was actually a mess.
These were the Fantasy Factory days (emphasis on fantasy) which was an overhead juggernaut with exorbitant rent and an army of high-priced attorneys, C-Suite members, and other team folks that weighed heavy on the P&L. It was a hard truth to face, but Dyrdek realized that he was living in a house of cards. In 2013, he was determined to build a new business foundation from the ground up.
Dyrdek got serious, very serious, about business, health, and his family life. He started tracking his daily level of happiness, energy, time allocation--including time at work, time spent on health, and with family, etc.--on a chart with scores he could measure and evaluate. He also did extensive research and study on cash-flow strategies, borrowing pages from the playbooks of other successful business people like Ray Dalio.
He joined an exclusive business networking group called Tiger 21, where the membership dues are $37,000 annually and there's a minimum of $25 million net worth to join. With strict privacy rules, Tiger 21 members must open the kimono of their portfolio and expose business strategies freely with the group to receive feedback and advice. It proved to be an invaluable asset for Dyrdek to learn and exchange ideas with other friends and mentors. A few years later, Dyrdek put his media company back up for sale. This time it was legitimately worth three times the previous asking price of $150 million, and he sold it to the same private equity firm that rejected him years earlier.
Dyrdek tells me that the key to success for him has always been about where he expends his energies--that putting his energies towards things that give him joy or things he likes doing is why he's been more successful. He seems to be an avid proponent of the do what you love philosophy.
"What's the purpose of being great at something if it doesn't give you energy?" he asks. "At the end of the day, if you're an artist but you're ambition--and your identity that you see for yourself is living in a mansion and spending a million dollars a year and driving a Ferrari--you're going to be tortured for the end of days ... If you choose a career and it's the easiest path forward but you hate it, it's OK if you can compartmentalize that--and you work 9 to 5 and it serves the financial needs, and you now have it [so] inside your system that you can automate it and make it so effortless that it takes so little of your energy. If you've already dedicated that amount of time so that you can now swing that energy over to painting and playing guitar on the weekends and every evening, then you can live this balanced, happy life. At the end of the day, the quality of your energy is directly correlated to the quality of your life."
Being naturally good at everything he put his mind to certainly set Dyrdek up to believe that he would be successful, and that he was worthy of success. But that natural talent isn't the only thing that ultimately carried him through to the successful place he's in now. There was another element to his strategy, but it was something he didn't learn until his late 30s.
Dyrdek was masterful at leveraging his influence and coming up with new concepts and ideas to keep his momentum going. He says he helped turn a rising footwear and apparel brand into a $500 million international company, and that he used the same methods and expertise to build skate brands later in his career. Dyrdek launched the world's first professional skateboarding league, called Street League Skateboarding, and a novel kind of skateboarding channel called ETN. "You get lucky where you do something and you're good at it and you build belief at a young age ... it becomes part of your DNA," he says.
A lot of people would have just stopped there, but not Dyrdek. He used his same techniques and approaches to brand development, and co-created and executive produced his first television show, Rob & Big for MTV. The show featured his life and the life of his best friend and bodyguard Christopher "Big Black" Boykin and ran for three seasons, airing 31 episodes.
For a long time, Dyrdek tells me that he was chasing a shadow, working himself to the bone, thinking that eventually his ship would come in and he'd find that one thing that would make him happy, that would allow him to finally relax and enjoy the fruits of his labor. But the vicious cycle he'd set up for himself continued until he had an epiphany nearly a decade ago.
"The moment I looked at all aspects of my life, instead of trying to design the next business that would work, I designed my life and how would the business integrate into that. And then I decided: I wasn't going to do it by hoping whatever I build becomes the cornerstone of success. I was going to build my life by design and intention--and decide how I wanted to spend time, where I wanted to spend time, and I wasn't going to compromise that. I was going to grow the next phase of my life in a highly balanced way."
He tells me that for him, it made more sense to design the life that he wanted to live. And then to create and build his business life to fit into the prefab way of life he'd prefer. Rather than trying to find time for joy in the midst of working, he found time for work in the midst of truly living.
"I created the company I built that was integrated into the way that I wanted to live, not only now but in the future," he says. "It's the only way to get to where you wanted to go. In all of the goals I set in 2015 and the life that I designed in 2015, in detail is the life that I live today. Now is it the way I envisioned it? No. Because you expand into life. You expand. All the milestones I knew I wanted to hit: I wanted to build and sell 15 to 30 companies for between $50 and $150 million, and own 25 to 70 percent. That was my goal in 2015. I'd never even built and sold a company before that. I [first] had to build and sell one. That milestone wasn't changing."
Dyrdek says that he put a flag in the ground and then grew into it. It didn't happen overnight, and he acknowledges that the goal ended up looking different by the time he reached it. But knowing where he was heading enabled him to focus on where he was going and how he wanted to get there. Part of that was writing down his goals, part of that was coming up with a financial plan that would help to get him there. Another equally important part was sticking with the path until he reached his chosen destination.
"Through blood and sweat, you really see how much you actually have to learn and do to achieve what you set out to do," he says. "And that's where most people quit. Because they finally clearly see what it takes to achieve it and then they decide, this isn't for me. I don't want to put that effort in. But those that push forward then go beyond it, because now they understand where their energy is being directed is going to have a higher output towards reaching a now, much clearer goal."
This idea of working within a balanced life is something that Dyrdek says he'll never compromise on. He believes it's a fallacy to say you can be balanced one year and imbalanced another. That finding a healthy work/life balance requires practice. He says that once he figured out that making time for work, within the framework of his intentional life, was successful for him, he didn't want to go back.
"I had zero when I started," he says. "But I defined what my ideal life looked like in all aspects. My health, my mental state, my physical state, my career, my finances, the people in my life and how I wanted those relationships to be, and what I'd do in my spare time to have fun--I defined it. So is it easier for me today than it was in 2015? Oh, you better believe it. What I try to really reiterate with people is that if you're going to build a company, design the pathway to success for your company and your life simultaneously, so that you can grow into a successful life--not think that your company is going to be your successful life ... So when you get there, you have everything."
More with Rob Dyrdek here:
Feb 16, 2022