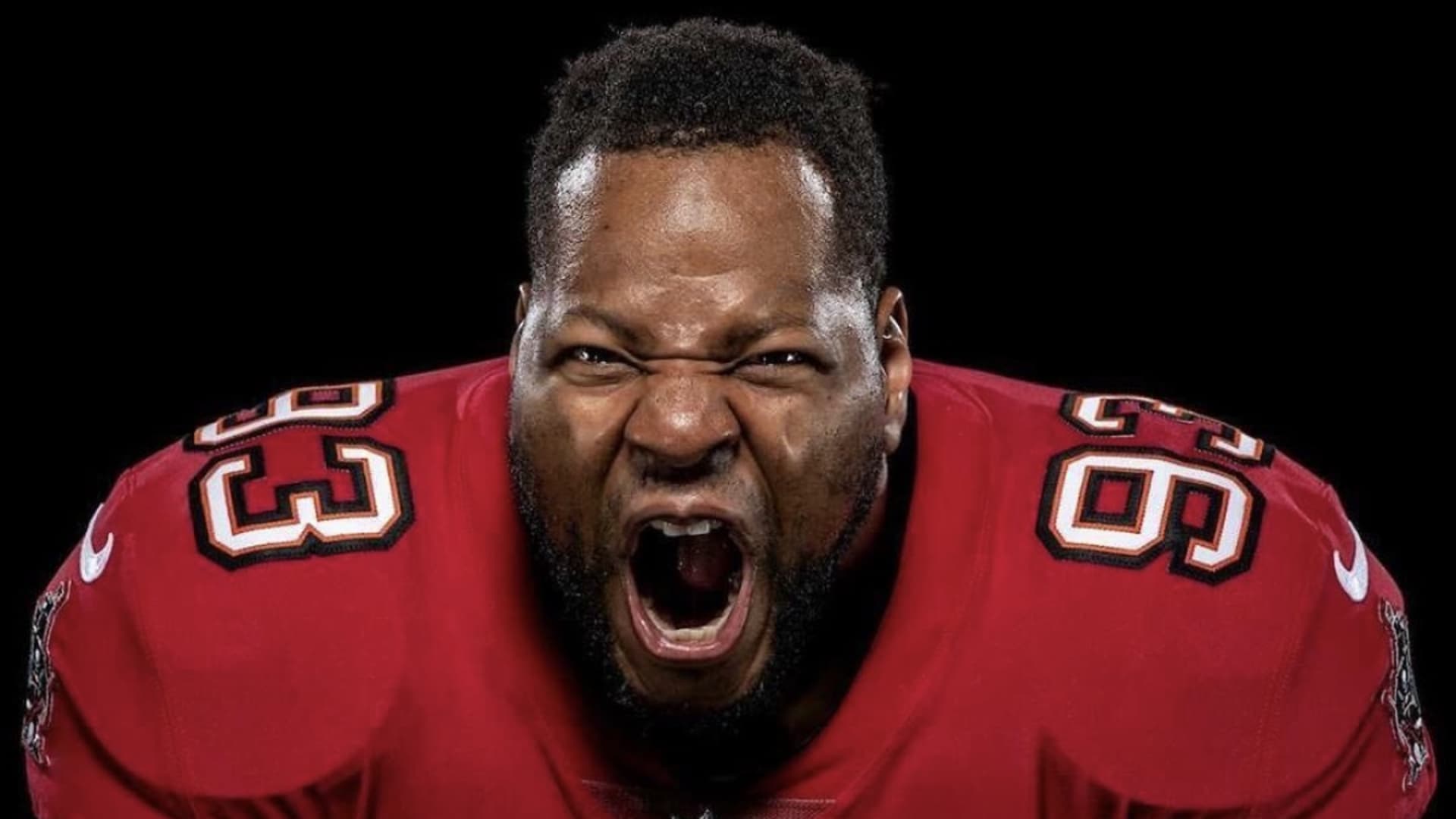 NFL defensive end Ndamukong Suh, who plays for the champion Tampa Bay Buccaneers, is probably not who you think he is. He's much more. He's more than his past mistakes and outbursts on the field and has learned from them. He's proven his critics wrong on and off the field since then as a man of integrity, unmatched work ethic, skill -- and, YES, INTENSE, DOMINATING PHYSICAL DISPLAYS ON THE FOOTBALL FIELD.
Suh is in his element when he's crashing through a wall of giants to track down his target. NFL quarterbacks must be quick and nimble to escape his grasp -- I can assure you, no passer wants to be caught in the grips of a 6'4, 307-pound heatseeking missile of a man who runs the 40 in 4.98 seconds.
For most people in the world, 2020 into 2021 was a rough time in history. But for Suh, it was the season he finally became a Super Bowl champion. After paying his dues in the league for 11 years, through some difficult personal and emotional struggles, Suh finally got his win in a convincing 31-9 victory over the defending champion Kansas City Chiefs.
Suh was born in Portland, Oregon to two immigrant parents. His mother is from Jamaica and his father is from Cameroon. Suh's father played professional soccer (football) in Germany, so his parents had an understanding of the life of an athlete and supported his athletic endeavors. He was enamored with airplanes and flight from a very early age but his growth and physical size quickly made it hard to fit in a standard pilot's cockpit. He played soccer as a child until he sized out of that sport as well, and then he continued to play football and basketball and run track and field in high school.
Parade magazine gave him high school All-American honors for football during his senior year, and that was just the beginning of numerous accolades. While a career in sports certainly seemed to be in the cards, Suh says his parents were insistent that regardless of the career path he wanted to follow, he must get an education and attend college first. He earned a degree in mechanical engineering from the University of Nebraska before embarking on his career with the NFL. Some of his best advice for life and pro sports came from the legendary Phil Knight of Nike. You'll have to watch the video below to find out the gold nuggets of what Phil said:
Suh became a public figure during his time at Nebraska, playing for the Cornhuskers football team. By the time he was a senior, Suh became one of the most decorated players in the history of NCAA football. Some of his accolades include the Lombardi Award, the AP College Football Player of the year Award, the Bronko Nagurski Trophy, and the Chuck Bednarik Award.
Suh was one of the most exciting participants in the 2010 draft. He was initially a top-five pick, but as it got closer to the day, he became a top-three pick. Ultimately, he was drafted by the Detroit Lions and began his NFL career in Motor City. Since that time, Suh has played with Detroit, the Miami Dolphins, and the Los Angeles Rams before eventually settling in Tampa Bay with the Buccaneers.
During his first five seasons with the NFL, Suh was named defensive rookie of the year and was also selected to four pro bowls. He later became the highest paid defensive player in NFL history when he signed a six-year contract with the Miami Dolphins worth $114 million.
Today, Suh is recognized as one of the best defensive tackles in the NFL, but that reputation didn't come without its challenges. Early on in his career, Suh was criticized by the media for being a rough and oftentimes overly aggressive player. While he admits that some of that was due to his own behavior, he believes that the media has put him through the wringer, vilifying him for entertainment value. Once, while playing against the outspoken evangelical Christian Tim Tebow, Suh says he was described as the "Devil" to Tebow's "Saint." No matter what, Suh understands that a lot of this is for marketing purposes and has tried to stay positive and true to himself.
"I believe a lot of the narratives were not necessarily fair," he says. "The media tried to chew me up and spit me out, but I had to be true to who I am. And true to who my parents brought [me] up as.... A strong, young Black man in America. So, for myself, I looked at it from a standpoint of, there's always trials and tribulations, but if you can't withstand those things and handle them, they most likely wouldn't be put in your life. So, I just put my head down and focused on things I knew I needed to focus on."
Suh talks about the media's propensity to create characters out of athletes. There's the quarterback, who's usually the darling of the team, while defensive players like himself are often looked at as villains coming after the hero. While these narratives aren't really all that fair to players, Suh has also taken responsibility for his actions and tried to be better. After more than a decade in the league, he continues to play the game he loves at the highest level.
When I ask Suh about how he'd describe his brand, he gets a little shy and tells me that he's a pretty classic introvert who doesn't always love talking about himself. He's the "actions speak louder than words" kind of guy. But it was nice to see him share another one of his passions in an Instagram pic, chilling in front of his classic muscle car.
"I've [always] been a person that just likes to move in a stealth manner, and really just kind of let my actions speak for themselves," he says. "And so, when it comes to philanthropic endeavors or even business, and even sports.... [With] sports, I'm going to let my play speak for itself; philanthropic pieces, I'll let other people talk about it, and when it's brought to me, then I'll say yes or no and kind of leave it at that. I don't want to take great pride in something that I wanted to just do out of the goodness of my heart or my family's heart with our family foundation."
As he's gotten older, Suh has become a bit more comfortable speaking about what he's up to, and he credits his wife, Katya, who has professional experience in the media, with pushing him to be comfortable sharing those parts of himself with the world more openly. It's a good reminder that no matter how physically tough someone might be, we all need a helpful nudge sometimes to push us out of our comfort zones.
My personal take on Suh is that he's earned the kind of wisdom that can only come with experience. And how can you get that same kind of experience in your field of expertise, you might ask? The answer is simple. We get experience by doing the work -- by making mistakes and learning from them. Here's a possible formula: Effort + Learning from Mistakes + Experience = Wisdom. Wisdom helps us make better decisions, and better decision making often leads to more success. Ndamukong and Katya's next big adventure in the off-season included a double-dose of parenthood, as they welcomed new twin babies on March 26, 2021. Congrats!
Suh is also devoted to giving back to his community via a development project aimed at helping young black professionals be even more successful, especially at such critical times as post-graduation or during the startup business phase. HMS Developments, based in Oregon, taps into his engineering roots to build and create unique professional housing and communities for people of color who might need an extra boost of support and who would thrive living around a like-minded community of entrepreneurs. The HMS portfolio includes high-rise multi-family residential towers, industrial office parks, downtown office buildings, and more. Watch my full interview with Ndamukong Suh here.
Apr 12, 2021