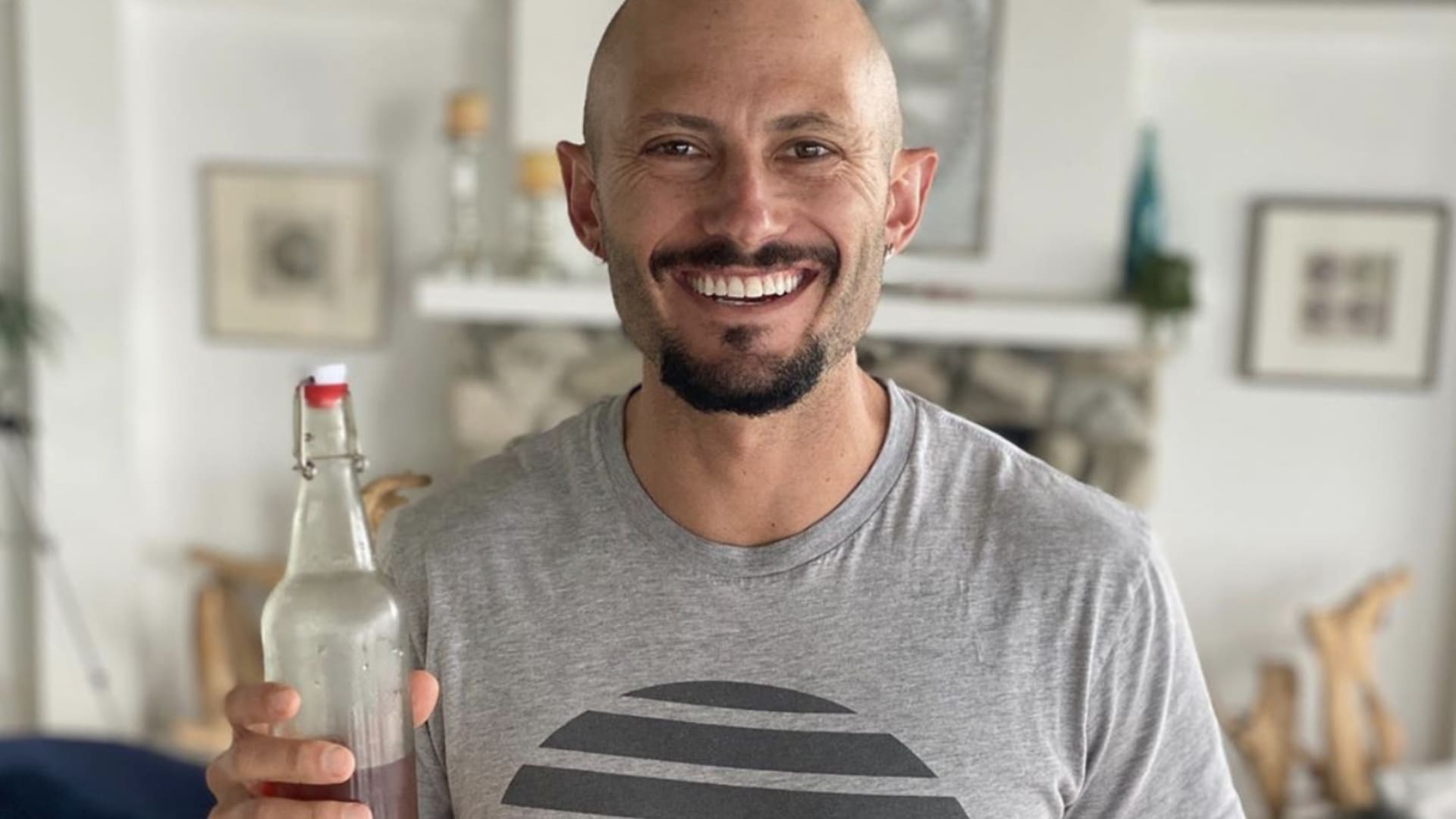 While sitting and chatting with entrepreneur and master marketer Noah Kagan, it's easy to see not only why he's so popular and sought-after in his field, but also why he's wildly successful at nearly everything he puts his mind to. Kagan admits on his own websites that he's tried and failed at many things, and it seems that his ability to feel comfortable with his failures has made him even more resilient and formidable in the business world.
Kagan's energy is abundant and the way he talks about his own life is super honest, with a balance of self-deprecation and a learner's mindset. He's disarming in his humility and it makes for a really interesting give and take as we talk. My favorite kinds of interviews are those that allow both sides to share and learn from each other. Noah makes that back-and-forth flow easily.
Kagan might be best known as the 30th hire at Facebook, which he became at the age of 24, but in his own opinion, it wasn't the right fit for him. "I wanted it to be the Noah Kagan show," he tells me. "And at the end of the day that is the Mark Zuckerberg show."
Noah captured the interest of Zuckerberg and the Facebook team by using a tried-and-true method of his. He came in for the interview with printouts of websites he'd already designed and mock-ups of how he thought Facebook could improve and move forward. He says that demonstrating for someone what you can do for them is a surefire way to pique their interest. "Make it undeniable for them to want to talk to you and undeniable for them to want to hire you," he says.
Kagan was at Facebook just nine months before he was let go, a lost opportunity that cost him an estimated $185 million payout, according to his own math. But the experience proved to be hugely inspirational for him as he moved forward into his own career as a business owner and entrepreneur. Kagan says he naturally gravitates toward exceptional people and when he encounters them, he does whatever he can to bring them into his orbit. "When I see amazingness, I'll do whatever it takes to connect with that person, and just be like, 'Hey, I just want to be around you, I don't know what's gonna happen.'"
Part of the positive of working at Facebook was being around brilliant minds like Mark Zuckerberg, Sean Parker, Dustin Moskovitz, and others. Maybe their vision seeped into him via osmosis or maybe it just inspired him, but Kagan has gone on to do some pretty amazing things himself since his time at Facebook ended.
A native of Silicon Valley and graduate of UC Berkeley, Kagan stayed in the industry and went on to be the fourth hire at Mint, later starting his own business, AppSumo. AppSumo is a daily deal website for business-related digitally published products and goods. Kagan's original intention was to promote great products to help entrepreneurs improve their businesses, and the idea became hugely popular in the sector. As of right now, AppSumo has more than 700,000 active subscribers. It started in 2010 with a $0.99 GoDaddy domain name and connections from Kagan's Facebook, LinkedIn, and Skype profiles. Kagan developed the site over the course of one weekend with an outsourced team from Pakistan whom he paid just $60. The company pulled in more than $1 million in revenue during its first year and grew the email list to more than 200,000 over this same time period.
Nowadays, Kagan is based in Austin, where he still runs AppSumo, as well as his personal brand that he's growing quickly on YouTube and his podcast. His content is chock-full of marketing and business advice for entrepreneurs and business owners. His videos are tactical and pragmatic. Kagan often breaks down the successes of others with a case study or how-to approach so that his audience can try to replicate it. Noah's success is in growth hacking using plays from playbooks of YouTubers like MrBeast, Graham Stephan, and Peter McKinnon. As an example, Kagan recently gave away his Tesla in a YouTube video like the prolific Jimmy Donaldson.
Kagan's success hasn't come without its share of ups and downs. He is very candid about his childhood and how it helped shape him. He opens up with me right away about his father and how his father's own experience coming up in the business world and then losing everything as a result of addiction has shaped Kagan's own feelings and fears surrounding his career.
"My father has been an interesting motivator for me because he passed away too early, and he also lost all of his businesses," Kagan says. "For a lot of my career, I wanted validation from him. Like, 'Hey, I made it! I did something that you weren't able to do--be proud of me,' and I never really fully got that from him, so I think that did drive me in a way."
Kagan said that after seeing his father's successful business career take a downward turn, an irrational fear of that happening in his own life has been paramount in Kagan's thoughts. "I was afraid of making some of the mistakes me made," he says. "Like, all this business stuff, I finally made millions of dollars and now I'm going to lose it all. That was a common fear I've had. Even to this day, I think it's still subconsciously there."
Regardless of any fears that Kagan might struggle with, he continues to create, innovate, and help and teach business owners and entrepreneurs how to do their jobs better. One of the things that makes him such a great teacher is that he's relatable in his honesty and vulnerability. He's humble, never claiming to be an expert, and in this way he's very approachable in his YouTube videos and podcasts.
He, like many of us, struggles with imposter syndrome, a term he isn't a fan of, but he admits that when he feels doubts about whether he can help people with their businesses, he will still try it out on a small scale. "For me, if I have that doubt, there's actually a really simple thing that I do. I just go out and see if I can help one person," he says.
This year proved to be an important one for Kagan. He made some difficult choices after Covid hit to cut some losses, to make his life more focused, and to get more comfortable with the value of his own contributions in the business world.
"For the last few years at my company and what I've been doing professionally, I feel like I've just been calling it in," he says. He felt like it was time to ask himself some tough questions. "Like am I really showing up? Am I really present? Am I really fully engaged in the work I'm doing? I would say no. When Covid hit in March, I had a few people tell me, 'Hey, some of the things you've done have really helped me.'" Kagan said he didn't believe it at first, but he's gotten more comfortable with the idea that his work has value.
When you ask Kagan how he landed where he is career-wise, he'll tell you that he kept getting fired so he decided to do his own thing, but I think the reality is that he's someone who's built to do his own thing. He's someone who actively chooses to live life without permission and without shame and he pursues his passions with complete and total abandon.
When it comes to the content Kagan is putting out there, he may be spending more in production costs than what he's making in profit, but he's passionate about it and in his mind if it helps people it's worth it. "I think the thing about passion is, look at where you're spending your free time," he says "Look at what you are doing for free. This business stuff that I'm doing, like YouTube, I don't get paid much, but it's very fulfilling."
Watch my full-length episode of Behind the Brand with Noah Kagan here and get all the good stuff you need to reverse engineer your success!
Jan 4, 2021