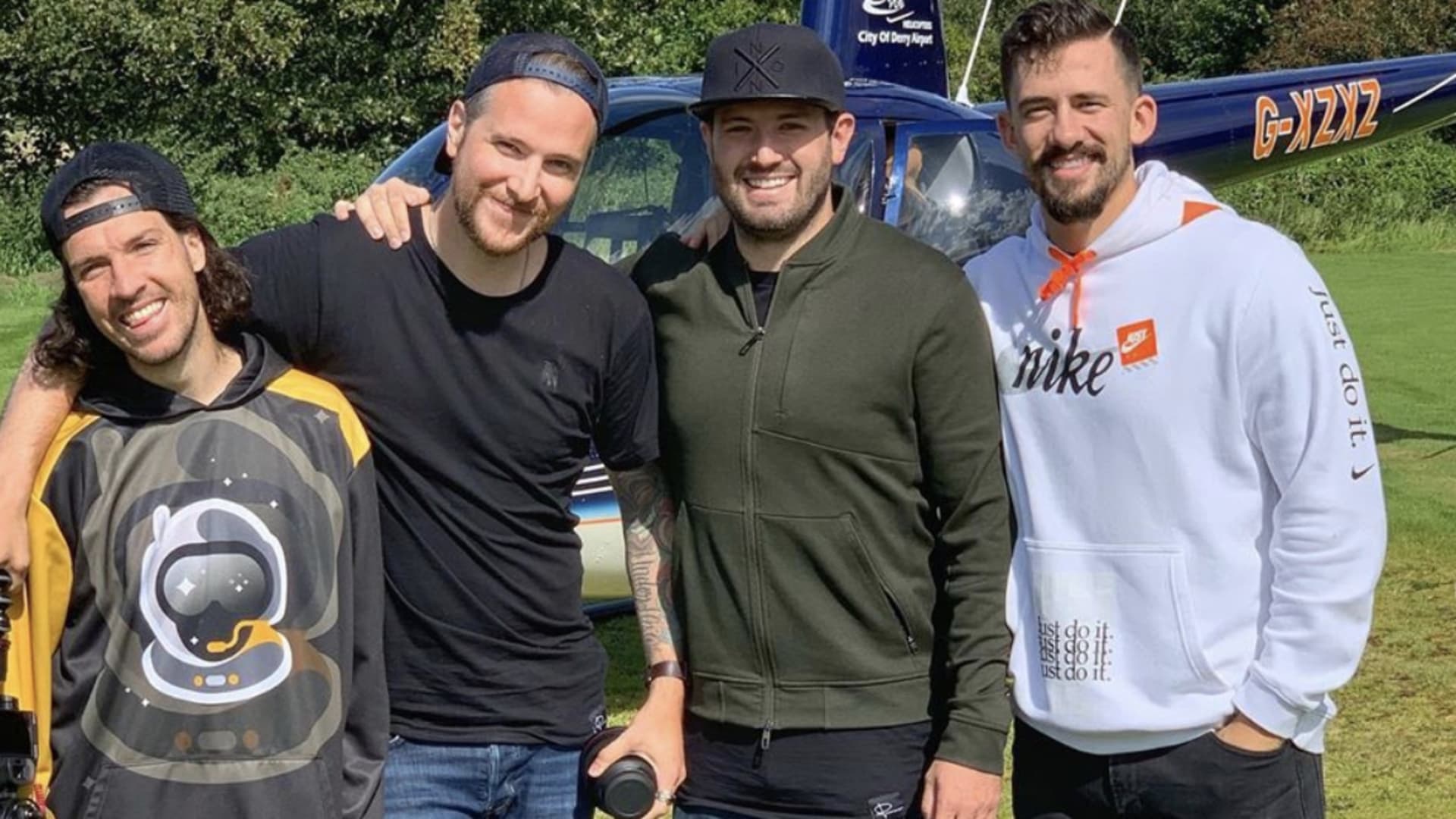 Shaun McBride is as nice and easygoing as they come, but don't let his chill vibe and cool exterior fool you. He's smart, ambitious, and is playing large in an already massive arena of emerging e-sports giants, funded by some of the biggest names in the business.
Like many other young men of his faith around the world, McBride served on a volunteer mission, spending two years in Honduras before college and a career. While traveling abroad, he saw people living very differently without an abundance of material wealth and possessions. And yet, most of the people there seemed perfectly happy and content. McBride returned home to his native Utah, inspired from his service with a renewed sense of making every day count. The impact of this trip flowed into his personal brand and thus: Shaun + Honduras = Shonduras.
McBride's life hasn't been all rainbows and unicorns. He's had his share of adversity. But despite setbacks, this very approachable grown-up skater has built his brand on being a YouTube influencer, family man, and e-sports phenomenon.
McBride was not one of the cool kids at first. He's the furthest thing from your typical Instagram model or influencer archetype. McBride has long scraggly hair with a beard, and mostly wears long-sleeve plaid shirts with a backwards baseball cap, giving the impression that he might work part-time at a skate shop.
In fact, he had his own shop for a bit--and might have even had a chance as a pro rider, but it never panned out. However, his love for skating never diminished and you can find him on a board most days getting in his reps, either around the office or at the near-full-size skate park he built in the backyard of his house.
He eventually abandoned the action sport industry for greener pastures in the e-commerce space. In the early stages of his startup life, McBride tried a lot of things but found the most success selling products online. He identified a demand for jewelry among Facebook moms and had great success even before Facebook Marketplace was a thing.
McBride is creative and artistic and decided to jump on Snapchat early, becoming one of its rising stars. His talents were recognized by big brands and the media, and he started getting paid to appear at major events and promote products, to lend his influence and bring his fans along for the ride.
On one occasion, McBride was offered a Forbes editorial feature for his work but it required him to travel from Utah to New York. Instinctively thinking about how to amplify the experience, he reached out to the popular NYC-based YouTuber Casey Neistat and invited him to share the spotlight. This was not a quid-pro-quo arrangement. There were no deals done or contracts to sign. Just pure intentions to become friends and see what happens when two smart people get together and talk about their expertise. To me, this genuine desire to do good without expectations is the essence of the Shonduras brand.
On Neistat's recommendation, McBride started putting more time and effort into growing his Shonduras YouTube channel and the rest is history. With more than 200 million views per month, McBride has launched new channels with huge success--like the one for his young daughter Adley, called A for Adley, which has close to three million subscribers. McBride works with brands looking to match their products and services with his style of programming.
McBride's philosophy is about surrounding himself with great people. His business partner, Sean Holladay, is that kind of person. McBride and Holladay were in Honduras together on their missions and stayed close friends. If McBride is the creative visionary, Holladay is the operator. From my vantage point, he's the eyes and ears, and heads up collaborations and brand deals. McBride and Holladay created an agency called the Spacestation, which acts like a parent company or conduit to support all their business activities. McBride has since added gamers and people from other genres to the Spacestation lineup. As brands see the value of moving traditional ad dollars to influencer marketing, it's a multi-million dollar empire that's growing at a ridiculous pace.
McBride has a magnetic way of attracting good people. He is a kid at heart and his quest for fun is mostly unrivaled, especially when he's in a group of his peers. As an example, photographer Pete McKinnon from Canada met McBride when they were both speaking at an event in Ireland. The bromance was almost immediate and both friends recognized similar interests in family, skate culture, and more. Holladay explained how Spacestation could support the rising YouTube star McKinnon to help bring in brand deals and manage other activities. McKinnon is now among several large influencers and gamers working under the wing of the Spacestation.
McBride saw an opportunity to jump into the massive e-sports arena when he heard about a team of Rocket League players who were talented but didn't have the funds to get to Europe to compete. He rallied to form a sponsorship for them via the Spacestation, to represent the players and formed a team to enter the tournament. While in Spain, the Spacestation team played well and were crowned world champions. Their e-sports portfolio is now one of the premier self-funded e-sports organizations. With over 60 players and coaches, the Spacestation is a powerful force.
According to a 2020 global e-sports market report, the total e-sports audience will grow to 495 million people in 2020, a year-on-year growth of more than 11.7 percent. E-sports has been around for a while but is just now starting to crest, with big players coming from professional sports, and music and entertainment investing in teams.
Forbes reported in October of this year that Guild Esports signed a $19-million deal with David Beckham before his investment; the list is long with other heavy hitters.
McBride offers some great business lessons in this episode of Behind the Brand. Although McBride and Holladay only got into e-sports in 2017, they credit their meteoric success and transition into gaming to having deep experience in the creator space--and of course surrounding themselves with good people.
McBride's activities now extend to outside investments in new products like the Magic Spoon cereal. It's the world's first low-carb, high-protein breakfast cereal. Magic Spoon was recently listed by Time magazine as one of the top 100 inventions in 2019. Spacestation Integrations was instrumental in launching the Peter McKinnon Nomatic travel bag for photographers and production professionals. It raised a record-setting $2.3 million from Kickstarter. McBride is also involved in creator conferences like VidSummit, in partnership with MrBeast (Jimmy Donaldson), and long-time YouTube expert Derral Eves. You can watch the full-length episode of Behind the Brand here:
Nov 18, 2020