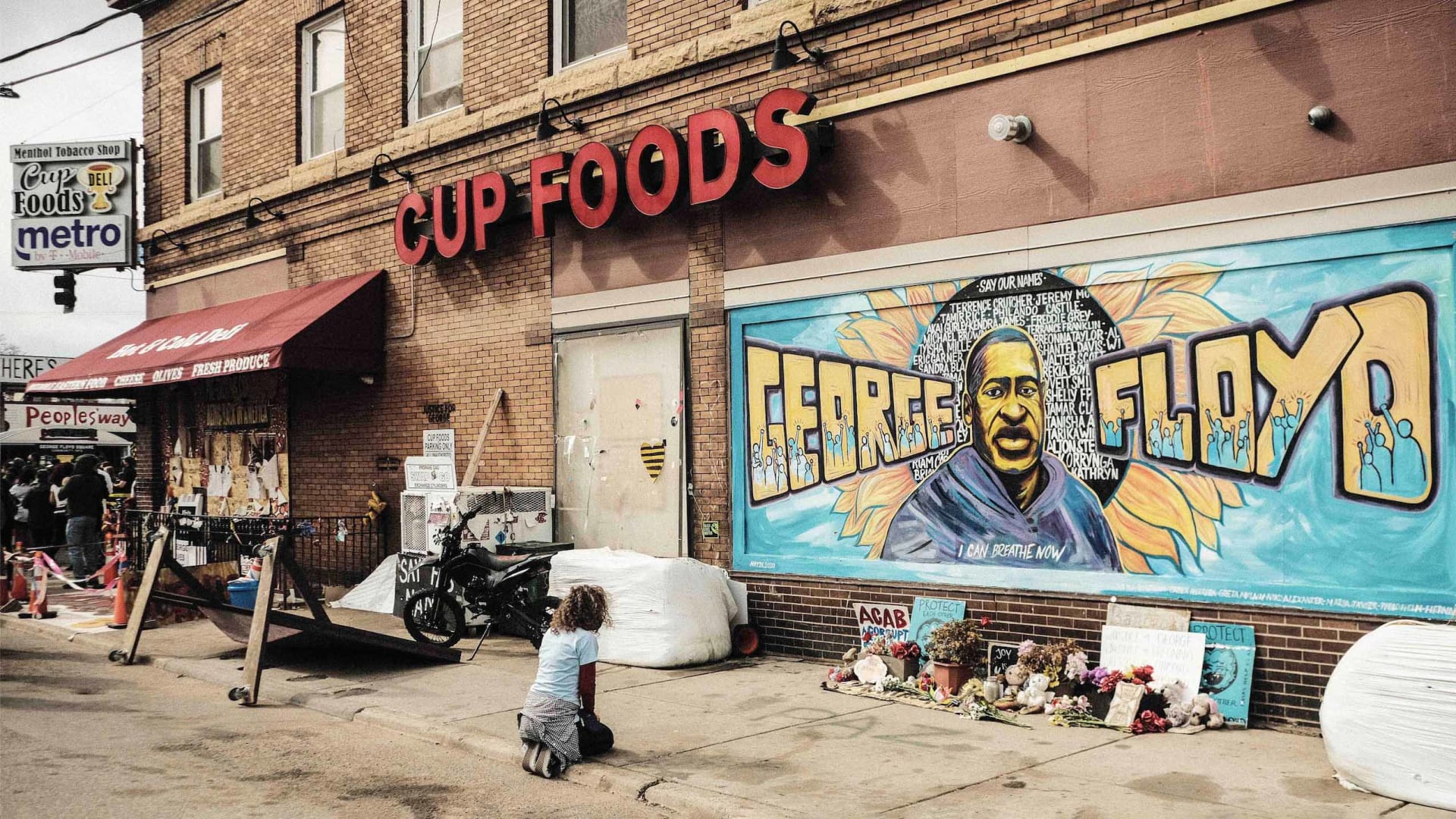 Every morning when Edwin Reed goes to work, about 100 yards from where George Floyd was killed, it all comes rushing back.
On May 25, last year, Reed left Sincere Detailing Pros, his Minneapolis-based car upholstery repair shop, around 6:30 p.m. A friend called hours later, saying someone had been killed near his shop. The next day, he learned that it was Floyd--a man he'd known for a decade, sharing time on the basketball court at the Blaisdell YMCA. "When I see the barriers, it feels just like yesterday," Reed says, referring to the barricades in the area around George Floyd Square that have closed the section off to most vehicular traffic for roughly a year now.
The barricades provide space for mourning and activism. They also present a distinct challenge for Minneapolis business owners, who say they've been cut off from city services, food delivery drivers, supply trucks, and, most importantly, customers. A city spokeswoman tells Inc. there's "no set timeline" for reopening the area--and in the meantime, Reed says, clients are scared to traverse the neighborhood following an uptick in local crime, and unwilling to drive through an alley to reach his business. Sincere is, Reed notes, "on the edge of collapse."
Indeed, many Black-owned businesses across the Twin Cities remain in dire straits, a full year after the dual shocks of the Covid-19 pandemic and intense civil uprisings hit home. Nationally, Black-owned businesses had been almost twice as likely to close during the pandemic, according to a Federal Reserve Bank of New York report last year. It's likely worse in Minneapolis, which has been beset by protest-related curfews in the wake of Floyd's killing and statewide pandemic lockdowns. Many of the city's surviving Black-owned businesses fear closure before the year's end.
"There's an inverse bell curve of what's happening with Black businesses," says Y. Elaine Rasmussen, founder and CEO of Social Impact Strategies Group, a St. Paul-based racial equity consulting firm. "There are the ones that are doing well, or they've carved out a niche for themselves. And then there are the ones that are ... on this road to devastation."
Some of Minneapolis's small-business owners have spent the past year working together to lend a hand so as many of their companies can survive as possible. Many in the community are also now pushing their city, state, and federal governments for funding and support for Minneapolis's Black entrepreneurs--aware that their location, on the anniversary of Floyd's death, gives them a national platform to potentially reach meaningful change.
"This has an opportunity to be a pivotal moment," Rasmussen says.
An Exhausting Year
In 2020, Minneapolis's grassroots organizations for supporting local entrepreneurship were busier than ever. The Northside Economic Opportunity Network, a local nonprofit that provides one-on-one mentoring for underserved entrepreneurs, took on more than 1,350 clients--up from just 714 in 2019. The Black Women's Wealth Alliance, which has provided wealth literacy, business strategy, and financial support to Black women entrepreneurs in Minneapolis since 2017, worked with 500 clients last year. This year, the company has worked with only 50 clients so far, according to founder and CEO Kenya McKnight-Ahad.
That surge is a sign of how many Black entrepreneurs desperately needed help. But many still need it--including Reed. In a normal month, he says, his repair shop can make $15,000 in profit. These days, Sincere earns roughly $1,500 monthly.
The city's community planning and economic development department recently offered area businesses $50,000 each in forgivable loans. While his application was approved, Reed calls the amount "a slap in the face" compared with everything he has lost, which includes, to some degree, his health. He says he had to start taking high blood pressure medication after Floyd's death, while seeing his business deteriorate sent his stress levels surging.
He's not alone. Enduring hardship can have "real, tangible consequences for business owners," says Maryam Jernigan-Noesi, an East Hartford, Connecticut-based psychologist and expert in racial trauma. That could include heightened stress, disrupted focus, sleeplessness, unhealthy eating habits, and the triggering of past racial traumas, she says--all of which can impact an entrepreneur's ability to function at peak performance.
Working Together
Seeing the toll that these combined crises were having on her community, last May, Rasmussen started hosting a series of week-long "Get Your S--- Together" webinars. Aimed at helping other Black-owned businesses pivot, the sessions often entailed getting local brick-and-mortar shops onto digital finance platforms like Square, PayPal, or Venmo.
Myriad businesses, nonprofits, and economic development groups in Minneapolis created similar initiatives. Over the summer, many of them banded together. In June, for example, Rasmussen folded much of her efforts into the Black Business Support Collective, a coalition of eight such organizations in north Minneapolis. Together, they handed out free personal protective equipment to Black entrepreneurs, and offered countless hours of support for Black businesses, including technical and business coaching on nights and weekends, often out of their own pockets.
"The moment of a pandemic, on top of an economic crisis, really pushed us to work even more fiercely together," Rasmussen says.
That sentiment is echoed across the community. The Lake Street Council, a nonprofit that advocates for businesses in Minneapolis's Lake Street district, has raised $12 million from 80,000-plus donors for shops struggling under the weight of the coronavirus and a summer of protests, which left some storefronts heavily damaged. The organization has disbursed $5.5 million in first-round grants so far.
In January, several business owners near George Floyd Square formed the 38th Street Black Business Collective after realizing their efforts to recover some of their lost revenue could be more powerful together. "We had to make a stand because no one is making any money," says Samuel Willis Jr., co-owner of barbeque restaurant the Original Just Turkey and a member of the Collective. Early group meetings--which were attended by the chief of police, mayor, city officials, and local politicians--helped pave the way for the $50,000 forgivable loan program in the first place, says Alicia D. Smith, a member of the Collective and local community organizer.
Fighting for Change
More can be done to support Black business owners--particularly on a national level, says Rasmussen. "We know that Black-owned businesses [usually] have fewer than 20 employees, and are often sole proprietors," she says. "Legislation needs to reflect that, so the money actually goes to the people and places that need it."
She is working with five policy groups advocating for measures like this to support Black businesses, on both city and statewide levels, including a dual set of bills in Minnesota's legislature. The bills would fund six organizations and initiatives supporting the state's underserved small-business communities.
Organizing and advocating on behalf of Black-owned businesses has taken its toll on Rasmussen, who is, after all, also running her own business. But it has also helped her cope. Jernigan-Noesi, the racial trauma expert, says activism can provide a measure of hope against the relentless nature of systemic racism. Otherwise, she says, people can easily fall into a state of hopelessness.
To Reed, that's a familiar sensation. The past year has left him feeling powerless, he says, and unsure what more he can do. So, he's relied even more on a familiar coping strategy of his own. "I go and I sit down at my desk," he says. "And sometimes, I pray."
May 25, 2021