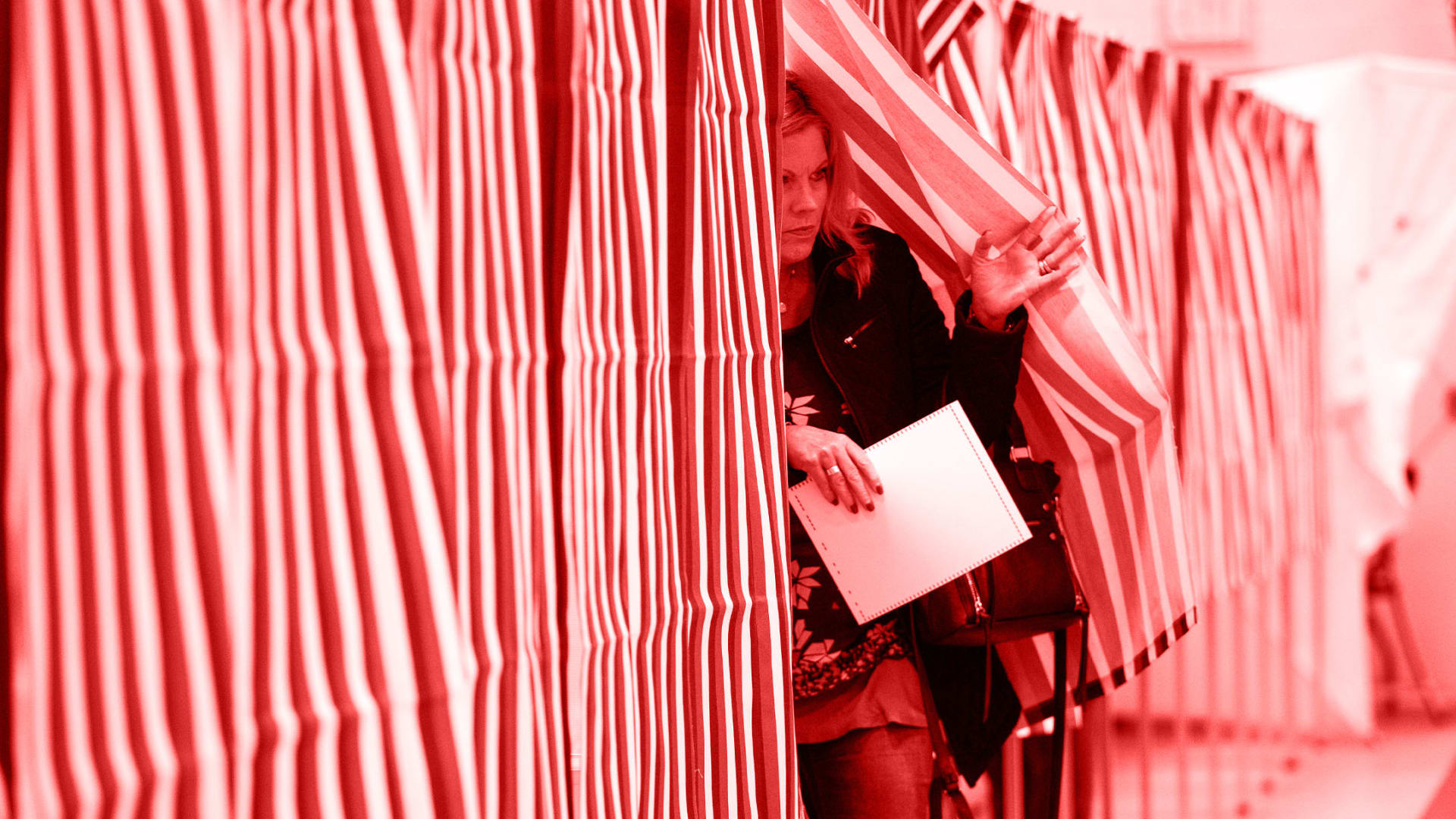 This post was updated November 12, 2020.
Between now and November 3, Americans in 32 states will vote on 120 ballot measures. Most of the proposals will have consequences for small businesses only in states where the measures are passed, but a few could create ripple effects across the country's entrepreneurial ecosystem.
Here are the five topics that small-business owners nationwide should keep an eye on.
The Gig Economy
Let's start with the big one: California's Proposition 22 puts the gig economy at stake. It proposes officially defining "app-based" rideshare and delivery drivers as independent contractors rather than employees.
Uber, Lyft, DoorDash, Instacart, and Postmates have collectively spent some $275 million supporting the proposition. And no wonder: Last Thursday, Uber and Lyft were specifically ordered by California's court of appeals to classify their drivers as employees. The companies say doing so will make their operating costs unsustainable, and that most drivers prefer the schedule flexibility enabled by their "independent" status. They also argue that the proposition would help keep their prices low for consumers.
Elected officials and labor unions argue that drivers, as contractors, are being exploited--deprived of health insurance, workers' compensation, and other traditional workforce benefits. That, they say, is especially problematic for workers who use driving as their primary source of earnings, a longtime core promise of the gig economy.
The outcome in California will likely inspire similar actions in other states, and could also prompt federal legislation. Both members of the Democratic presidential ticket, Joe Biden and Kamala Harris, support California's extant law, which was affirmed by the court's decision last Thursday. President Trump opposes it.
Taxes
If you're based in Colorado, buckle up. Your taxes could be affected by three separate ballot measures:
Proposition 116 would drop the state's flat income tax to 4.55 percent, from its current 4.63 percent. It's sponsored by Republican state senator Jerry Sonnenberg, who has specifically identified small-business owners as a group that would benefit from a mid-pandemic tax cut. Opposing groups say the state can't afford to lose funding, citing the pandemic's financial impact on public services such as education and infrastructure. (Update: Voters in Colorado approved Proposition 116.)

Proposition 118 would establish a statewide paid family and medical leave program, using a 0.9 percent payroll tax to fund the initiative. The new tax would be evenly split between employers and employees. Multiple business groups oppose the proposition, contending that companies can't afford a payroll tax in the current economic climate. Supporters say the program will make jobs across Colorado significantly more attractive, and the tax won't kick in for two years--theoretically post-Covid. Eight states and Washington, D.C., currently have similar programs. (Update: Voters in Colorado approved Proposition 118.)

Colorado's Amendment B aims to take on the state's dramatic imbalance between tax rates on residential real estate and non-residential properties (including office spaces). It would repeal the state's Gallagher Amendment, which has enabled that imbalance, and freeze the current rates of 7.15 percent and 29 percent, respectively. The amendment has rare bipartisan support, but isn't considered a slam dunk to pass becuase of its complex language and prevention of a large tax cut for homeowners next year. (Update: Voters in Colorado approved Amendment B.)
Four other states also have notable tax measures on the ballot:
Arizona's Proposition 208 would increase income taxes for anyone making at least $250,000 annually. (Update: Voters in Arizona approved Proposition 208.)

California's Proposition 15 would increase business property taxes, exempting business owners with $3 million or less in holdings within the state. (Update: Voters in California rejected Proposition 15.)

Illinois's Allow for Graduated Income Tax Amendment would repeal the state's constitutional requirement for a flat income tax structure, allowing legislators to institute a graduated income tax system that was preemptively signed into law last year. That system would raise income taxes for people making more than $250,000 per year, and lower them for people making up to $100,000 per year. Tax rates would remain the same for anyone in between. (Update: Voters in Illinois rejected the Allow for Graduated Income Tax Amendment.)

Washington's Advisory Vote 34 will gauge public opinion of a state law passed in February, which increased business and occupation tax rates by 0.25 percent for most businesses with more than $1 million in annual revenue. In Washington state, any new law creating or increasing taxes or fees automatically prompts a question on the state's next ballot to gauge public opinion--so this vote won't change that law, but it might influence lawmakers. (Update: Voters in Washington state rejected Advisory Vote 34, recommending a repeal of February's tax law.)
Data Privacy
California's Proposition 24 also has potentially nationwide implications: It seeks to rewrite large chunks of the California Consumer Privacy Act of 2018, which established the country's first major legal framework for online data privacy rights.
For California voters, this is a thorny one. The proposition would add a large number of specifics and exemptions to the original law; for example, it would reduce the number of companies bound to comply, restricting it to businesses that buy or sell the data of at least 100,000 households annually. It would also create a new state agency to enforce the law, relieving some of the pressure on the state attorney general's office.
The proposition is co-written by Alastair Mactaggart, a Bay Area real estate developer who helped push the original law into existence, and is intended to close some of the original law's loopholes. It's opposed by multiple digital and civil rights groups, including the American Civil Liberties Union of Northern California, largely because the proposition doesn't change the original law's "opt-out" provision (which allows companies to collect personal data by default, only stopping by individual requests).
The ACLU has also spotlit Proposition 24's exemption for "loyalty card" systems as a new problem: The measure would allow businesses to offer discounts in exchange for a customer's data, potentially leading to "pay-for-privacy" situations where websites could limit access to anyone who doesn't want their personal information tracked or sold.
California's biggest tech companies--including Facebook, Google, and Apple--have been surprisingly quiet on this one. Like the 2018 law, this proposition could create ripple effects across the rest of the country.
Minimum Wage
Florida's Amendment 2, also known as the $15 Minimum Wage Initiative, would incrementally increase the state's minimum wage to $15 per hour by 2026, from its current $8.56 per hour. After 2026, the minimum wage would be adjusted annually based on the U.S. Department of Labor's Consumer Price Index for Urban Wage Earners and Clerical Workers (CPI-W).
Seven states have passed bills to achieve similarly incremental minimum wage hikes to $15 per hour. Supporters of Amendment 2, including many labor groups and economists, say $8.56 per hour is an unlivable wage for the vast majority of Americans. Opponents, led by the National Restaurant Association and the Florida Restaurant and Lodging Association, say wage increases would catastrophically balloon small-business budgets, forcing business owners to cut jobs statewide.
Amendment 2 requires a 60 percent majority vote to pass. Florida last voted on a minimum wage ballot measure in 2004, when 71 percent of voters approved a series of wage increases (starting from $5.15 per hour) based on the CPI-W.
Update: Voters in Florida approved Amendment 2. The state's minimum wage will rise to $15 per hour by 2026, starting with a jump to $10 per hour on September 30, 2021.
Cannabis
This election season could see a potential boon for the legal marijuana industry. Recreational cannabis is currently legal in 11 states and Washington, D.C., and has been decriminalized in 16 states. This year, legalization is on the ballot in four states.
Arizona's Proposition 207 and Montana's I-190 would create state statutes legalizing recreational marijuana for anyone at least 21 years old, enacting taxes on marijuana sales, and starting the process of developing statewide regulations for cannabis businesses. (Update: Voters in Arizona and Montana approved both ballot measures.)

Montana's CI-118 would then make that legalization permanent by amending the state's constitution. (Update: Voters in Montana approved CI-119.)

New Jersey's Public Question 1 and South Dakota's Constitutional Amendment A would each legalize marijuana for anyone at least 21 years old, doing so through state constitutional amendments. South Dakota's amendment would additionally require its state legislature to legalize medical marijuana--done separately so the state can control the number of business licenses allotted for recreational and medical dispensaries--and hemp sales by April 2022. (Update: Voters in New Jersey and South Dakota approved both ballot measures.)
Varying forms of medical marijuana are currently legal in 33 states and Washington, D.C., This year, medical cannabis is on the ballot in two states:
Mississippi's Ballot Measure 1, which would legalize medical marijuana for certain patients, is broken into two potential alternatives:

Initiative 65 would legalize marijuana for more than 20 qualifying conditions and align marijuana's sales tax rates with the state's current 7 percent sales tax. (Update: Voters in Mississippi approved the Initiative 65 version of Ballot Measure 1.)

Alternative 65A would only legalize marijuana for terminally ill patients, and would defer details like tax rates to the state's legislature.

South Dakota's Initiated Measure 26 would legalize medical marijuana for anyone with a "debilitating" medical condition, as verified by a doctor. (Update: Voters in South Dakota approved Initiated Measure 26.)
Oct 29, 2020