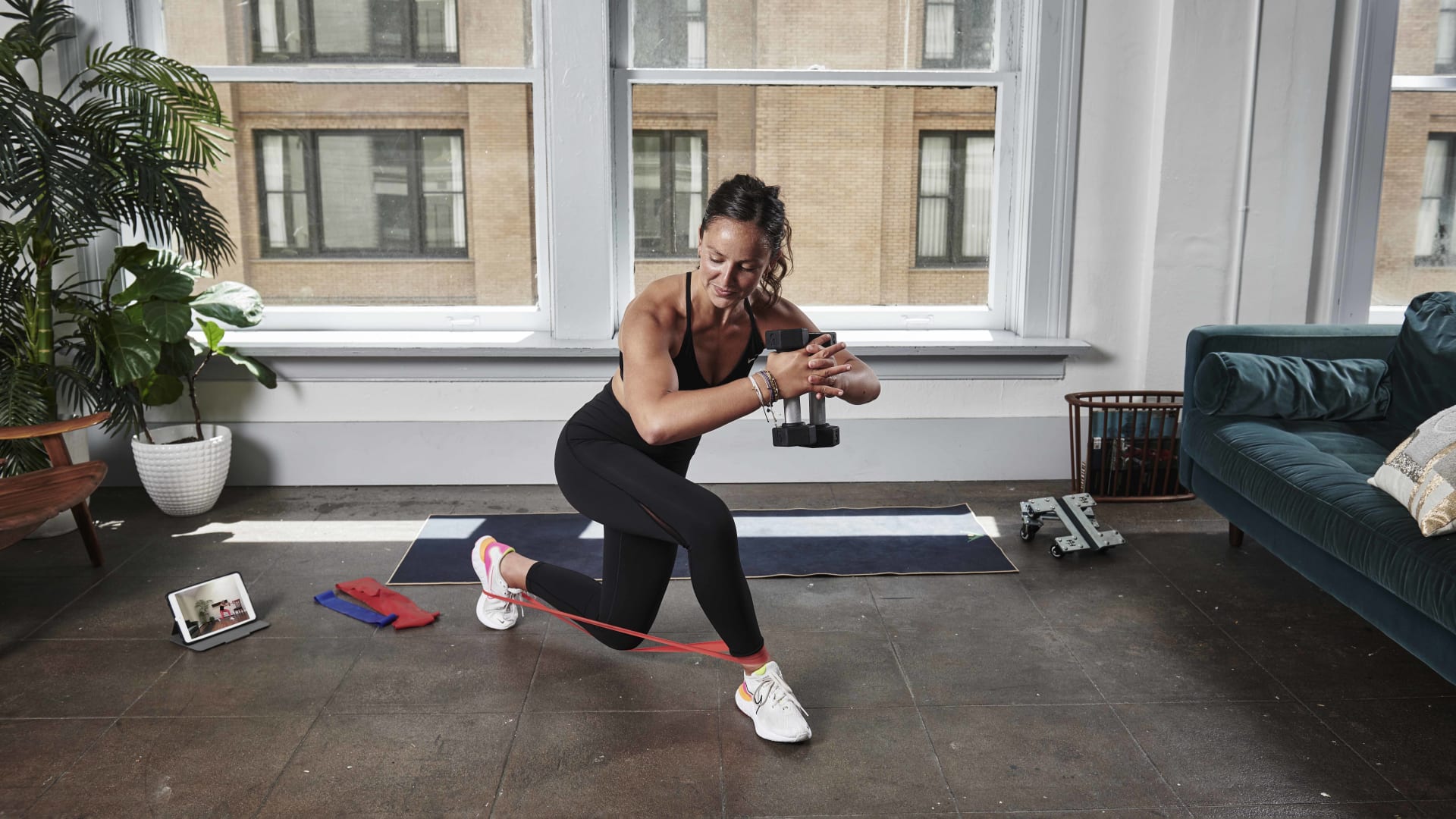 Eight months ago, Lucy Sexton and Durran Dunn would have agreed: At-home workouts could never surpass the experience of going to the gym or attending a fitness class.
Sexton, a New York City-based boutique fitness instructor, quickly found herself out of a job--so she teamed up with another instructor she knew, Tracy Carlinsky, to host classes on Zoom. Soon, they had 70-plus people in each class. An entrepreneurial opportunity was born: In July, the pair launched Bonded by the Burn, an online, subscription-based workout platform charging $30 per month for access to both live video workouts and pre-recorded sessions ranging from 10-70 minutes long.
Dunn, an Atlanta-based accountant and former competitive sprinter (who still moonlights as one of the men portraying the Atlanta Braves's fleet-footed mascot The Freeze), also spotted opportunity. He'd long dreamed of opening a gym, and Covid-19 sent prices plunging, as gym owners nationwide shut down their businesses and equipment manufacturers desperately tried to offload supply. In late June, he paid an undisclosed amount--significantly below market value, he says--to assume the lease of a gym in Marietta, Georgia, and become the proud new franchise owner of Anytime Fitness East Cobb.
Together, Sexton and Dunn represent the two sides of the fitness industry's existential struggle as the pandemic rages on. Sexton's startup functions under the assumption that people won't ever want to return to in-person workout classes. Dunn says he's sure that in-person fitness will return with a vengeance, making this the perfect time to buy low. And while there could eventually be room for both approaches post-Covid, the short-term stakes are plenty high.
Betting on digital
By and large, the fitness industry has struggled this year. Revenue has plunged at gyms and fitness studios: Planet Fitness, for example, revealed on Friday in an SEC filing that its revenue since January has fallen precipitously: $272.8 million, compared to its revenue of $479.3 million during the same time period last year.
Yet, perhaps predictably, some e-commerce and digitally native offerings are thriving. Peloton's Friday SEC filing says the company made $757.9 million in revenue from July through September, more than triple the $228 million it generated over the same period a year ago. Nautilus, which owns the Bowflex at-home fitness brand, on Monday reported $363.3 million in revenue so far this year, up from $205.1 million this time last year.
Those trends may continue for some time. Fifty percent of U.S. consumers simply aren't comfortable returning to gyms yet, according to a September report from market research firm Mintel. And the industry's central question--will those consumers want to return to gyms or workout studios once they feel comfortable doing so?--is unlikely to be answered until a Covid-19 vaccine reaches widespread adoption across the U.S.
Sexton, the daughter of Natalie's Orchid Island Juice Company founder Marygrace Sexton, says she's become a digital convert this summer. Bonded by the Burn's subscription model is significantly cheaper than the $40 per class she used to charge pre-Covid, and the digital space means users can peruse an effectively unlimited variety of on-demand content. "I was so anti-digital before," she says. "I just thought that it didn't feel very honest. I loved teaching people in-person. But I definitely think the pandemic has proven me wrong."
Startup costs are lower for digitally native brands: Carlinsky and Sexton have only spent money on their subscription platform, filming equipment, lighting, and digital marketing campaigns. In just four months, they've already turned that into more than 250 monthly subscribers.
Yet the business could collapse if those subscribers eventually return to their old in-person workout routines. "The one difficult part of what [Lucy is] doing is that one-on-one customer loyalty relationship-building that happens inside the studio," says Natalie Sexton, who runs marketing for Natalie's Orchid Island and has been advising Bonded by the Burn since July (the two Sextons are sisters). "You can never replace that in digital."
High-risk, high-reward
Dunn is making the opposite bet. Since reopening Anytime Fitness East Cobb, he has attempted to transform it from a standard suburban gym to an athlete-centric training facility. The new focus, he says, has created a sense of shared responsibility among both employees and the 300 members he inherited from the previous owner, helping them all collectively take infection risks more seriously.
A single outbreak could shutter his doors for weeks and permanently damage his gym's reputation--but Dunn says he hasn't experienced any Covid-related issues yet. The gym is open 24/7, and Dunn encourages workouts during off-hours to keep occupancy low. Members have a personalized key fob to enter the facility and get their temperature checked at the door. Masks are mandatory for staffers--though not for members--and cleaning stations are spread across the workout floor.
Financially, Anytime Fitness East Cobb is staying afloat thanks largely to subscription fees from those 300 extant members, meaning Dunn could be well-positioned for monetary gain if he can eventually grow the location's membership. Whether he'll be able to do that--much less withstand worsening conditions if the business has to shutter because of the pandemic--is still anyone's guess. But he's confident anyway.
"The truth is, none of us--not one of us, no matter how much we predict--really know what's going to happen," Dunn says. "If you're going to go for it, if you want to swing for the fences, this is probably the time."
Nov 13, 2020