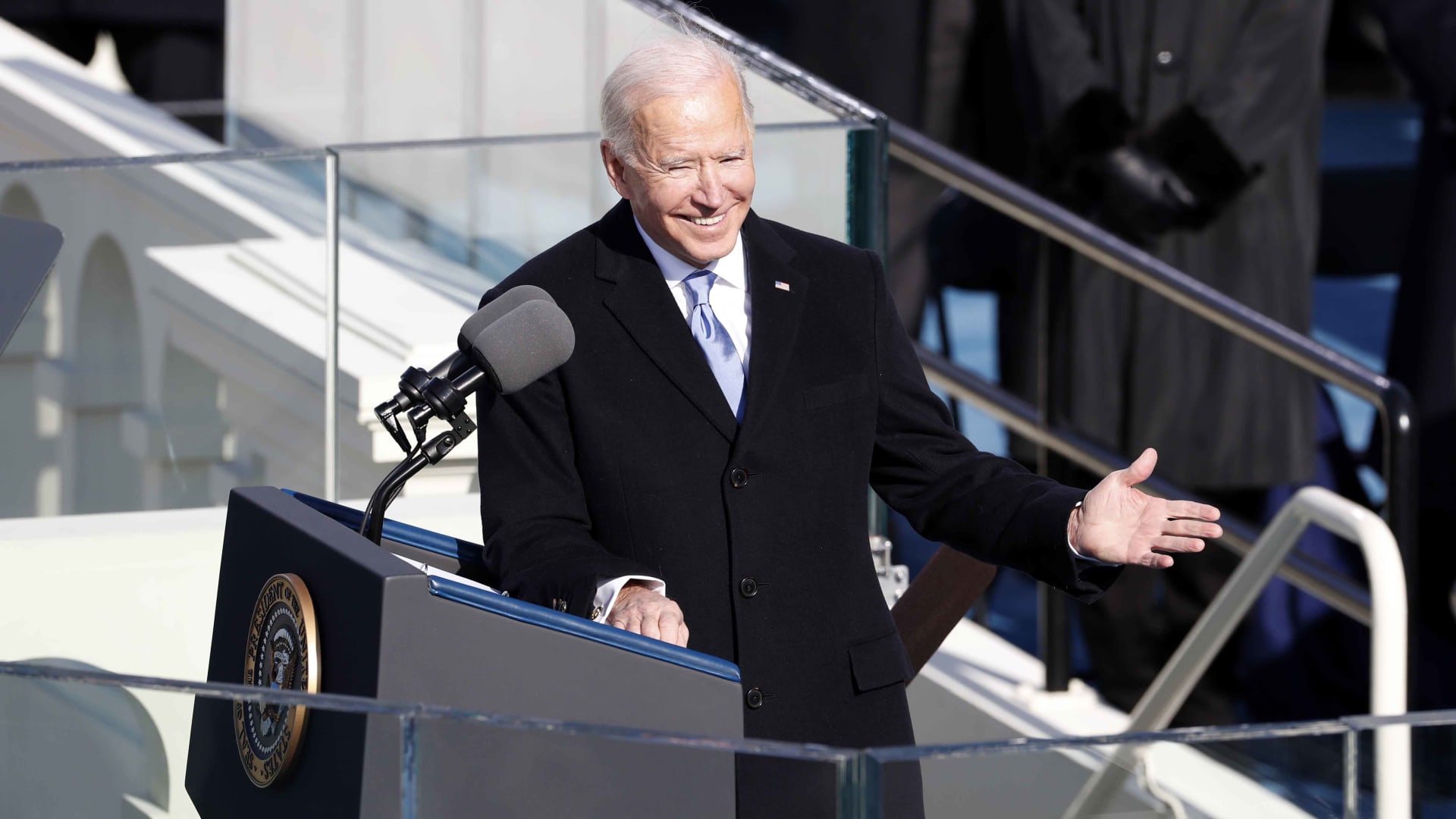 President Joe Biden has a one-word plan for tackling the Covid-19 crisis, record unemployment, a faltering economy, and more: unity.
On Wednesday, Biden was sworn in as the 46th president of the United States--and in a commanding speech, verging on emotional at times, he laid bare both the steep challenges facing Americans and his hopeful plan for a national recovery. "Few people in our nation's history have been more challenged--or found a time more challenging, or difficult--than the time we're in now," Biden said, citing the country's 400,000-plus Covid-19 deaths, millions of jobs lost, hundreds of thousands of businesses closed, and outcries over racial injustice in just the past year. "Overcoming challenges, to restore the soul and secure the future of America, requires so much more than words. It requires the most elusive of all things in a democracy: unity."
Biden's 21-minute speech followed the example of many prior inaugural addresses, emphasizing inspirational rhetoric above concrete policy. Yet it nodded toward Biden's priorities as he takes office and begins to implement his presidential agenda, which is expected to start with a series of 17, day-one executive orders aimed at combating Covid-19, bolstering the economy, and undoing his predecessor's policies on immigration and climate change. Biden is also expected to formally present his $1.9 trillion Covid-19 relief plan, dubbed the "American Rescue Plan"--which includes $440 billion for communities and small businesses--before a joint session of Congress next month.
In his inauguration remarks, the new president focused largely on combating the political divisions that led to violence, extremism, and the domestic terrorism that overtook Capitol Hill--the spot where Biden stood while delivering his speech--just two weeks prior. He also cited joblessness, health care, and economic insecurity as major obstacles to building a "more perfect union."
"I understand that many of my fellow Americans view the future with fear and trepidation. I understand they're worried about their jobs. I understand, like my dad, they lie in bed wondering, 'Can I keep my health care? Can I pay my mortgage?'" Biden said. "But the answer's not to turn inward, to retreat into competing factions--distrusting those who don't look like you, or worship the way you do, or don't get their news from the same sources as you do. We must end this uncivil war."
The president also hinted at international priorities that could reestablish America's presence on the global stage, including a possible repudiation of Donald Trump's trade policies, a likely move to reenter the U.S. in the Paris Agreement on climate change, and a reopening of the country's doors to immigrants. "We will repair our alliances and engage with the world once again--not to meet yesterday's challenges, but today's and tomorrow's challenges," Biden said. "And we'll lead not merely by the example of our power, but by the power of our example."
If anything, the speech marked a return to stability in the executive branch, at least contrasted with Trump's penchant for unpredictability in executing policy. Biden, first elected to the Senate as a 29-year-old, now takes office as the nation's oldest incoming president, at 78. "On this January day, my whole soul is in this," Biden said on Wednesday. "Bringing America together, uniting our people, uniting our nation. And I ask every American to join me in this cause."
Jan 20, 2021