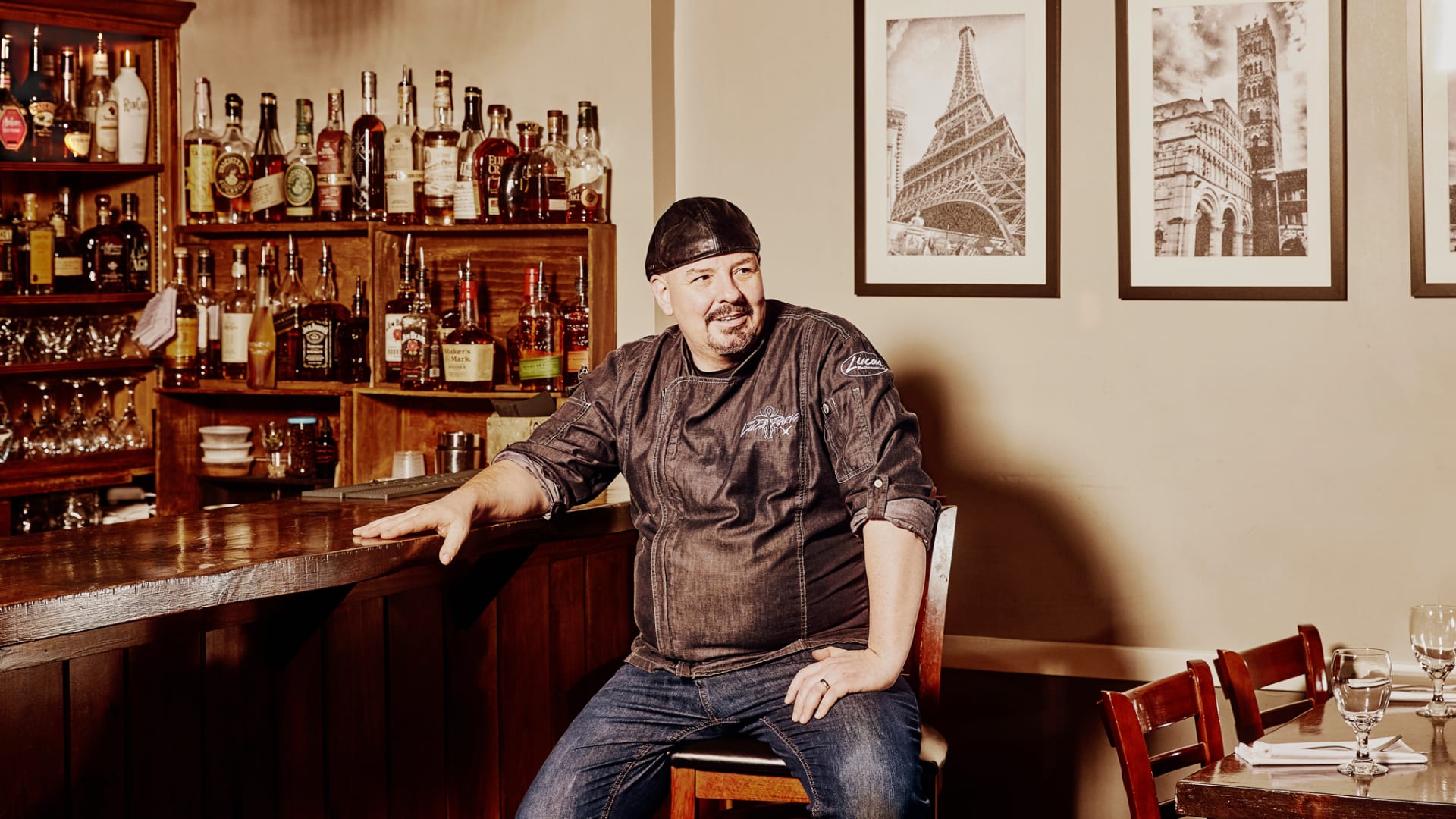 Luca's Mediterranean Café just recorded the best March in its 20-year history: $20,000 in weekly sales.
It was a far cry from March 2020, when the Keene, New Hampshire, restaurant's founder, Luca Paris, had to shut his doors to in-person dining as a result of the Covid-19 pandemic. Though his café, located less than a mile north of Keene State College, is typically teeming with in-person diners, it switched to takeout-only last March--and remained that way for three months, when it reopened to 60 percent capacity (plus four outdoor tables) in mid-June.
Now that the vaccination rate is starting to pick up and the weather is getting warmer, Paris's eatery is also turning around. But if you ask him, his business's survival has everything to do with the helping hand he received from his neighbors.
"Most of us, as a community, jumped in with both feet to say, 'We need to stay positive, strong, unified, and help each other out,'" says Paris. "It's a true statement of what can happen when a community gets together. They can do just about anything."
During the depths of the crisis, when many small towns took one look at the pandemic and winced, Keene's business community opened wide. Between crowdfunding campaigns and coordinated sales efforts, the town came to its own rescue. The experience now serves as a heartening example of what can happen when a community pitches in and business owners work together.
Virtuous Circle
It all started on the morning of March 17, 2020. The city's mayor, George Hansel, hosted the first in a series of Zoom calls, inviting various members of the community to each. More than 100 people attended the first meeting for small-business owners.
Paris gathered local restaurant owners and other state officials on his own Zoom calls, and soon, those restaurant owners were buying their staffs lunches from neighboring eateries to help keep one another afloat. Other local entrepreneurs staged similar campaigns that have since raised tens of thousands of dollars for the downtown district over the past year.
The fundraising campaigns have served as mini-stimulus checks for the local economy. Last month, Paris spearheaded a crowdfunding effort that raised $30,000, including $10,000 from his nonprofit, Culinary Journeys, to buy gift cards from Keene restaurants. He distributed them with a request: Use this card as quickly as possible, and spend at least double its balance.
Giving to others became a virtuous circle, says Ted McGreer, the owner of Ted's Shoe & Sport, Keene's sporting goods and specialty footwear store. McGreer recalls what it was like to shutter his store for three months early on in the pandemic: He says he saw the best and worst of people. Theft rose in the business district, and the bagel shop across the street had to call the police approximately two dozen times for mask-mandate violations. Yet a group of longtime customers purchased $4,000 in gift cards, which they promptly handed back to McGreer--pay it forward, they said. So, McGreer donated sneakers to grocery-store workers and winter boots to homeless shelters.
Change, for Good
It also led to unique business moments. McGreer says he sold 500 pairs of shoes via Zoom. He also organized a virtual 5K run fundraiser that collected $25,000 for 80-plus local merchants. When sales rose again in March, they jumped above pre-Covid levels: up 17 percent, compared with March 2019. In April, McGreer made the most sales over any 13-day period in company history.
"That stimulus check is working," says McGreer, of the federal economic impact payments most Americans received under both Presidents Trump and Biden. "But I really want to believe that because we scratched and clawed and kicked and did everything we could to service our community and keep our business open, people really remembered that."
What else will they remember? That feeling of coming together, and working toward a common goal, says Paris. While it's true that competitors joined ranks and consumers stepped up during the pandemic, that unity and good will doesn't have to fall away when things normalize, he says.
"We're not competitors in this," says Paris, referring to the concept of working together even after the pandemic. "We all look for a piece of the pie, locally. But if we create a bigger pie, we don't have to compete."
May 5, 2021