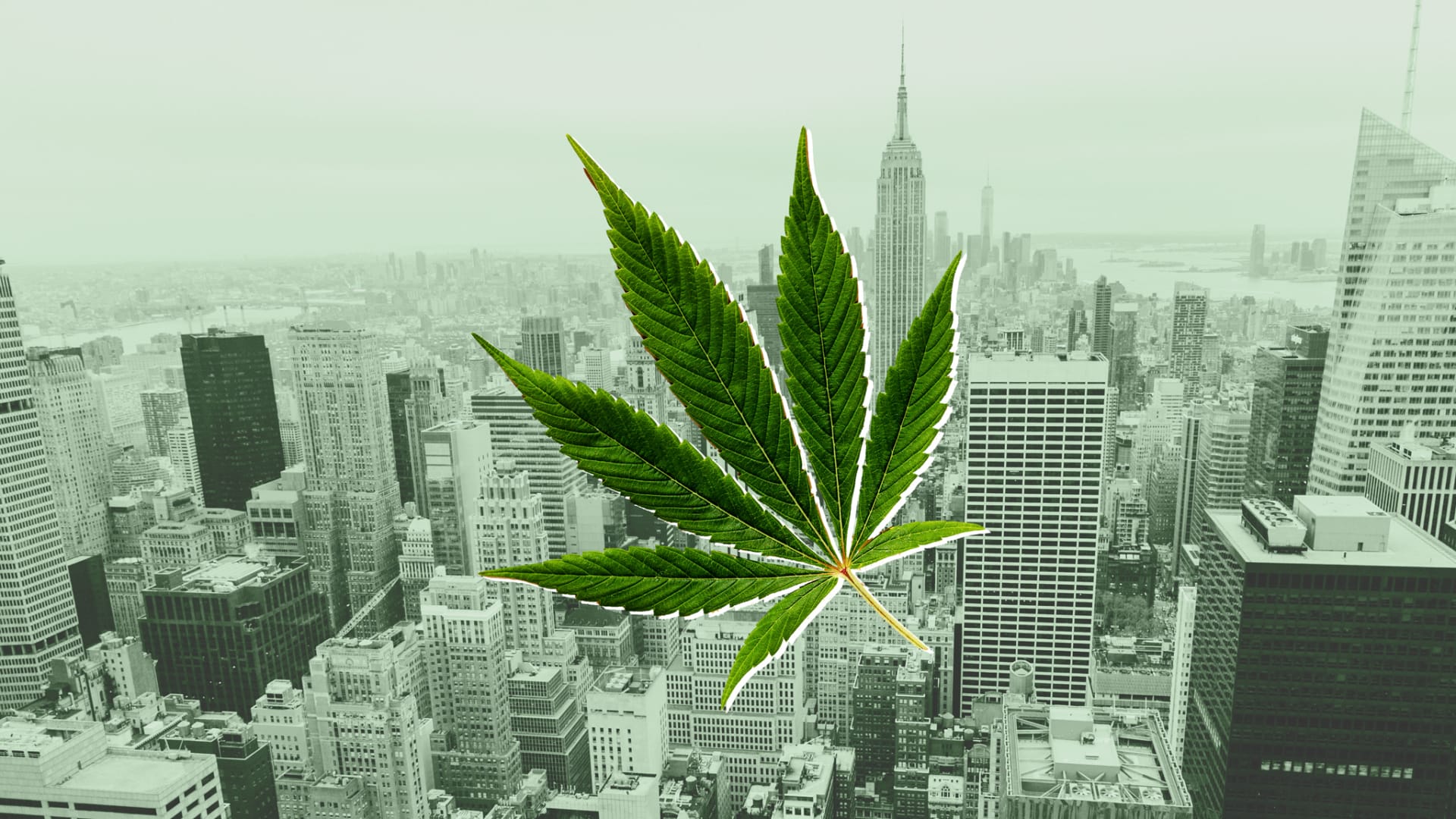 Despite being 1,000 miles away from New York during a business trip to Tampa, Claire Moloney could hardly contain her excitement for the news that hit last Wednesday: Governor Andrew Cuomo on March 31 signed into law a bill that legalizes recreational marijuana use--making New York the 15th state in the nation to do so.
"We knew that New York was just a matter of time," says Moloney, the East Coast regional director at New York City-based wholesale cannabis startup LeafLink. "It's so exciting to us for this day to finally be here."
The new law, the Marihuana Regulation and Taxation Act, provides a framework for a statewide adult-use industry that could quickly become one of the world's largest--an exciting prospect for legions of businesses that are poised to expand operations in the state. Retail sales could begin as early as spring 2022.
Moloney, for one, plans to partner with cannabis companies from other states, helping them ease into New York's market while expanding the size of LeafLink's wholesale network. "There will be a lot of really exciting entrepreneurial energy in New York from day one," she says. "You can already feel it. There are a lot of emails going back and forth already about who's trying to get a license [or] wanting to partner together."
The legal market's first year of sales could deliver at least $1 billion in sales, according to both published studies and internal projections from cannabis companies, with the potential to reach $4 billion by the end of the decade. Legalization is also expected to support tens of thousands of jobs, along with a significant new tax revenue stream for the state, which is a particularly welcome development for the region's post-Covid economic recovery. The Cuomo administration estimates collecting at least $300 million in taxes from cannabis sales annually.
Notably, the bill's "social equity" clause creates significant opportunity for small business owners and aspiring founders. It recommends that 50 percent of cannabis licenses--to be allocated by a soon-to-be-formed Cannabis Control Board and Office of Cannabis Management--go to minority- or women-owned businesses, distressed farmers, or service-disabled veterans. The clause is meant to support entrepreneurs in communities historically targeted by state and federal drug laws. Functionally, it could prevent large cannabis companies from immediately eating up too much market share--presumably helping local mom-and-pop shops compete with behemoths.
Yet major questions remain around access to capital, the timeline for the new industry's maturation, and whether the state's small-business support will be sustainable over time. The answers will be crucial for any entrepreneur hoping to join the fray.
The big capital question.
Every startup founder's top challenge is access to capital. In the cannabis industry, that challenge is compounded: As cannabis remains illegal on a federal level, federally insured banks and credit unions can't issue loans to cannabis companies.
The need for capital pushes some startups into venture funding, or they eventually look for an acquirer or go public in Canada. That fundraising path reinforces a familiar consequence for many underrepresented founders, says Hillary Peckham, co-founder and COO of Brewster, New York-based medical cannabis startup Etain: White male VCs tend to fund companies led by other White men.
That obstacle could soon become mitigated by the law's social equity clause. "Because of the war on drugs, entire communities have been stripped of generational wealth," says Morgan Fox, a spokesman for the Washington, D.C.-based National Cannabis Industry Association. "There are many, many people out there who don't have access to angel investors or financial networks or venture capitalists."
New York's legislation advises its new Office of Cannabis Management to establish state-backed loans at low interest rates for cannabis companies. That program's details are yet unclear, and success will likely be judged by how many startups remain active a few years after entering the market: Many cannabis startups get acquired after the founders experience the acute financial pain of their first couple of tax seasons, Peckham notes.
"It's really hard to make money in this industry, much less break even," she says.
Supply and demand.
For New York's extant cannabis companies, the new law presents both opportunity and challenge: If they want to keep their medical licenses, they'll only be able to sell adult-use products in up to three retail locations.
Curaleaf is the world's largest cannabis company by annual revenue, making a record $626.6 million last year while selling medical or adult-use cannabis in 23 states. It'll offer adult-use inventory in those maximum three stores, says Northeast regional president Patrik Jonsson, while joining the wholesale market to sell products in stores owned by other retailers.
"We might only have eight stores in New York, but there are going to be 800 stores in New York and only 20 or 30 growers," Jonsson says. "The ultimate goal is to have Curaleaf and our other brands available in most of these stores."
For now, those numbers are hazy estimates, given the unclear timeline for the New York market's public launch and uncertainty over how many cannabis licenses New York will issue. Jonsson predicts that consumers will be able to start buying in the second quarter of 2022. Etain's Peckham says 2023 is far more likely, since the product takes time to grow--and you can't rush nature.
No matter the timeline, they all agree: Once New York's market launches, demand will far outstrip supply for years to come. "This is Prohibition 2.0," says Ben Kovler, founder and CEO of Chicago-based Green Thumb Industries, referencing the thousands of people who rushed Times Square to celebrate the end of alcohol prohibition in 1933. "History rhymes. That same thing is going to happen again."
Apr 7, 2021