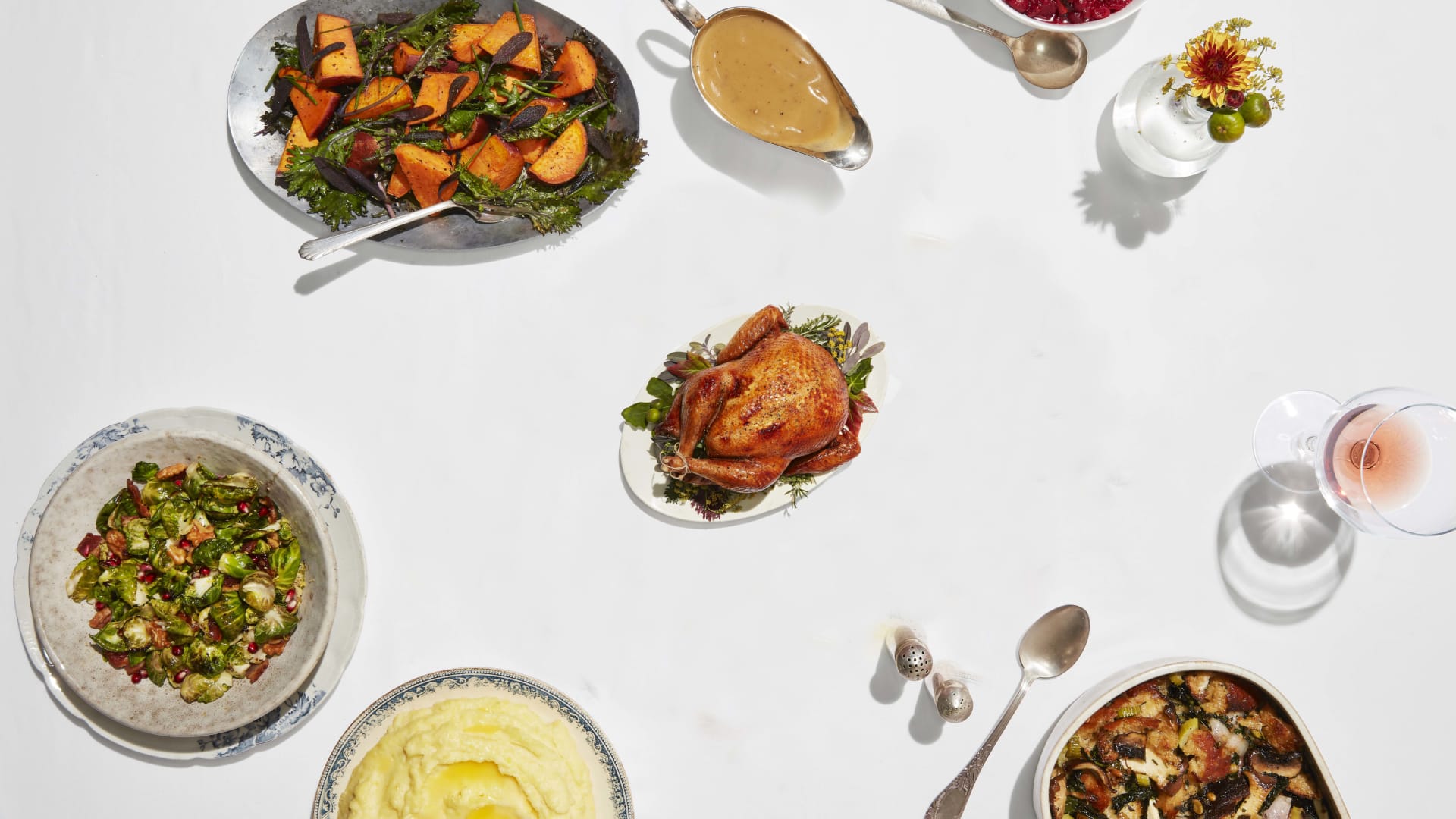 Joe Gilbert built the longhouse himself: Two stories of red wooden slats and slate-grey roofing, a facade festooned with lanterns and seasonal greenery. Out back lies 22 acres of greenhouses and farmland. In front, a maroon sign that reads: "The Berry Farm."
Since 1982, the Chatham Berry Farm--based eponymously in Chatham, New York, 125 miles north of New York City--has sold local organic produce, beginning in its early days as Gilbert's roadside farm wagon. More recently, the 25-employee shop has become a regional hotspot for Thanksgiving turkeys--selling roughly 400 of them annually, the maximum it can safely house without a dedicated meat storage facility, for between $3.99 and $5.99 per pound. For years, sales have been consistent: Turkeys sell out a day or two before Thanksgiving, with a few inevitable last-minute order cancellations allowing folks to still pick up emergency poultry on Thursday morning.
This year is different. The Chatham Berry Farm sold out of turkeys on November 13, almost two weeks before Thanksgiving, and the phone continues to ring off the hook with orders the farm can't fulfill. "The staff here now, we're kind of calloused over from the steady, revolving door of customers coming through," says Alexia Baker, a greenhouse manager and longtime jack-of-all-trades staffer.
The Berry Farm isn't alone in its newfound turkey fame. As Covid-19 infection rates spike across the country, more Americans are eschewing traditional family gatherings and staying home on Thanksgiving. But they're still cooking, and their need for provisions--albeit on a smaller scale--has escalated, sending the businesses that cater to the holiday scrambling to adjust to rapidly changing levels of food supply and consumer demand. How they've adjusted is instructive for any entrepreneur, especially those eyeing upcoming e-commerce bonanzas like Black Friday, Cyber Monday, and the rest of the holiday shopping season.
Omaha Steaks, an Omaha-based mail-order company whose inventory includes whole turkeys, trimmings, desserts, and entire pre-made Thanksgiving meal kits shipped to consumers in dry-ice coolers, saw a similar demand shock. By early November, it had already received two-and-a-half times as many turkey orders as it did last year, according to Omaha Steaks president and COO Nate Rempe. Omaha Steaks also sold out of whole turkeys on November 13, leaving its website to advertise Thanksgiving meals built around sliced hams, pork loins, or prime rib roasts.
"We have never seen the types of demand for Thanksgiving turkey that we've seen this year," says Rempe. "There just isn't enough inventory to supply the demand."
Yet, Omaha Steaks had a leg up on the competition. Last month, the company commissioned a Harris Poll of more than 2,000 U.S. adults. It found that more than half of respondents were planning Thanksgiving celebrations with five people or fewer this year. Thirty-three percent planned to order pre-made Thanksgiving meals instead of cooking for themselves. Similarly, one in three poll takers were planning a "Zoomsgiving" of some kind. (On November 10, Zoom announced that it will lift its 40-minute time limit for meetings on free accounts for Thanksgiving Day.)
Upon reviewing the numbers, Omaha Steaks shifted its sales focus, prioritizing medium-sized meals over its standard large-family and single-person servings. "We knew we were going to see this inflated demand, and that [we] were basically going to be in holiday mode," Rempe says.
The surge has extended well beyond poultry. Vegetable-based noodle and rice alternative maker Cece's Veggie Company says seasonally themed side dishes like roasted harvest veggies and delicata squash fries have been dominating sales for roughly a month now. Even the company's staples, like zucchini noodles or riced cauliflower, are up 20 to 40 percent compared to last year, says Cece's founder Mason Arnold.
"We think a lot of this has come around cooking fatigue," says Arnold, whose Austin-based startup ranked No. 3 on last year's Inc. 5000 list of the fastest-growing companies in America. "People have been cooking at home for so long that now, they are looking for shortcuts to reduce the amount of time it takes them to prepare a meal."
Such unexpected demand--plus of course, a global pandemic--can heavily skew a company's projections, which has major ramifications when your products have relatively short shelf lives. Arnold's solution: Tighten up on inventory, ask vendors to stay flexible, and stay on top of the data--which now includes state-by-state Covid-19 tracking, in addition to his normal business metrics. "It adds a little bit of stress, you know?" he says.
But don't give too much credence to this year's results, business owners say. Ordinarily, such a sales boost might lead you to revise projections for the following year. Rempe isn't biting, saying he doesn't necessarily trust any data coming from 2020.
Baker from the Chatham Berry Farm agrees: The farm isn't going to base any future projections off this crazy year. But it might stock more turkeys in 2021 regardless, because of a new building currently under construction: A meat and seafood processing facility, which could expand the farm's annual poultry storage by up to 200 birds.
Local contractors have already erected the facility's external structure and added insulation to the walls. The next step is pouring the concrete. It's another sign of growth: After 38 years, it'll be the farm's first building that Gilbert didn't build himself.
EXPLORE MORE Inc. 5000 COMPANIES
Nov 23, 2020