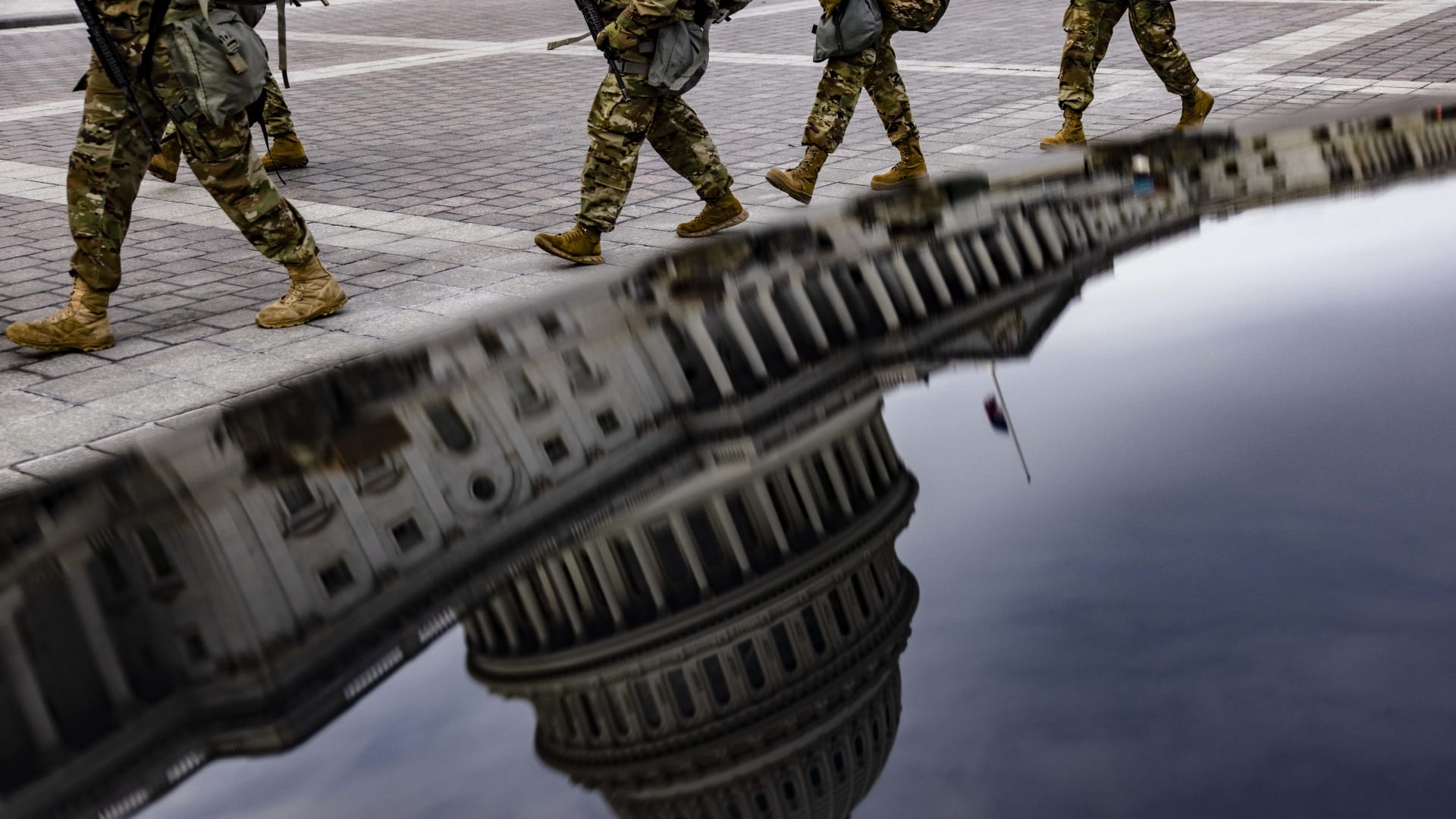 Rudo Robinson has a message for you, courtesy of his 10 years running one of the fastest-growing private security firms in the country: Unless you work in the security industry, stay secure at home on Wednesday if you live in a city that has been threatened by President Donald Trump's supporters.
That's especially true in Washington, D.C. Business closures are rampant throughout the nation's capital this week, in anticipation of potential trouble on Wednesday, the day of President-elect Joe Biden's inauguration. In a video released by the White House on January 13, Trump condemned the prior week's violence and asked for calm. But caution still prevails. Roads and Metro stations are closed, along with a number of hotels and all Airbnb locations. Approximately 21,000 National Guard troops have been called in to assist with security, which involves barricades and fences throughout the downtown district. Last week, Mayor Muriel Bowser requested that all residents avoid downtown Washington entirely.
For small-business owners in D.C. who are used to finding a way to participate in the political process--in a city very familiar with protests--this is new and scary. Their mantra this week, which they recommend to small-business owners in state capitals or other major cities that could be targeted by insurrectionists on Wednesday: Better safe than sorry.
Robinson, the CEO of Fort Washington, Maryland-based Trust Security & Fire Watch, fully embraces that mantra. As security personnel, he'll be physically present at Trust's Washington office on Wednesday--but he recommends that most others just stay home. He's less concerned about anyone who lives or works downtown, he says, since law enforcement is pulling out all the stops to seal off Capitol Hill from troublemakers. Instead, he's worried about the rest of the city, where significantly more small businesses operate--because when rioters are deterred from their destination, they tend to unleash their energy elsewhere.
Retail storefronts should board up on Tuesday evening, Robinson says. Apartment buildings, hotels, and construction sites should consider hiring overnight security for the week, and 24/7 security specifically for Wednesday. Everyone else should work from home, simply for logistical reasons: With the city so locked down, you're not going to be able to commute effectively. "The city itself is prepared," Robinson says. "But plenty of businesses aren't making the proper investments to protect themselves and their property." He also understands why they aren't doing that: "With the economy, some people just can't afford to."
Taking it personally
Sasha Carter, co-owner of Red Derby, a bar 3.5 miles northwest of Capitol Hill, is heeding Robinson's advice. Like many food and hospitality businesses in Washington, Red Derby initially planned on Inauguration Day as a bonus--a neighborhood party, Carter says, with "wonderful celebrations" and record sales. But on Wednesday, Red Derby will be closed. "It's really sad," Carter says. "But our safety is No. 1 right now."
Instead, through Tuesday, Carter is selling SOS take-home packages of beers and shots, intentionally curated with names like Senate, The Corruption, El Silencio, and Redemption. The bar could use a big sales day right about now: Sales are down 85 percent compared with pre-Covid, and its staff reduced to three people, from 30. "What's one more day closed going to do, at this point?" Carter asks. "It actually makes this decision easier, because we're so far gone and so far in the hole."
David Simnick is also staying home. The co-founder and CEO of soapmaker Soapbox, a three-time Inc. 5000 honoree based in D.C., was evacuated from his office when the Trump-inspired mob breached the Capitol building on January 6. Simnick took it personally: He's a former congressional intern who used to give tours of the Capitol, and going back to his office on January 7 was his own personal form of counterprotest against the mobs. But he's closing his office to all employees on Wednesday, and potentially extending that closure, depending on how the day unfolds.
It's a precautionary move: Like Robinson, Simnick says he's less concerned about the safety of downtown Washington's businesses, given the prevalence of law enforcement. "What I'm concerned about is all the state capitals that don't have the resources or the spotlight on them right now to do the same," he says.
Robinson says his advice is applicable for small-business owners in any city facing potential violence this week. Yes, he notes, a significant uptick in security requests is good for his company's bottom line--but any riots will put his staffers in physical danger and increase their risk of Covid-19 exposure. "We have to be concerned about angry people with some political view that we have nothing to do with, wanting to injure us or the place where we work for no damn reason," Robinson says. "We'd prefer things be boring. Boring is good."
Jan 18, 2021