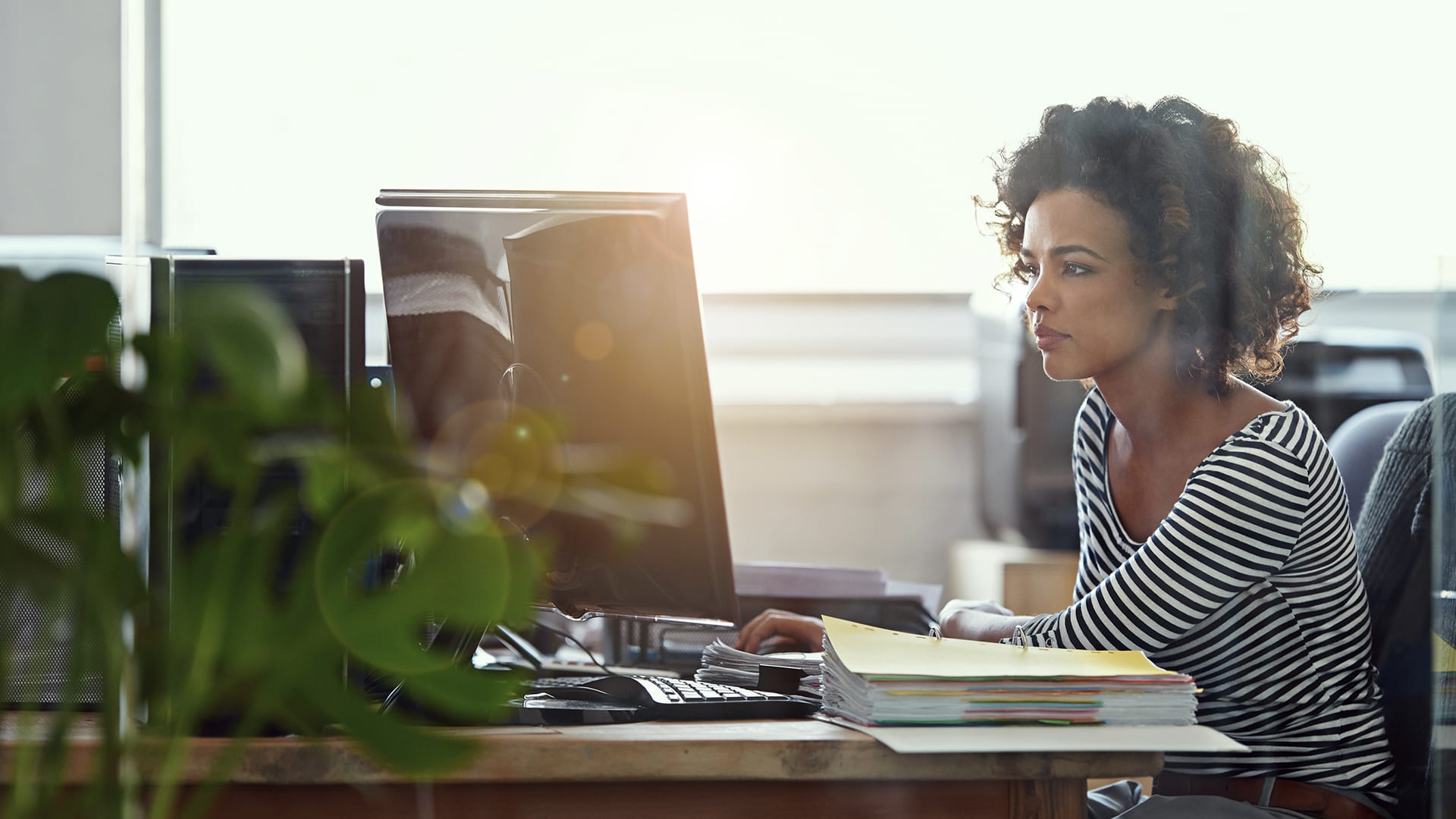 2020 was defined by challenges, resilience, and a shift to online everything. Perhaps more so than any time in recent memory, technology became a critical capability overnight. For businesses, continuity hinged on digital agility--in more ways than one.
Technology powered the remote work and no-touch interactions that defined pandemic life. As the world reopens, strategic investments in hardware and software will remain critical to success.
What IT investments should small businesses make today for success tomorrow? Melanie Frank, managing vice president of technology at Capital One, shares five guideposts for small businesses shaping their IT investment strategies, with tips on the hardware and software they'll need to be successful and productive in 2021 and beyond.
1. Flexibility matters for remote work
As employees return to offices and brick-and-mortar locations reopen, businesses should first consider how employees can be productive from anywhere. "Small-business owners and their employees today really want flexibility at work," Frank says. "That means laptops and phones, as well as software that works seamlessly across those devices. It gives them the flexibility they want and enables them to get work done efficiently no matter where they are." From point-of-sale devices to laptops and phones, the right hardware can ensure operations continue from anywhere. Durability, portability, power and wireless connectivity are critical.
2. Customers are doing more online
In today's landscape, small businesses need to be where their customers are: online. But checking the box on having a mobile- and digital-first experience isn't enough; they have to be intuitive, user-friendly, and always-on. Technology is critical to enabling the degree of support and availability customers expect.
3. Subscription models can offer agility without the overhead
"Small-business owners are great at optimizing investments," Frank says. One of the best strategies to stay nimble in uncertain times is to leverage as-a-service subscription models. For small businesses, opting for a pay-as-you-go model over licensed software makes it easier to scale services up and down as needs fluctuate.
4. Digital business is key to resilience
The pandemic accelerated digital transformations across nearly every industry, with increased adoption of cloud-based solutions, virtual experiences, and digital-first business models. "Web-based apps that deliver a consistent user experience across devices are easier to use, deploy, and scale," Frank says. "This was essential during COVID-19 as many businesses pivoted their models and responded to changing demands."
Suites of tools such as e-commerce platforms, shipping and delivery services, video conferencing, web hosting and support, digital advertising, and more will be key to thriving, even as in-person transactions resume.
5. Security will remain critical
The pandemic saw a spike in ransomware attacks capitalizing on fear, uncertainty, and newly remote workforces. As remote work continues and more business occurs online, creating a secure foundation is vital. "Look for tech that helps teams be productive while keeping business secure," Frank emphasizes. That includes investing in software that can reduce the risk of attacks from which many small businesses can't bounce back.
Investing in hardware? Talk to your team
Planning for investments in computers, laptops, and devices should start with your people. "Understand how individuals work, how teams collaborate, and the distinct needs across personas," Frank says. Identify any additional technical requirements to help inform granular decisions about device features. For example, video editing may require more processing power and a high-quality monitor, while point-of-sale devices may require better battery life.
Investing in software? Focus on compatibility
Ideally, software creates an integrated, cross-functional fabric that seamlessly powers your business. When programs are siloed and separate, it's difficult to leverage data and insights between teams, which can inhibit data-driven decision-making.
"You want to provide a variety of solutions without creating the complexity of managing multiple platforms," Frank says. That compatibility applies to hardware, too. "Look for tech that works well on any device and doesn't require a separate mobile investment. For any piece of software you consider buying, you should be able to say, 'This works everywhere, no problem.' "
Spring helps small businesses save on IT investments
To offset costs of tech investments, Frank says small businesses have a great partner in Spring. "What I love so much about Spring is that we're able to pass along the savings of our scale. We can help small businesses run lean while using enterprise-grade solutions." It's free to sign up and provides exclusive access to deals on a wide variety of business resources, equipment, and services, even for members who aren't Capital One customers.
Ready to invest in the technology your business needs to thrive? Sign up for Spring and explore PC and laptop deals from Dell and HP, discounts on enterprise-grade accounting, deals on Google Workspace for business, Hubspot marketing plans, Squarespace, and more.
May 14, 2021