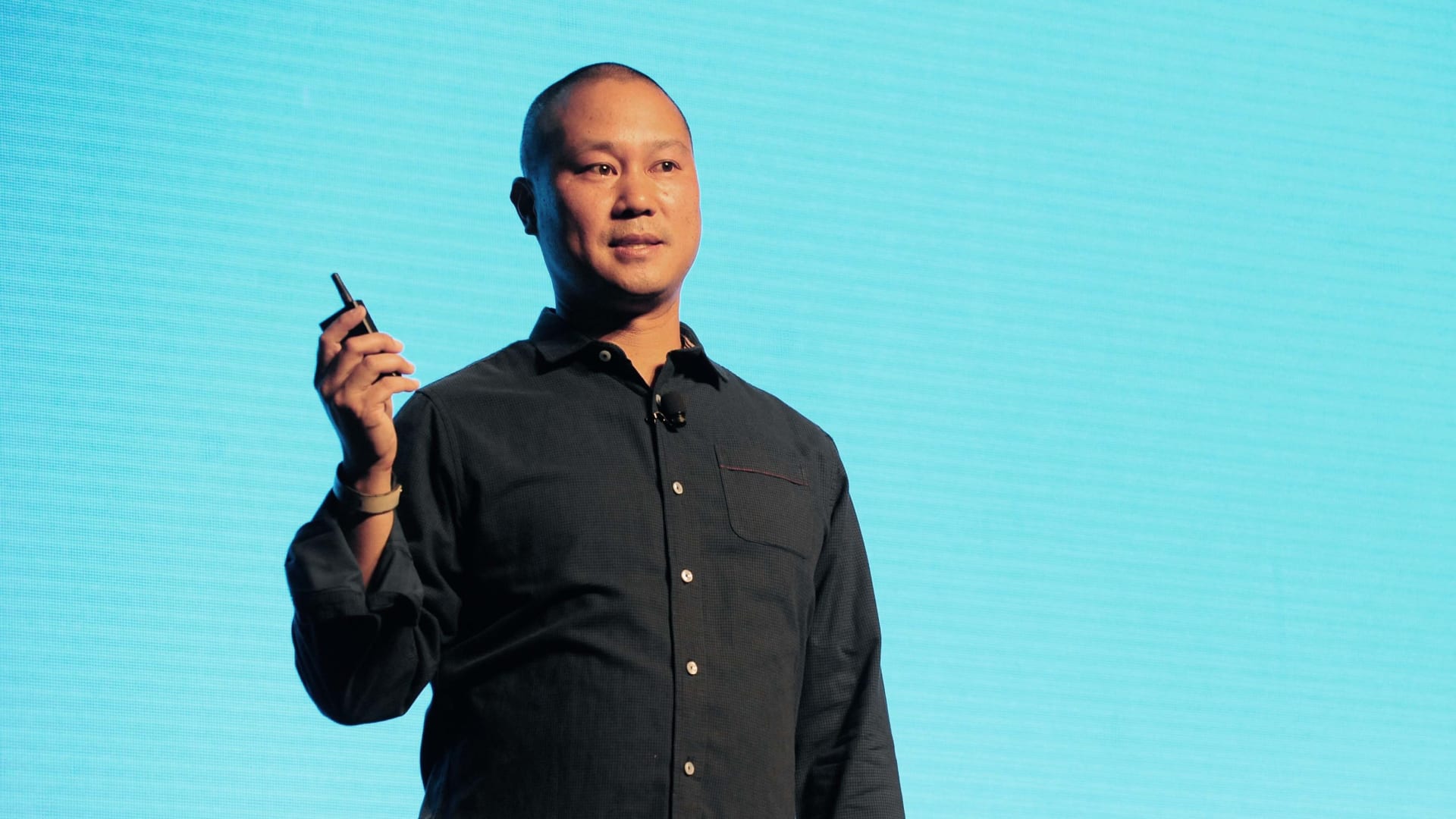 Tony Hsieh was just 46 years old when he died on Friday from injuries sustained in a recent house fire. The former Zappos chief left an indelible mark on e-commerce, retail and customer service. A lesser known story is how Hsieh developed his public-speaking skills to build buzz for Zappos.
In 2009, Tony Hsieh invited me to visit Zappos headquarters in Las Vegas. He had endorsed one of my books and was a serious student of communication.
I learned that public speaking did not come naturally to Hsieh. In his book, Delivering Happiness, Hsieh acknowledged that he was a "nervous wreck" in his early speeches. Even after a full year of giving speeches and public presentations to promote Zappos, he remained so uncomfortable that he thought he'd never be a great speaker.
One day, Hsieh had an epiphany that changed the way he gave speeches and built his confidence. He developed a 3-part formula that he would use for all of his talks.
1. Be Passionate
I've often said that you can't inspire an audience without being inspired yourself. Passion is everything and Hsieh had an abundance of it.
Hsieh stuck to topics he was passionate about--customer service and company culture. He decided that he would only speak on those subjects. If it didn't meet the needs of a conference organizer--even though his appearance would be good for Zappos--Hsieh would decline the invitation.
Connecting with the audience meant everything.
Here's the key. Hsieh wasn't passionate about shoes, the product Zappos was best known for. He was passionate about the science of happiness--and delivering happiness to customers and employees. That's the topic that fired his imagination.
Dig deep to identify the topic you are most passionate about. Once you do, share it often.
2. Tell Personal Stories.
Hsieh refined his speaking skills to a point where he could give entire presentations with no notes. He did it by focusing on telling personal stories.
"I noticed that while people appreciated the content of my speeches, they generally told me they really enjoyed the personal stories," Hsieh wrote in his book.
My favorite story that Hsieh often told was the one about the pizza night. During a footwear conference in Santa Monica, Hsieh and some friends headed back to the hotel at 11:00 p.m. They were hungry, but room service had stopped delivering. Someone dared Hsieh to call Zappos to order a pizza.
A customer service rep answered the phone and listened politely. Although Zappos sold shoes, not pizza, the rep put the group on hold and within a few minutes returned to the phone with a list of the five closest pizza joints in Santa Monica that were still open.
It's the perfect story. It's fun, surprising, and speaks volumes about the culture of service that Hsieh had created.
Find and tell the personal stories that reflect your brand's values.
3. Be Real.
Hsieh was a soft-spoken leader. He certainly didn't come across like someone you'd associate with motivational speaking. And yet, his speeches often triggered standing ovations. Hsieh's message and stories carried the day.
Don't try to be someone you're not. Bring your own personality to the stage.
Around the time I first met Hsieh he was developing what would become known as Zappos's higher purpose: to deliver happiness to the world. His book came out a year later and his public speaking requests skyrocketed.
By then, however, Hsieh had mastered his 3-part formula for giving great presentations. And it worked for the next decade.
Hsieh's passion, stories, and authenticity helped to build the Zappos brand. He leave an incredible legacy--and many lessons for entrepreneurs in all fields.
Nov 30, 2020