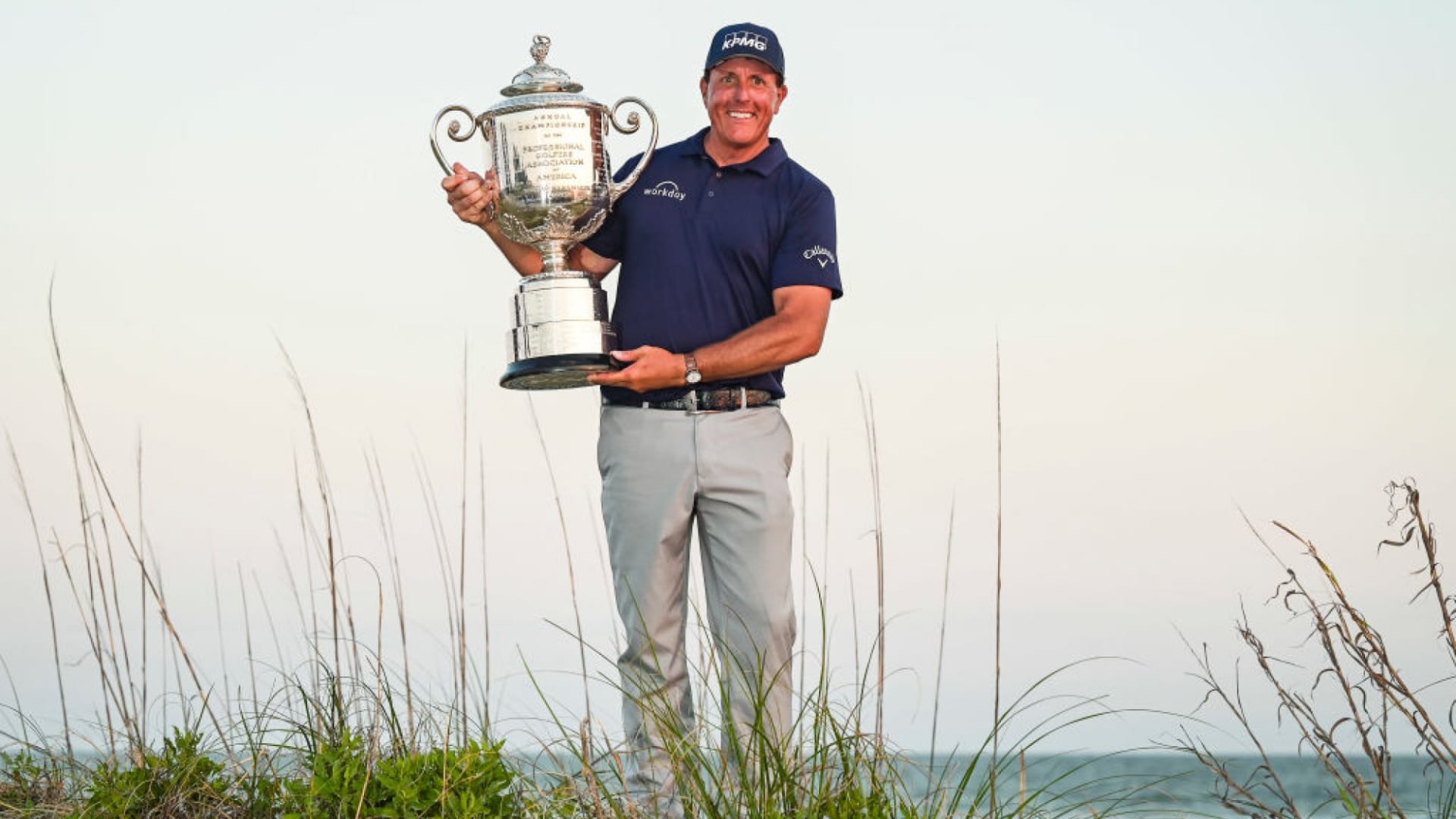 Phil Mickelson's improbable victory at the 2021 PGA Championship on Sunday cements his legacy as one of the greatest golfers of his generation. Mickelson, who turns 51 next month, is the oldest winner of a major golf championship.
Mickelson credits his renewed "focus" for his record-breaking performance. He developed by practicing in tournament-like conditions.
Get into the habit of adding stress to your rehearsal, and you'll be in a better position to stay calm during job interviews, business pitches, or any public-speaking opportunity when the heat is on.
Mickelson, ranked No. 115 entering the PGA Championship, told reporters that he works his mind like a muscle and trained to "elongate his focus." As players get older, it's harder for them to maintain a razor-sharp focus on every hole over four days of play. So Mickelson prepared by playing two rounds a day and focusing on every shot. After playing 36 or more holes a day leading into the championship, 18 holes didn't seem as daunting.
Mickelson is also well-known for a practice drill during which he has to make 100 three-foot putts in a row. If he misses one, he starts over.
According to peak performance experts, the secret to staying calm when the pressure is to practice the right way--practicing under a little stress. Here's how to add a little stress to practice sessions for professional opportunities.
Job (or promotion) interview.
Ask a friend or peer to pepper you with typical interview questions--and to throw in unexpected ones, too. If you stumble over a question, start from the beginning. Then, record yourself and play back to the video to find areas for improvement.
Business pitch.
Find a conference room or office to mimic the same conditions you might face when making your pitch. Walk into the room, connect your tablet or laptop to the projector, and deliver your presentation out loud. Ideally, you should give the presentation in front of a group of people and invite them to ask the questions you'll hear during the actual pitch. But even if you're alone, you can easily set up a smartphone to record and analyze your performance.
Speech, lecture, or presentation.
Phil Mickelson knows that, despite his wins and experience, he's going to get nervous. And so he practices breathing. He closes his eyes, takes deep breaths, and visualizes the next shot to bring down his heart rate.
You're going to get nervous. That's a given. When your nerves get the best of you, your heart rate goes up, and your palms begin to sweat. That could derail all the hard work you put into creating the presentation. Before you start your presentation, take the time to breathe. Take four or five deep, slow breaths. Close your eyes and see yourself giving an outstanding performance.
Most people forget to breathe when the nerves kick in. By practicing breath control ahead of time, you won't forget.
When I work with CEOs, business leaders, and entrepreneurs, I find very few of them practice their presentations with purpose. Instead, they spend too much time building the presentation or don't think about it until the last minute. Either way, it doesn't leave any time for practice.
If you put in plenty of practice in real-world conditions, you'll be ready to perform your best when the pressure is on.
May 24, 2021