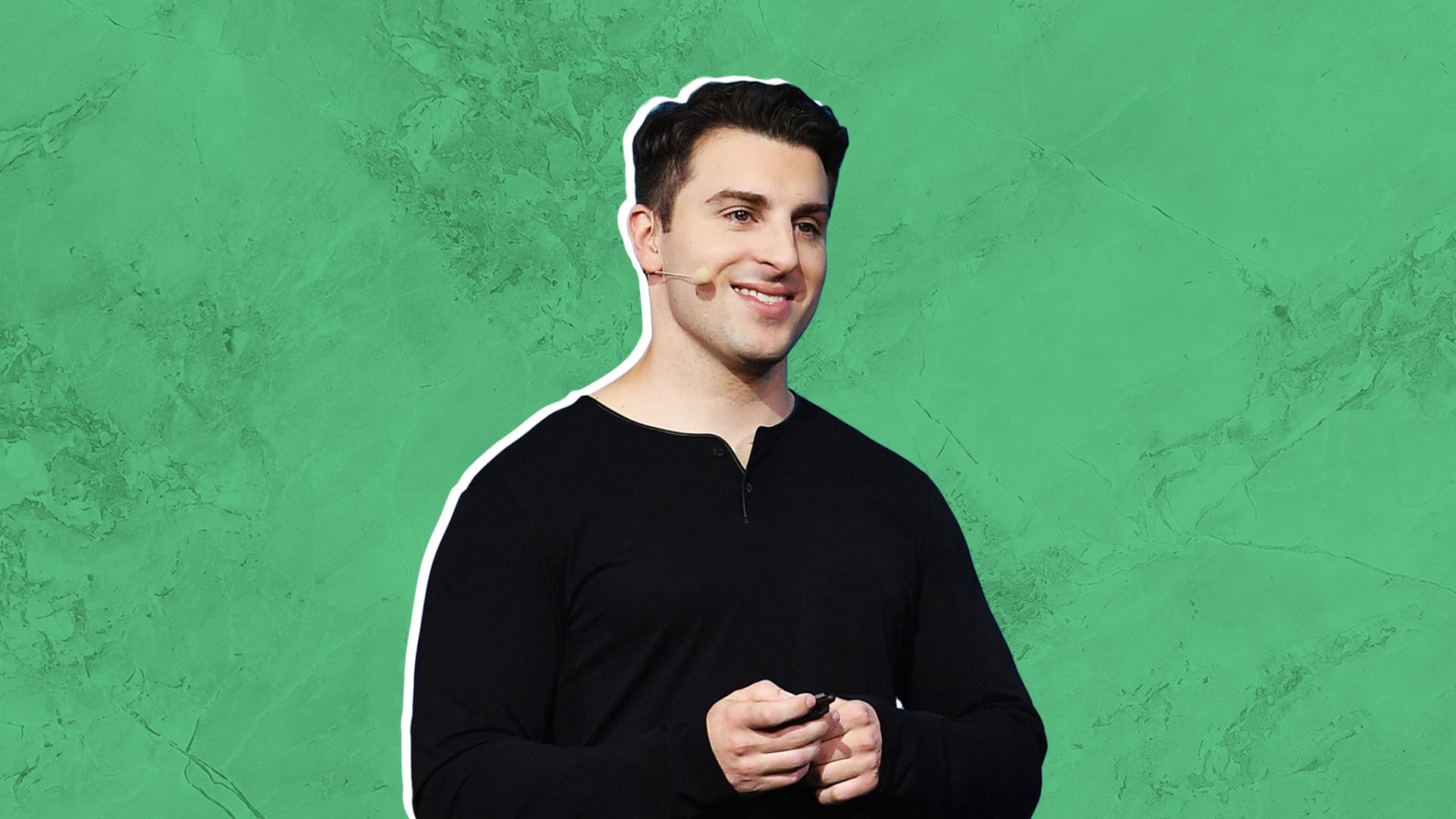 On Thursday, Airbnb went public at a starting value of $47 billion. In advance to the big day, Airbnb's co-founders have been on a virtual road show, pitching their company to investors ahead of the IPO.
Road shows are carefully designed presentations meant to provide critical financial information while inspiring investors to back the founder's long-term vision.
Watching Airbnb's 28-minute presentation reminded me of the day I met co-founder and CEO Brian Chesky. Six years ago, we were both speaking on the topic of storytelling at a conference arranged by a billionaire venture capitalist. This is when I first learned that Chesky is a skilled storyteller.
Chesky's communication skills were on full display in the virtual IPO road show. If you want to follow his lead, here's how you can build a presentation that will attract investors, customers, employees, and partners.
1. Start with the origin story
Customers and investors love a good origin story. Share the story behind your business.
"It was 2007. Joe and I were living together in an apartment in San Francisco," Chesky began in his presentation. "We had a problem to solve--how to pay our rent." He then went on to tell the aha! moment behind the company.
Put another way, a short, compelling story of how a company got started can speak volumes about the founder's passion, vision, and values.
2. Highlight key statistics in a simple way
The detailed prospectus that accompanies Airbnb's presentation runs more than 360 pages. It contains pages and pages of detailed financial analysis. But a presentation needs to be a slimmed-down version of the longer story, highlighting key metrics.
Airbnb's road show presentation had plenty of numbers because investors want to know the financials. But the speakers didn't bombard their audience with dense charts and graphs. Instead they highlighted one or two statistics per slide, and kept the slides to a minimum.
"We grew from two hosts to over four million in over 100,000 cities."
"We've welcomed over 825 million guest arrivals since we started."
"Our hosts have earned over $110 billion."
Choose the numbers that your audience needs to know and wants to hear. Don't put all the numbers on one slide. Keep the presentation as uncluttered as possible. Stick to one statistic per slide and the number will be far more memorable.
3. Showcase customers
It's not enough to just tell the founder's origin story; it's critical to share the stories of the people who make up the brand.
Within the first three minutes of the IPO pitch, we meet Airbnb's first customers. They were Michael, Kat, and Amol, who spoke about their experience. "I felt sorry for the people who stayed in hotels," Amol said.
Since hosts are the core of the Airbnb experience, the presentation showcased several of their stories. The stories represented the diverse types of hosts, from schoolteachers to artists, and explained why they rent out their places to Airbnb: to earn extra income, to connect guests to the community, or to share their skills and passions through experiences.
Stories must have a purpose. In the Airbnb presentation, host stories are intended to reinforce the company's core strengths and the viability of its long-term business model.
Airbnb is an astonishing startup story, and its founders know how to tell it. Follow the Airbnb road map to create a pitch that will showcase your own unique story.
Dec 10, 2020